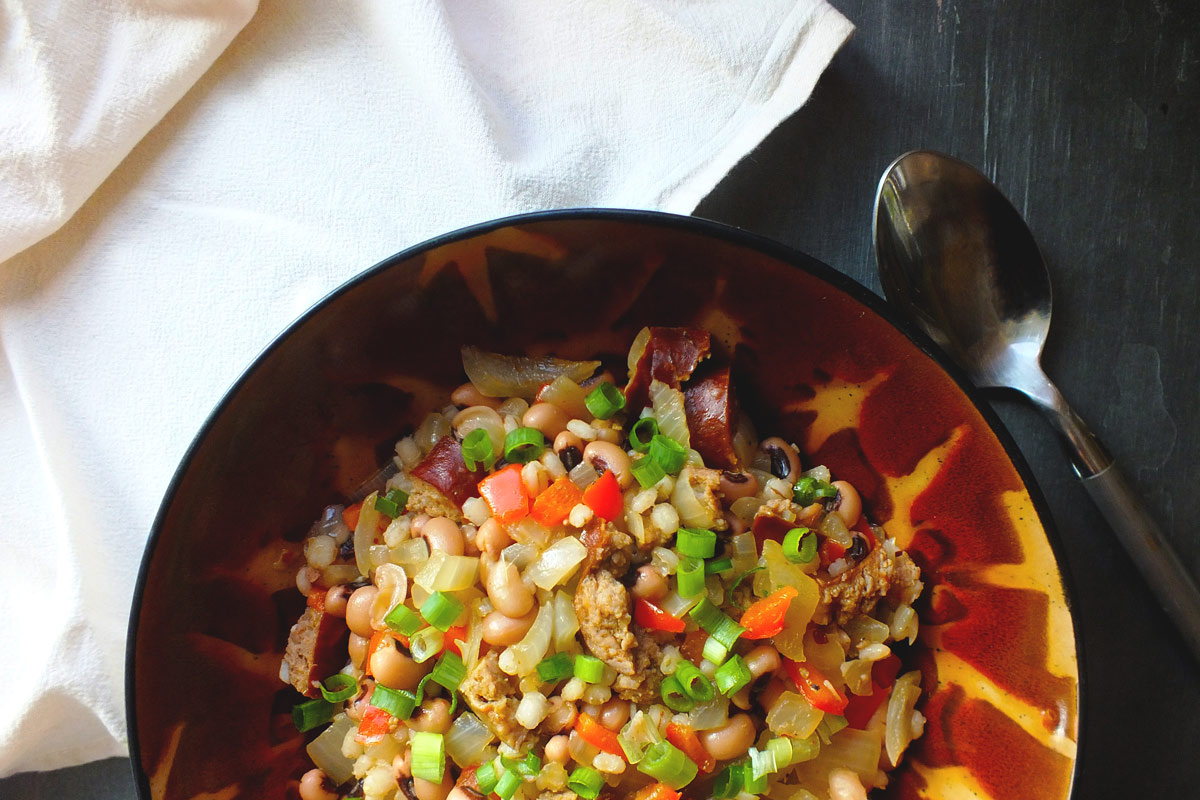 Barley Hoppin' John with Turkey Kielbasa
Black-eyed peas are traditionally eaten on New Year's Day for good luck and prosperity in the coming year. 
Like most beans, black-eyed peas are rich in vitamins and minerals, including potassium, calcium, fiber, folate, iron and magnesium. However, some traditional dishes can cancel out the beans' health benefits through the addition of lard, salt and white rice. 
But, as luck would have it, the American Diabetes Association put a healthy spin on the Southern specialty, Hoppin' John. 
Typically made with white rice, this Hoppin' John recipe gets an extra kick of fiber and texture thanks to barley. 
There are two types of fiber: soluble and insoluble fiber. Soluble fiber can help control blood sugar and reduce cholesterol. Insoluble fiber adds bulk and acts like a brush to clean out the colon; it can help move things through the digestive tract more quickly and prevent constipation.
The dietary recommendations for fiber is about 25 grams for women and 30 grams for men. However, fiber amounts found in the typical American diets ring in at less than 15 grams. 
So why all the fuss about fiber?
A high-fiber diet has shown to reduce the risk of heart disease and type 2 diabetes.
Substitute lean turkey sausage for pork or beef sausage and serve with a side of steamed collard greens for a meal filled with good luck.
Barley Hoppin' John with Turkey Kielbasa
Recipe from the American Diabetes Association
Serves 6
Ingredients:
2 teaspoons olive oil
1 medium onion, diced
1 red bell pepper, seeded and diced
2 cloves garlic, minced
8 ounces of turkey kielbasa, diced
1 cup low-sodium, fat-free chicken broth
1/4 teaspoon crushed red pepper flakes (or to taste)
1/2 teaspoon ground black pepper
1 (15.5-ounce) can black-eyed peas, drained and rinsed
1 cup cooked barley, prepared according to package directions
2 scallions, thinly sliced (green and white parts)
Directions:
1. Add oil to a large sauté pan over medium heat. Add onion, bell pepper and garlic. Sauté for 5 minutes. Add kielbasa and sauté another 2 minutes.
2. Add broth, red pepper flakes, ground black pepper and black-eyed peas. Bring to a boil, then reduce to a low simmer. Simmer for 7 minutes. Stir in cooked barley and simmer 2 more minutes.
3. Top with sliced scallions. 
Nutritional information per one-cup serving:
Calories: 190; Carbohydrate: 25g; Protein: 12g; Total Fat: 5g; Saturated Fat: 1g; Cholesterol: 20mg; Dietary Fiber: 6g; Sodium: 450mg
Published on: April 26, 2016