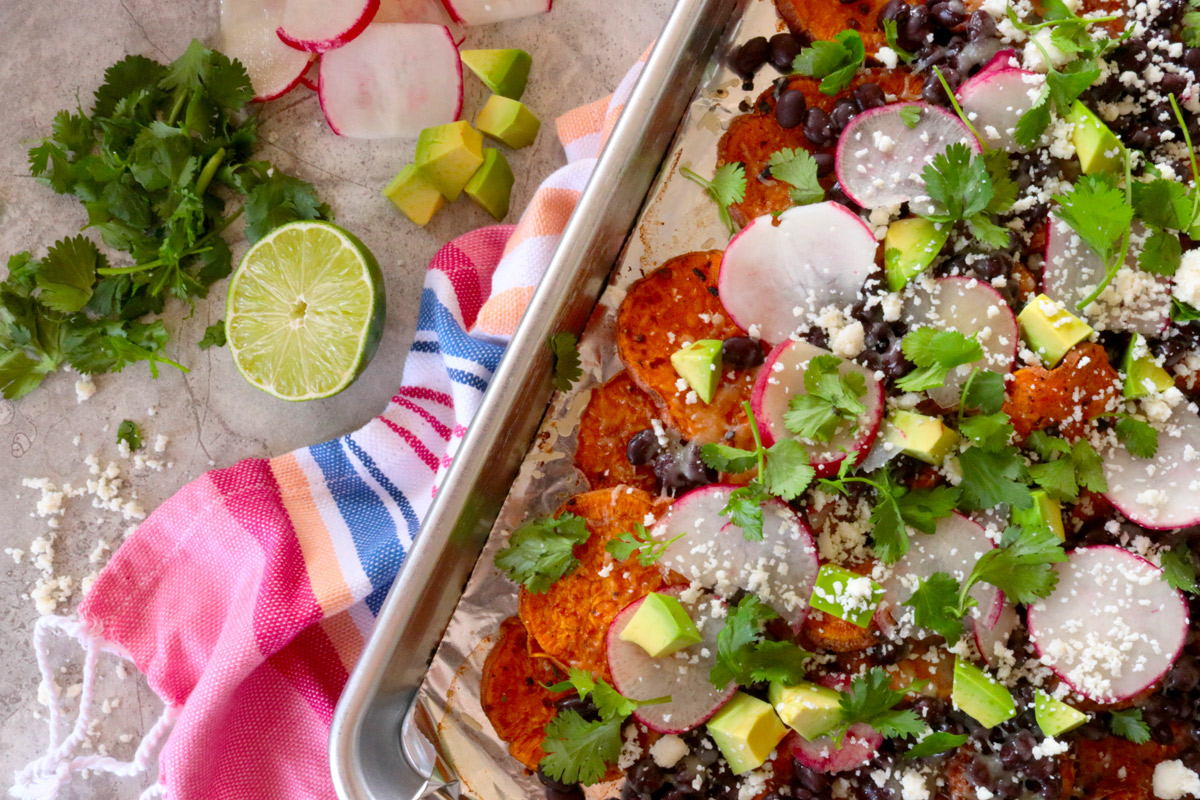 Loaded Sheet Pan Sweet Potato Nachos
Make every day #TacoTuesday by swapping out deep-fried chips for healthy slices of baked sweet potato and piling on good-for-you toppings like black beans, radishes and fresh avo! 
These Loaded Sheet Pan Sweet Potato Nachos are a healthier version of everyone's favorite game-day staple. 
Sweet potatoes are a low-fat, fiber-filled substitution for tortilla chips that add more to this dish than a hint of sweetness. The orange tubers are an excellent source of beta-carotene, a carotenoid that's the precursor to vitamin A, along with other essential nutrients that support a healthy body and immune system. 
Black beans supply a serving of plant-based protein, while cotija cheese – a hard, crumbly Mexican cheese made from cow's milk – adds a hint of subtle saltiness to every bite. 
Fresh and vibrant add-ons like radishes, avocado and cilantro make these nachos anything but basic.
Loaded Sheet Pan Sweet Potato Nachos
Recipe adapted from Real Simple
Serves 6-8

Ingredients:
2 tablespoons avocado oil
2 medium sweet potatoes (about 1 1/2 pounds), sliced into 1/4-inch rounds
3/4 teaspoon chipotle chili powder
1/2 teaspoon ground cumin
1/2 teaspoon ground paprika
Sea salt
Freshly ground black pepper
Juice of 1 lime (about 2 tablespoons), plus wedges for serving
1 15.5-ounce can black beans, drained and rinsed
1 cup white cheddar cheese, grated
1/2 cup cotija cheese, crumbled
1 ripe avocado, pitted and diced
1/2 cup fresh cilantro leaves and tender stems, roughly chopped
1/2 cup radishes, thinly sliced

Directions:
1. Preheat the oven to 450 degrees. Position racks in upper and lower thirds. Line two large, rimmed baking sheets with foil. Lightly mist with nonstick cooking spray.
2. In a large bowl, toss the sweet potato slices with chili powder, cumin, paprika, avocado oil and a few generous pinches of sea salt and black pepper. Divide the slices evenly among the prepared baking sheets in a single layer, making sure that the rounds don't overlap.
3. Bake, rotating baking sheets and switching rack positions (top to bottom) halfway through and flipping slices, until potatoes are caramelized and browned in spots, 30-35 minutes.
4. Remove from oven and flip again, then combine onto one sheet tray. Preheat the broiler to high.
5. In a small bowl, toss the black beans with salt and black pepper, to taste. Scatter over sweet potatoes and top with cheddar cheese.
6. Broil on top rack until cheese has melted, 2-3 minutes.
7. Remove from oven and top with cotija cheese, avocado, radishes and cilantro. Serve with lime wedges.
Nutritional information per serving:
Calories: 349; Carbohydrates: 50.2g; Protein: 16.9g; Total Fat: 10g; Saturated Fat: 3.1g; Cholesterol: 6mg; Dietary Fiber: 13.1g; Sodium: 210mg
Published on: May 29, 2018