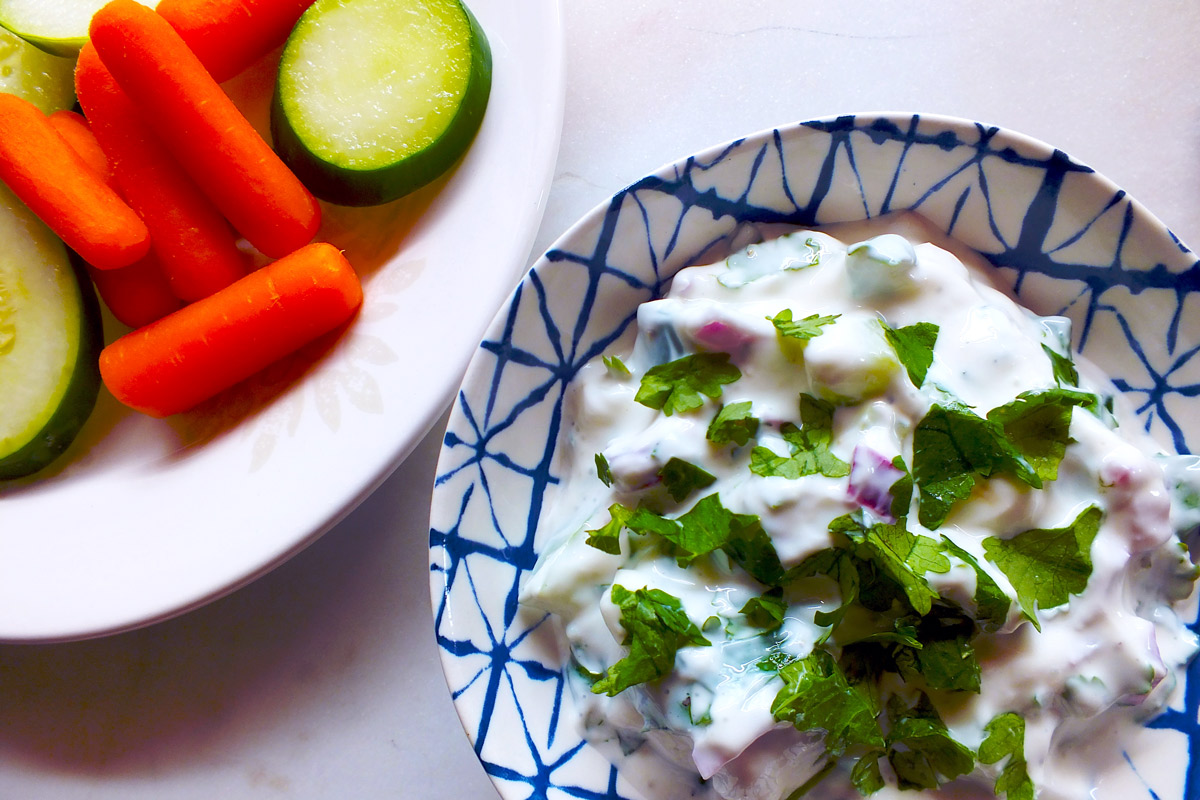 Cilantro Mint Raita
This simple side dish from Ornish Lifestyle Medicine is a tasty way to cool the palate and soothe the stomach, thanks to herbs like cilantro and mint. 
"Aromatics and herbs can completely change the taste of a dish, as well as add to the dish's health benefits," says Erica Hawkins, a registered dietitian with the Ornish Lifestyle Medicine program at Straub Medical Center. 
"Cilantro in particular is a good source of antioxidants and phytochemicals. It also is high in vitamins A and K," Hawkins adds. "Additionally, adding colorful herbs to a dish is great for presentation – there are even edible flowers that can be used for decoration and taste." 
The fresh cucumber, which adds fiber, also has anti-inflammatory properties and is high in antioxidants such as vitamin C, beta carotene and flavonoids. 
Serve this refreshing side dish as a topping for a spicy lentil soup or vegetable curry, or enjoy it as a delicious dip for veggies or whole-grain chips. 
Like a little more spice? Add a dash of ground cumin, coriander or cayenne pepper, if desired. 
Cilantro Mint Raita
Serves 11
 
Ingredients:
2 cups nonfat plain Greek yogurt
1 1/4 cups cucumber, peeled, seeded and diced (about 1 medium cucumber)
1/3 cup fresh mint, chopped
1/3 cup fresh cilantro, chopped
2 tablespoons red onion, diced
3/4 teaspoon lemon juice
1/4 teaspoon fine sea salt
1/8 teaspoon freshly ground pepper
 
Directions:
1. In a medium bowl, combine yogurt, cucumber, mint, cilantro, red onion, lemon juice, salt and pepper. Stir until well mixed. Taste for seasoning.
2. Serve as a garnish or sauce for spicy dishes or soups, or as a dip. Raita will keep for 2-3 days in the refrigerator. 
Nutritional information per 1/4-cup serving:
Calories: 27; Carbohydrates: 2g; Protein: 4g; Total Fat: 0g; Cholesterol: 2mg; Dietary Fiber: 0g; Sodium: 68mg
Published on: May 3, 2017