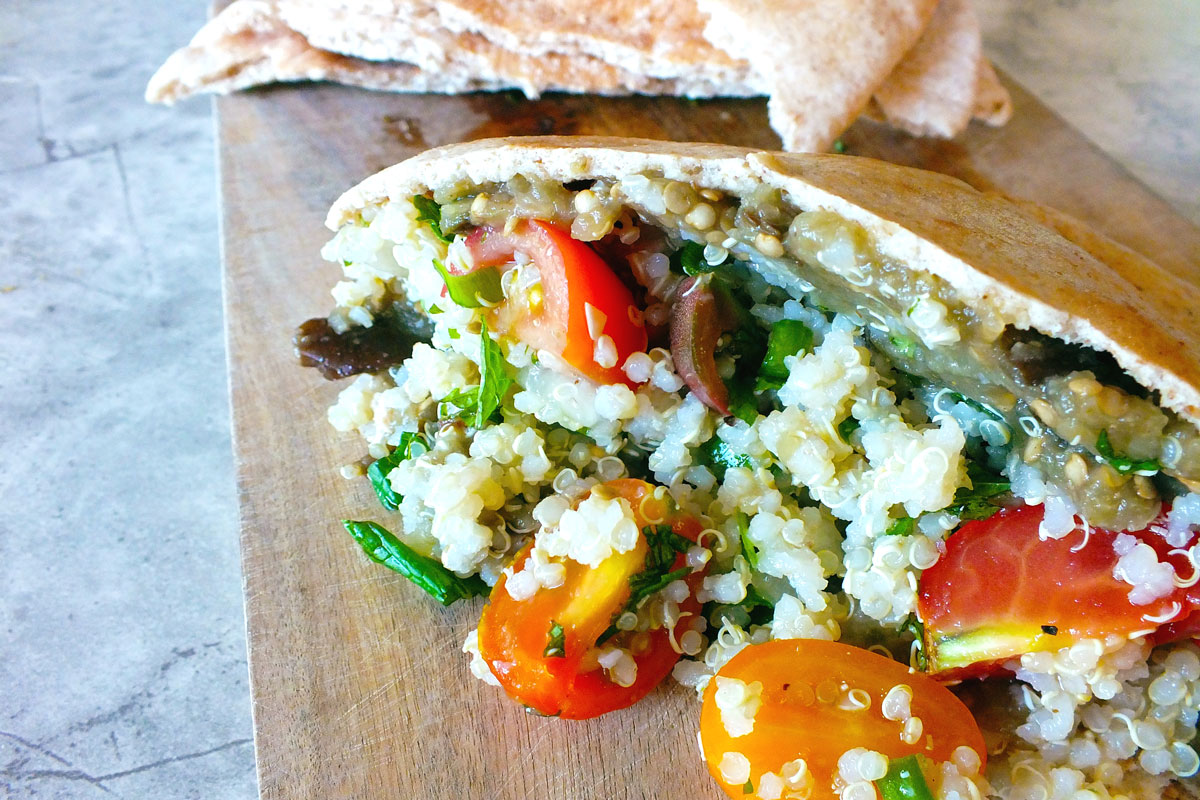 Greek Tabbouleh Pita Pockets
Roasted eggplant puree and quinoa-based tabbouleh salad are tucked together in a whole-grain pita pocket in this satisfying Meatless Monday meal from the Dr. Ornish's Program for Reversing Heart Disease™ (Ornish Reversal Program). 
Perfect for both lunch and dinner, this fresh combination of crunchy vegetables and high-protein whole grains is rich in fiber, phytochemicals and vitamin C. 
In fact, one of the key ingredients to this recipe, quinoa, is considered a nutrient-rich superfood loaded with high amounts of vitamins, minerals, fiber and protein. 
"Quinoa is also high in antioxidants, which aid in fighting and preventing diseases," says Michelle Tom, a registered dietitian with Straub Medical Center's Ornish Reversal Program. 
"Complex carbohydrates, such as quinoa, brown rice, and 100 percent whole-grain bread are great sources of fiber," Tom adds. "It takes your body a longer time to digest fiber-rich foods, which helps keep you feeling satiated for a longer amount of time. Eating these healthy carbs in combination with protein helps keep you fuller, longer, and can contribute to weight loss and blood sugar management." 
For additional plant protein, add a spoonful of hummus to each pita pocket.
Greek Tabbouleh Pita Pockets
Serves 6
 
Ingredients:
For roasted eggplant: 
2 medium eggplants, sliced into 1/2-inch-thick rounds
1 teaspoon garlic, pressed or minced
3/4 teaspoon ground cumin 
1/4 teaspoon sea salt 
1/8 teaspoon freshly ground pepper 
For quinoa:
1 cup white quinoa, rinsed well
2 cups cherry tomatoes, quartered
2 cups cucumber, peeled, seeded and finely chopped
1/2 cup scallions (green onions), thinly sliced
1/2 cup fresh mint, coarsely chopped
3 tablespoons fresh lemon juice 
1/2 teaspoon sea salt 
1/2 teaspoon freshly ground pepper
For pita pockets:
3 7-inch whole-grain pita breads
 
1/2 cup nonfat plain Greek yogurt or crumbled nonfat feta cheese (optional)
 
Directions:
1. Preheat oven to 350 degrees. Line two baking sheets with parchment paper.
2. Arrange eggplant slices on prepared baking sheets. Bake until soft, 20-25 minutes.
3. Transfer eggplant slices to a food processor fitted with a metal blade. Add garlic, cumin, salt and pepper. Process until chunky-smooth, stopping to scrape down bowl with a rubber spatula as needed. Set aside.
4. Prepare quinoa according to package directions. Once cooked, transfer quinoa to a medium-sized bowl. Spread quinoa up the sides of the bowl to cool. (This will speed the cooling process and keep it from getting too moist.)
5. When quinoa has cooled to room temperature, add tomatoes, cucumber, scallions, mint, lemon juice, salt and pepper. Toss to combine. Taste for seasoning and add more lemon juice, salt and/or pepper as needed.
6. Cut pita breads in half to create two pockets. Wrap pockets in foil. Place in oven for 15 minutes, until soft and warmed through.
7. Remove pita pockets from foil. Spread 1/3 cup eggplant mixture inside each pita pocket. Spoon in 1 cup tabbouleh. If desired, add 1 heaping tablespoon of Greek yogurt or crumbled feta to each pocket. 
Nutritional information per serving (1 pita pocket):
Calories: 257; Carbohydrates: 50g; Protein: 11g; Total Fat: 3g; Cholesterol: 0mg; Dietary Fiber: 10g; Sodium: 468mg
Published on: September 12, 2016