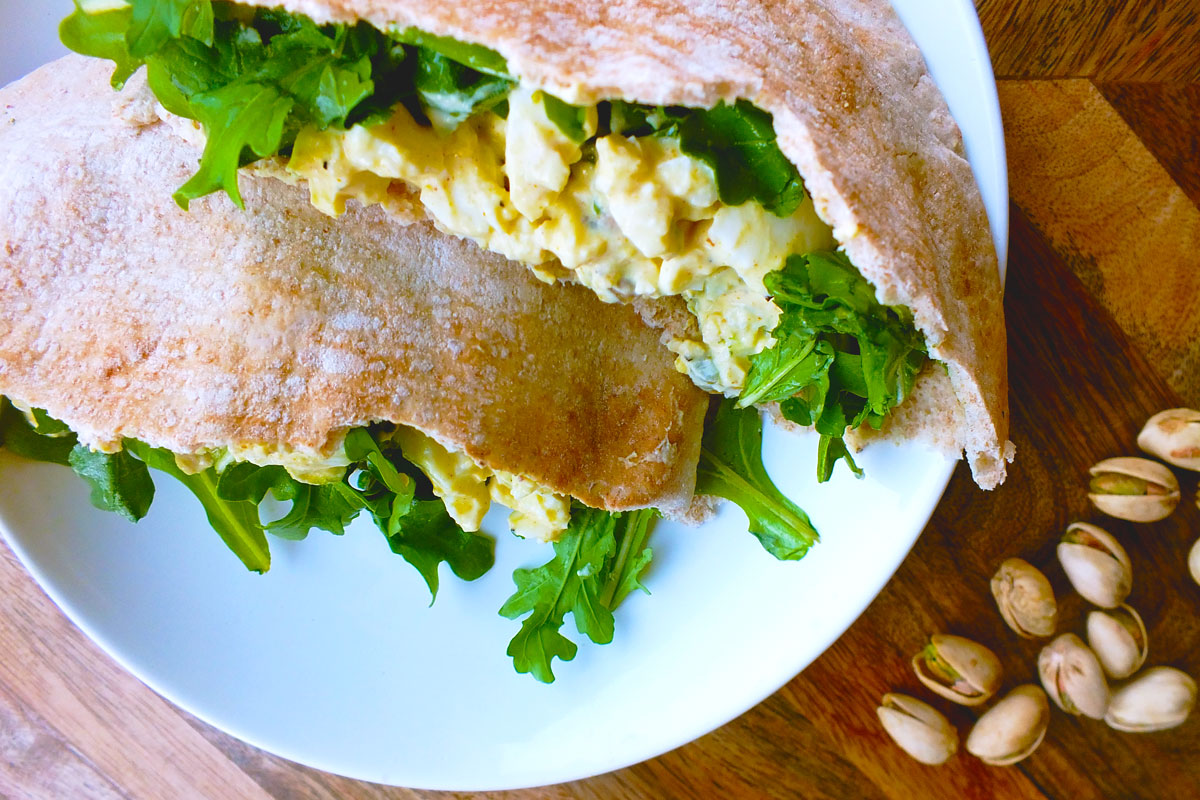 Curried Egg Salad Sandwiches with Pistachios & Arugula
Elevate your standard egg salad sandwich with this recipe for Curried Egg Salad Sandwiches with Pistachios & Arugula. 
Incorporating slightly spicy greens like arugula and crunchy pistachios provides added fiber, vitamins and antioxidants to this lunchtime staple. 
"Arugula is a good source of fiber and is high in vitamins A, C and K, which also help with vision, bone health and antioxidant effects," says Rebecca Izawa, a registered dietitian at Kapiolani Medical Center for Women & Children. 
"In addition to being a good source of fiber, pistachios also contain antioxidants as well as monounsaturated fatty acids – 'good fats' that can help lower 'bad' cholesterol," Izawa explains. 
Speaking of cholesterol, don't be afraid to eat the entire egg, yolk and all! 
"Eggs are a great source of protein, as one egg contains about 7 grams of protein," Izawa says. "Eggs also are packed with vitamins that aid in bone health, help in preventing anemia and strengthen eye health." 
Swap out mayonnaise for plain nonfat Greek yogurt and mix in some exotic curry powder for a sandwich that's truly anything but basic. 
Curried Egg Salad Sandwiches with Pistachios & Arugula
Recipe adapted from Whole Foods Market
Serves 4
 
Ingredients:
4 eggs
1/4 cup plain nonfat Greek yogurt
1/2 teaspoon curry powder
2 tablespoons pistachios, chopped
Salt and black pepper, to taste
2 cups baby arugula
4 small whole-wheat pita breads, cut in half
 
Directions:
1. Place eggs in a pot large enough to hold them all in a single layer. Cover by 3 inches of cold water and place on the stovetop over high heat. Once the water starts simmering briskly, reduce heat and cook eggs at a gentle simmer for 12 minutes. Use a slotted spoon to transfer eggs to a bowl of ice-cold water. Let cool for about 10 minutes, then peel. 
2. In a medium mixing bowl, mash eggs with the back of a fork. Combine Greek yogurt, curry and pistachios in a small mixing bowl. Add yogurt mixture to eggs and combine well. Taste and adjust seasoning with salt and pepper. Cover and refrigerate until ready to serve. 
3. Stuff pitas with arugula and egg salad and serve. 
Nutritional information per serving (1 pita sandwich):
Calories: 257; Carbohydrates: 37.6g; Protein: 13.3g; Total Fat: 7.2g; Saturated Fat: 1.9g; Cholesterol: 165mg; Dietary Fiber: 5.2g; Sodium: 426mg
Published on: September 26, 2016