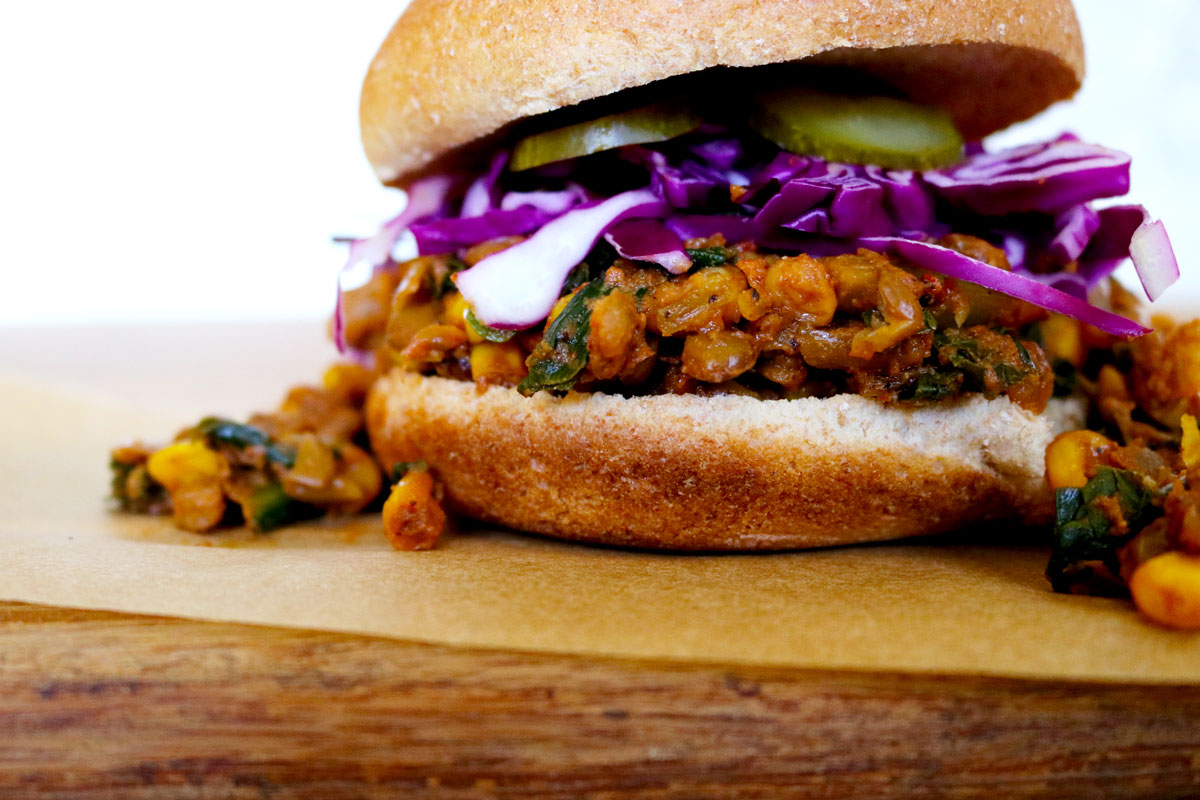 Lentil Sloppy Joes
Mama may have said never play with your food, but sometimes you can't help but get messy with your meal, especially if you're making sloppy joes! 
However, this isn't your average (sloppy) Joe recipe. 
These Lentil Sloppy Joes come packed with plant-based protein in the form of lentils, plus fiber from add-ins like corn and collard greens. 
A homemade red sauce provides sweet heat without the sodium you'd get from a canned mix. 
The best part – unlike its name implies, this dish requires minimal cleanup in the kitchen. Simply heat the ingredients in one skillet, give things a few good stirs and serve. 
If you like things extra sloppy, pile on the toppings! Think colorful add-ons like sliced avocado, tomatoes, shredded carrots and mixed greens. (We topped ours with shredded purple cabbage and homemade pickles.) 
These burgers are best served fresh but can be stored in the fridge as a make-ahead meal. Simply seal leftovers in an airtight container and reheat with a few splashes of broth or water so that the mixture doesn't dry out.
Lentil Sloppy Joes
Recipe adapted from Healthy Happy Life
Serves 4

Ingredients:
1 teaspoon avocado oil
1 small sweet onion, chopped
2 cloves garlic, chopped
1 cup corn (frozen or fresh)
1 15-ounce can red lentils, drained and rinsed
2 tablespoons organic tomato paste
1/2 cup low-sodium vegetable broth
1 cup frozen collard greens, slightly thawed
1 teaspoon cumin
1/2 teaspoon smoked paprika
1 teaspoon chipotle pepper flakes
1/4 teaspoon salt
2 tablespoons nutritional yeast
4 whole-wheat hamburger buns

Directions:
1. Heat oven to 300 degrees. Place buns on top rack and toast for 5-10 minutes, flipping buns halfway. Remove and set aside.
2. Warm up a large skillet on the stove over high heat. Add avocado oil and allow to come up to temp.
3. When the oil is hot, add onions, garlic and corn and sauté for a few minutes until onions begin to caramelize, about 3 minutes.
4. Reduce heat to medium-high and add the tomato paste, spices, vegetable broth and nutritional yeast. Stir well until the mixture thickens, about 2-3 minutes. (Add a splash more vegetable broth if you feel the sauce is too thick.)
5. Add the lentils and continue stirring gently to mix ingredients for 3-4 minutes more, until lentils are cooked through.
6. Gently fold in the collard greens and cook until greens are warm. They should be a bright, vibrant green. Remove from heat.
7. Fill toasted buns with the warm sloppy joe filling. Serve immediately.
Nutritional information per serving (1 burger):
Calories: 284; Carbohydrates: 51.8g; Protein: 15.5g; Total Fat: 3g; Saturated Fat: 0.5g; Cholesterol: 0mg; Dietary Fiber: 8.9g; Sodium: 306mg
Published on: June 13, 2018