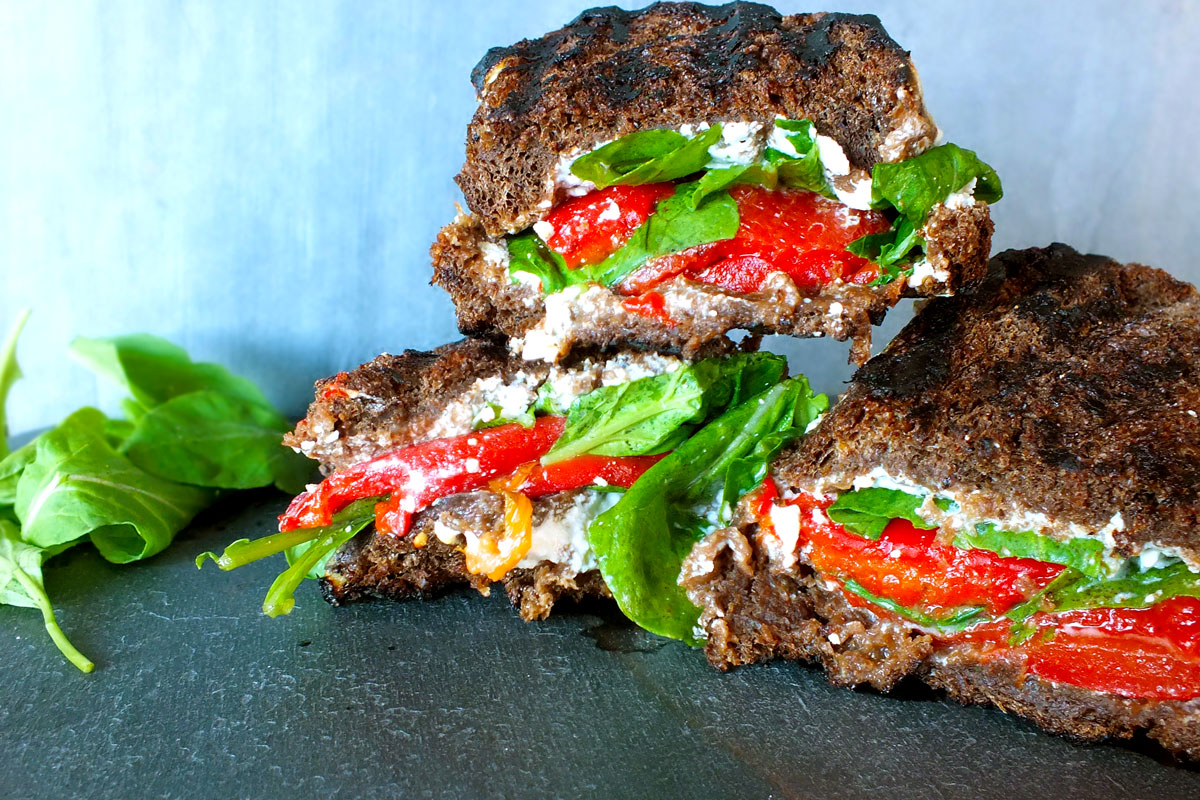 Red Pepper, Arugula & Goat Cheese Paninis
Build a better grilled cheese with this recipe for Red Pepper, Arugula & Goat Cheese Paninis. 
It's a warm, savory lunchtime option that will leave you feeling satisfied, not stuffed. 
Loaded with more vitamins and minerals that cow's cheese, goat cheese is rich in vitamins A and certain B vitamins, along with calcium, iron, phosphorus, magnesium and potassium. Plus, goat milk has less lactose and a slightly different protein structure than cow's milk, making it a gut-friendly option for those with dairy intolerances and sensitivities. 
While many people shy away from trying goat cheese due to its strong, distinct taste, the addition of red bell peppers, garlic and fresh basil help add a sweet, savory flavor all their own. 
To increase the amount of whole grains in this recipe, opt for 100 percent whole-wheat bread or another bread that has whole-wheat flour first on the ingredient list. 
Red Pepper, Arugula & Goat Cheese Paninis
Serves 4
Ingredients:
1 1/3 ounces soft goat cheese
3 tablespoons low-fat cottage cheese
2 teaspoons fresh lemon juice
1 large garlic clove, minced
1/2 teaspoon freshly ground black pepper, or to taste
8 (1-ounce) slices pumpernickel or rye bread
1 (16-ounce) jar roasted red bell peppers, well drained and cut into 12-16 pieces
16 large arugula leaves
12 large fresh basil leaves
 
Directions:
1. In a small bowl, stir the goat cheese, cottage cheese, lemon juice, garlic and black pepper together until well combined.
2. Thinly spread goat cheese mixture evenly on the top of each bread slice. Layer red pepper on top of 4 bread slices and top with the other slices.
3. Place each sandwich on a preheated panini grill over medium heat. Lightly place the lid on the sandwiches. Grill 5 minutes or until toasted. Cook in batches, if necessary. Alternatively, pan-toast sandwiches in a preheated nonstick skillet over medium heat for 3-4 minutes per side, or until toasted.
4. Immediately fill each panini with arugula and basil. Slice each in half diagonally and serve warm. 
Nutritional information per serving (1 panini):
Calories: 190; Carbohydrates: 29g; Protein: 9g; Total Fat: 4g; Saturated Fat: 1g; Cholesterol: 5mg; Dietary Fiber: 9g; Sodium: 400mg
Published on: September 28, 2016