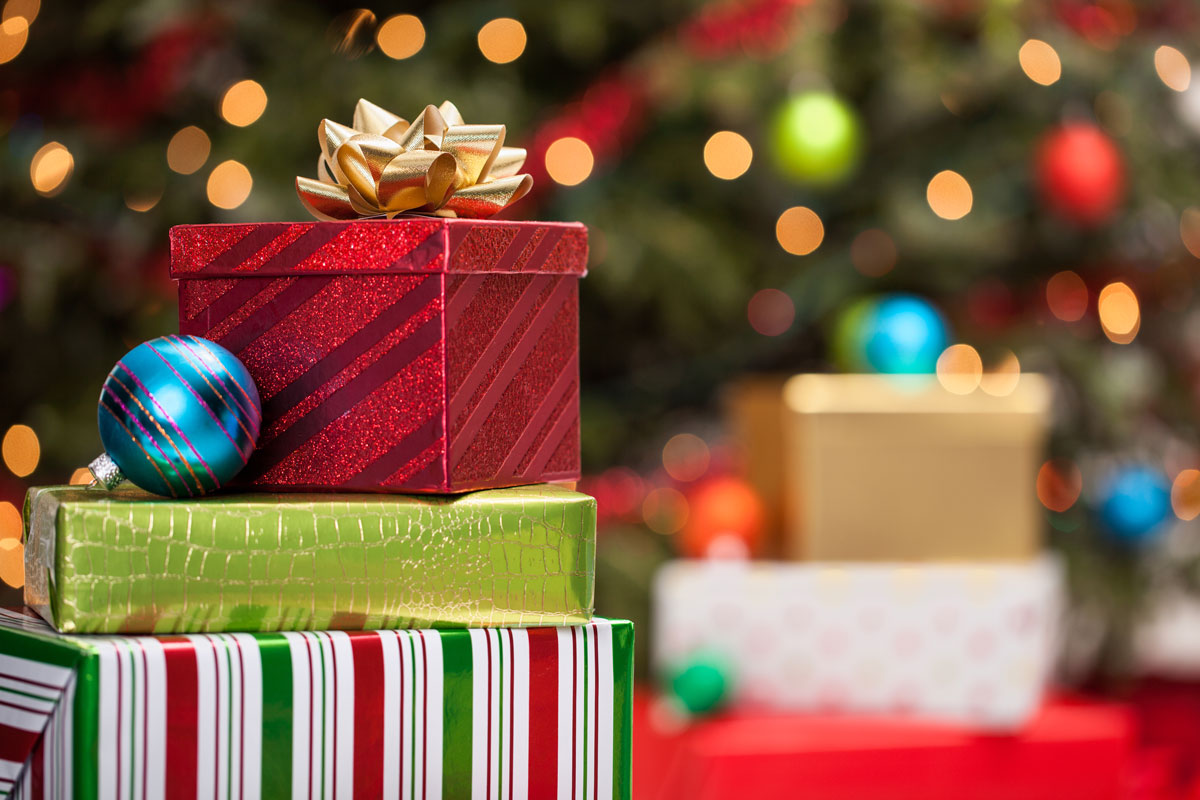 bundled holiday gifts
A Guide to Safe Holiday Gifts
December is Safe Toys and Gifts Month. Before buying gifts for all the good little boys and girls in your life, consider these toy safety tips from the American Academy of Pediatrics and the U.S. Consumer Product Safety Commission:
Choose toys appropriate for a child's age and skill level.


Avoid toys with small removable parts that can pose a possible choking hazard.


Look for high-quality design and construction.


Watch out for toys that make loud noises to protect children's hearing.


Don't buy toys with heating elements or sharp points or edges for keiki younger than age 8.


Skip toys with strings and straps longer than 7 inches; these pose a strangulation risk.


"Parents should read labels on toys very carefully," says Dr. Grace Galiza, a pediatrician at Kauai Medical Clinic (KMC). "Gifts should always be age-appropriate, and labels should state that the toys are nontoxic."
"Pay close attention to the labels on toys," agrees Dr. Gina French, a pediatrician at Kapiolani Medical Center for Women & Children. "Whenever it says 'for ages 3 and up', it is telling you that there are parts that could choke a younger child."
If the label doesn't provide an age recommendation, grab a roll of TP to test if the toy is safe for your child. Any toy or part of a toy that can drop through the core of a toilet paper roll should be avoided for children under the age of 3.
"Even if your child wants it or is 'smart' enough to play with it, the toy isn't safe for them," French says.
"Small batteries and magnets can be especially dangerous if swallowed," Galiza adds.
"And no matter how much they beg, never get children a TV or computer for their bedroom, at any age," French states. "You can only monitor what you can see. They will stay up late watching or using it, and poor sleep leads to poor learning and poor health."
A great gift that's appropriate for all ages is a book.
"Whether it is a sturdy board book for parents to read with infants and toddlers, a beloved classic from your own childhood, or even a story about a child's favorite characters from movies, shows, and even video games, there are books out there on every subject," Galiza says. "While every child is different, no matter what they like you can find a book out there that they will enjoy."
"Read the good ones together, even if your child can read," French says. "If you don't know which books are right for your child's age, ask a librarian or teacher for advice."
Other good gift ideas include:
Blocks, fit-together toys, push-pull toys and pounding toys – Suitable for children ages 1-3.


Nontoxic art supplies – For ages 3-5.


"Creative toys that children have to manipulate with their own hands (e.g., art supplies, building toys) make for good gifts," French says. "When you buy crayons and paints, don't forget to get paper – and keep your eyes on the little ones when they are playing with something; you don't want 'art' on your walls!"
Active toys like swings, slides and tricycles – For ages 3-5.


Kitchen gadgets (think a personalized apron and kid-sized kitchen tools like spatulas, bowls and whisks) – Supervise children when in the kitchen, no matter what their age.


Sports gear and good-quality sports equipment such as jump ropes, basketballs, soccer balls, bicycles and skateboards (don't forget also to buy proper safety gear!) – For ages 9 and above.


"I give toys that get kids outside and active, like skateboards, bikes, surfboards and bodyboards," says Dr. Owen Prentice, an emergency medicine physician at KMC's Urgent Care Clinic. 
However, Prentice notes that falls from bikes and skateboards are among the top injuries he sees. He advises that parents make sure to buy a helmet if a shiny new bike or board is on their keiki's list to Santa. 
Once presents are opened, immediately discard plastic wrapping, twist ties and pins, which can cause suffocation. Store toys in a designated location, such as on a shelf or in a toy chest, and keep older kids' toys out of reach from their younger siblings. 
With any gift item, be sure to always read the product warning labels and instructions, and only use the product as directed.
Published on: December 7, 2015