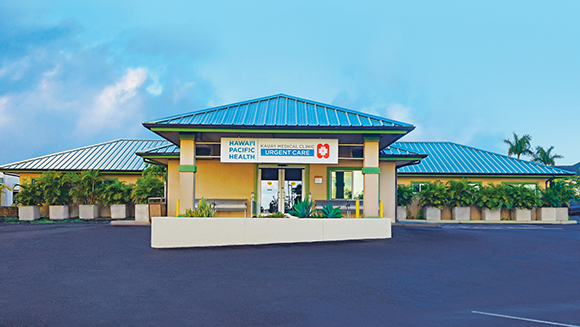 Location and Contact:
4484 Pahee Street
Lihue, HI 96766
Phone: 245-1532
Urgent Care Hours:
Monday - Sunday: 8 a.m.-7 p.m.
Except New Year's Day (Jan. 1), Thanksgiving and Christmas (Dec. 25).
The department will close early at 5 p.m. Christmas Eve (Dec. 24), and at 4 p.m. New Year's Eve (Dec. 31).
Kauai Urgent Care is proud to bring you and your entire family the best in medical care at a convenient location. Our mission is to serve the Kauai community with accessible, quality health care.
We believe that informed patients and families are better prepared to make health care decisions and to follow prescribed treatments. We welcome your questions and value your opinions and participation in all aspects of your care.
When your doctor is not available, you can go to the Kauai Urgent Care Clinic. It is effective for treating short-term medical problems that are not life-threatening or problems that can become worse if you wait.
Kauai Urgent Care Clinic:
Focuses on diagnosing and treating conditions that aren't life-threatening yet need to be taken care of right away.
Offer quality care on a walk-in basis.
Have extended evening and weekend hours.
Have radiology and laboratory services available.
Visit the Kauai Urgent Care Clinic for illnesses and injuries that are not life-threatening, including sprains and strains; cuts, scrapes and burns; eye, ear, sinus, skin or urinary tract infections; allergies; strep throat; sporting injuries; colds, fever or flu; minor broken bones.
The Kauai Urgent Care Clinic is NOT an emergency room. If you believe that you have an emergency, you should call 911 or go immediately to the closest hospital emergency room.
A hospital emergency department treats patients in the emergency room with very serious or life-threatening problems. Hospital emergency departments are not the place to go for common illnesses or minor injuries.
Emergency departments:
Treat severe and life-threatening conditions.
Have specially trained doctors, paramedics, nurses and other support staff that can recognize, diagnose and make recommendations on a wide variety of medical issues.
Are open 24-hours a day, seven days a week, 365 days a year.
If you are unsure of where to go for help, call your physician or the Kauai Urgent Care Clinic at 245-1532. You can also call the Wilcox Medical Center emergency department at 245-1100.
The Kauai Urgent Care Clinic can also communicate your health information to your primary care physician, if requested.
Need help finding a primary care physician? Call Kauai Medical Clinic at 245-1500.