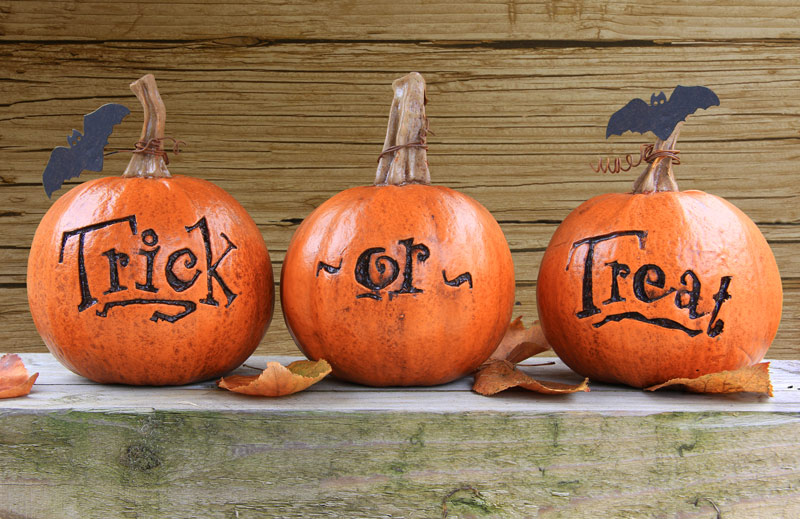 Trick-or-Treat Tips to Keep Kids Safe on Halloween
Halloween is the time of year for tricks, treats and good-humored frights. 
But, sadly, research shows a scary statistic: Children are more than twice as likely to be hit by a car and killed on Oct. 31 as on any other day of the year. 
"Halloween is usually associated with candy and costumes, but it's also a time when there's increased risks of injuries such as cuts, falls and especially from pedestrian injuries," says Lisa Dau, a registered nurse and injury prevention coordinator at Kapiolani Medical Center for Women & Children. 
"On Halloween, more children are on the street after dark than normal, and they are so excited that they may run out into the street without thinking," Dau explains. "Parents need to take extra precaution to keep keiki safe while trick-or-treating because children are often distracted by the excitement of Halloween, letting their guards down."
Here, Dau shares other easy and effective behaviors that can help reduce a child's risk of injury: 
Walk Safely
Always walk on well-lit sidewalks or paths. Keep to direct routes with the fewest street crossings.


Cross the street at corners. Obey traffic signals and use crosswalks.


Look left, right and left again when crossing, and keep looking in both directions as you cross.


Make eye contact with drivers before crossing in front of them.


Walk, don't run, across the street.


Watch for cars that are turning or backing up.


Never dart out into the street or cross between parked cars.


Don't text and walk! Keep electronic devices (cell phone, portable game, etc.) safely stowed in a bag until you reach your destination.
 
Keep Costumes Creative AND Safe
Choose face paint and makeup whenever possible instead of masks, which can obstruct a child's vision.


Carry glow sticks or flashlights – this helps children to see and be seen by drivers.


When selecting a costume, make sure it is the right size to prevent trips and falls.


Decorate costumes and bags with reflective tape or stickers to make children extra visible.
 
And for parents:
Drive with Extra Caution on Halloween
Slow down and be especially alert in residential neighborhoods. Children are excited on Halloween and may move in unpredictable ways.


Take extra time to look for kids at intersections, on medians and on curbs.


Enter and exit driveways and alleys slowly and carefully.


Eliminate any distractions inside your car so you can be alert to your surroundings.


Drive slowly, anticipate heavy pedestrian traffic and turn your headlights on earlier in the day to spot children from greater distances.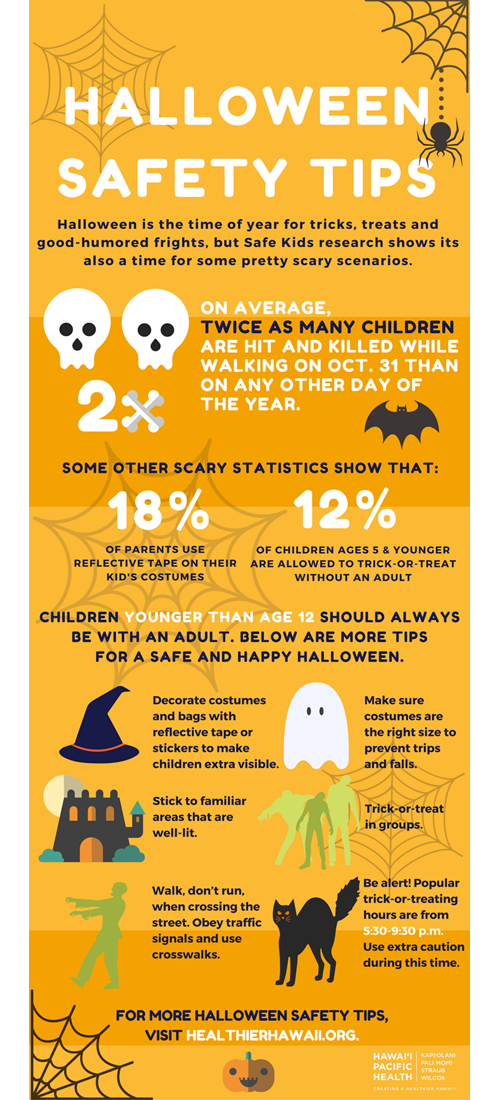 "We're asking drivers to take extra care and slow down on neighborhood roads – it's very important that drivers put down mobile devices to avoid distraction!" Dau says. 
Popular trick-or-treating hours are between 5:30 p.m. and 9:30 p.m. so be especially alert for kids during those hours. 
"Children younger than the age of 12 should not be alone at night without adult supervision," Dau stresses. "If kids are mature enough to be out without supervision, remind them to stick to familiar areas that are well-lit and trick-or-treat in groups." 
For more tips for keeping kids safe this Halloween, visit SafeKids.org.
Published on: October 15, 2015