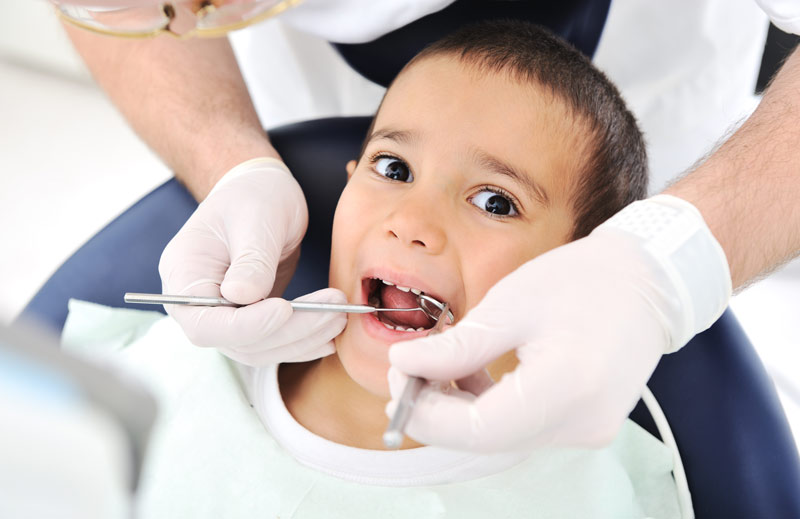 5 Tips to Tame Your Child's Fears of the Dentist
It may come as no surprise that many children are afraid of the dentist. 
The bright lights, strange noises, scary instruments and strangers poking around in their mouths is enough to frighten many adults, let alone a child! 
However, good dental hygiene is crucial to overall health, and avoiding the dentist early on can lead to major health problems down the line. 
"Good habits started at an early age are important steps in keeping children's teeth and mouths healthy," says Dr. David Sumikawa, a pediatric dentist at Kapi'olani Medical Center for Women & Children. 
"If we can establish good oral hygiene habits and keep their bacterial activity and decay rate low early on, these things help to promote good oral health going forward," Sumikawa adds. 
Here, Sumikawa offers five helpful tips to tame your child's fears: 
Start 'Em Young.

Not only will regular dental exams ensure good oral health for years to come, the more your child visits the dentist's office, the more familiar the environment will become.

"It's not unusual for young children to be afraid of the dentist, but as they continue to come back for regular checkups, they become more comfortable, and we begin to earn their trust," Sumikawa says.




Watch Your Words.

Experts from the American Academy of Pediatric Dentistry advise parents tell children that the dentist is going to "check their smile and count their teeth." Other positive phrases like "clean, strong, healthy teeth" turn the visit into a fun adventure rather than a scary situation.

 

Keep It Simple.

Don't include too many details about what might happen. Doing so will only raise red flags for your child.
However, if you have concerns, communicate your worries to the dentist or nurse privately.

"Ask the dentist or staff any questions you might have about what will happen during the visit so that you can have a good understanding going in," Sumikawa says.

 

Play Pretend Prior to Your First Visit.

Sumikawa says that one of the top reasons a child fears the dentist at first is because he is unaccustomed to having someone invade his personal space, similar to how young children don't like getting their hair cut or fingernails trimmed.

Before your appointment, pretend that you're the dentist and count your keiki's teeth using a toothbrush. Then, have your little one be the dentist and let him brush his stuffed animal's teeth.

There also are books that you can read to your child to show that a visit to the dentist's office really isn't so bad. Good ones include:

"Show Me Your Smile!: A Visit to the Dentist" (Dora the Explorer)
"Just Going to the Dentist"
"Behold! No Cavities!: A Visit to the Dentist" (SpongeBob Squarepants)
"Tooth Trouble"




Stay Positive.

"The most beneficial thing a parent can do is keep a positive attitude," Sumikawa says. "Some parents come into the appointment and they're nervous for their child. Kids are very perceptive, and they'll pick up on that vibe."


Instead, remain positive and try not to worry about it too much.
"Be matter-of-fact about the visit so that it's not too much of a big deal," Sumikawa advises. "Keep a positive attitude about the importance of getting their regular checkups, much like when they go to their pediatrician." 
Use the same positive approach to oral hygiene at home by encouraging your children to brush and floss every day, and make it part of their normal routine. 
And remember: Parents play a huge role in how children perceive the dentist and dental care. 
"Parents are the ones who have the most influence on their children," Sumikawa says. "If parents have a positive view of going to the dentist and taking good care of their teeth, that attitude and receptiveness reflects on their children."
Published on: May 7, 2016