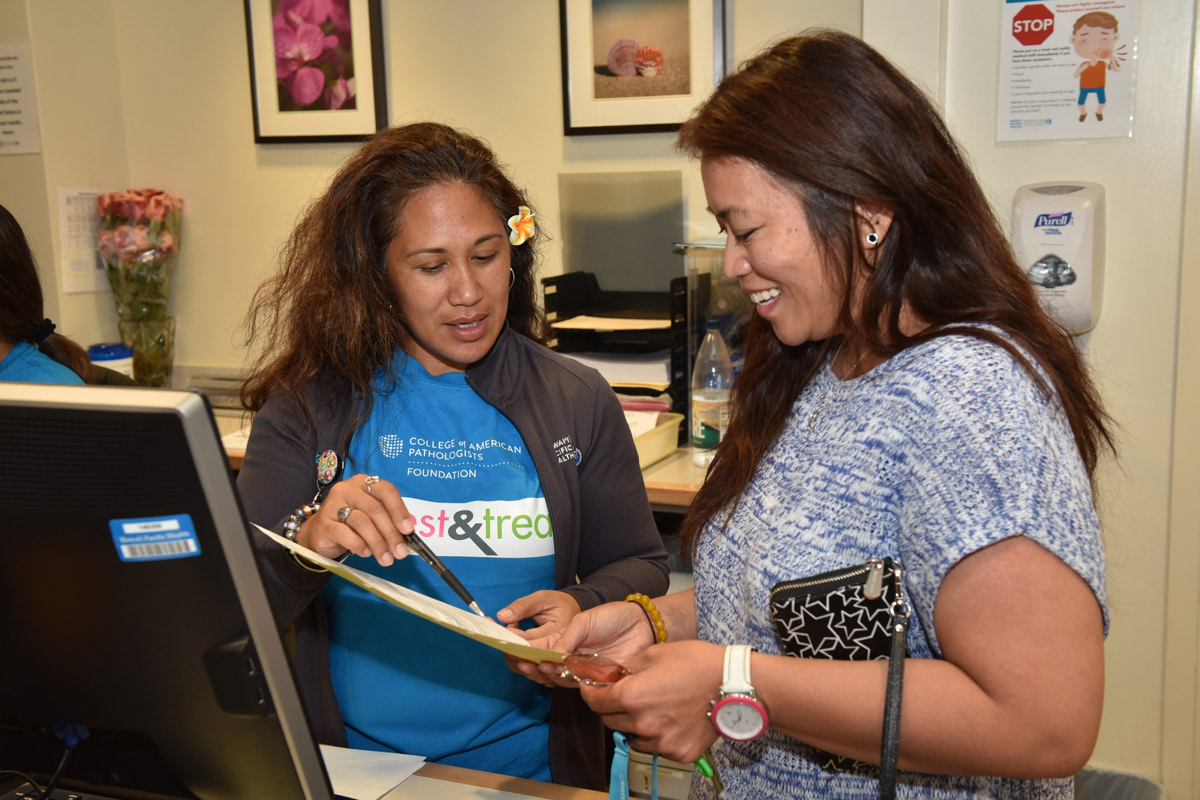 Aida Corpuz (right) reviews paperwork prior to receiving free cervical cancer and breast cancer screenings at the Kapiolani Women's Center as part of an event put on through a grant from College of American Pathologists (CAP) Foundation's See, Test & Treat program.
Kapiolani Women's Center Helps Hawaii Teacher Gain Access to Cancer Screenings, Follow-up Care
See, Test & Treat® program aims to remove barriers to early cancer detection in underserved populations
Aida Corpuz was up early the morning of June 29, 2019, to pick up her brother from his hotel in Waikiki. He was in town visiting from California, and Aida had planned to spend Saturday chauffeuring him to their favorite childhood spots around the island.
That's until something on the local news channel changed the trajectory of her day.
"I heard an announcement that the Kapiolani Women's Center was offering free mammograms and cervical cancer screenings for the uninsured and underinsured. I fell into that category and wanted to take advantage of this opportunity," Aida says.
An educator, Aida had been teaching in South Korea for the past five years before moving back to the states in early 2019.
However, the hunt for employment in Hawaii proved more difficult than Aida had expected, and she found herself without a job – and insurance – nearly four months after returning home.
"I thought it would be an easy transition back from South Korea, but it's taken me a lot longer. Even my mom said, you better hurry up and find a job so you can get medical coverage, because you never know what's going to happen," Aida explains.
Having access to regular mammography screenings is extremely important for Aida.
A previous mammogram detected a growth in one of her breasts, which Aida had been monitoring.
Now, unsure of when she may find a job and regain insurance coverage, Aida found it imperative to get re-checked that day.
"This was actually quite an opportune moment for me to get checked again. I know there might be something in my breast currently, so I wanted take advantage of this opportunity to monitor my situation," she says.
The health screenings also gave Aida the chance to visit the Kapiolani Women's Center for the first time.
"It's a great facility," says Aida, a local girl born and raised in Waipahu on the Leeward side of Oahu.
Aida expressed her gratitude to Kapiolani Medical Center for Women & Children as well as the See, Test & Treat® program for making available the potentially life-saving screenings for women such as herself.
"I think a lot of women are unaware of any conditions they might have – they don't have the resources or even confidence to go out there to inquire. When opportunities like this pop up, it's really great for them. Women need to be more aware of what's going on with their bodies – I think that's important," she says.
"Hopefully I can secure employment soon, but if not, I'm hoping there's going to be more opportunities for me to take advantage of some kind of medical services that are for people like me."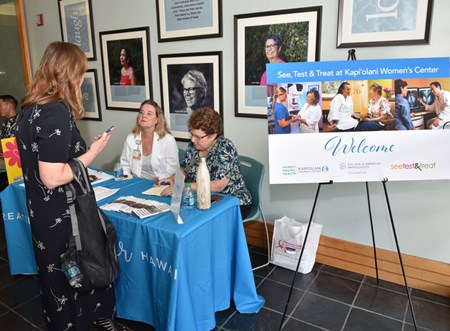 Thanks to a grant from the College of American Pathologists (CAP) Foundation as part of the See, Test & Treat program, Kapiolani Medical Center was able offer free cervical and breast screenings to Aida and nearly 50 other women during this first-ever event held in June 2019.
Throughout the day, free cervical cancer screenings were provided to women ages 21 to 64 and mammograms were offered for women ages 40 to 64.
Same-day test results were provided to ensure timely follow-up, and to help women establish and continue care as needed.
One of the more unique aspects of the program were the onsite clinicians, who could discuss any findings or questions regarding follow-up care.
According to CAP, these free cancer screening and health education services remove barriers to early cancer detection in underserved populations and to empower women to take charge of their own health and well-being.
Click here to read the full article on the Hawaii Pacific Health News hub.
Published on: August 5, 2019