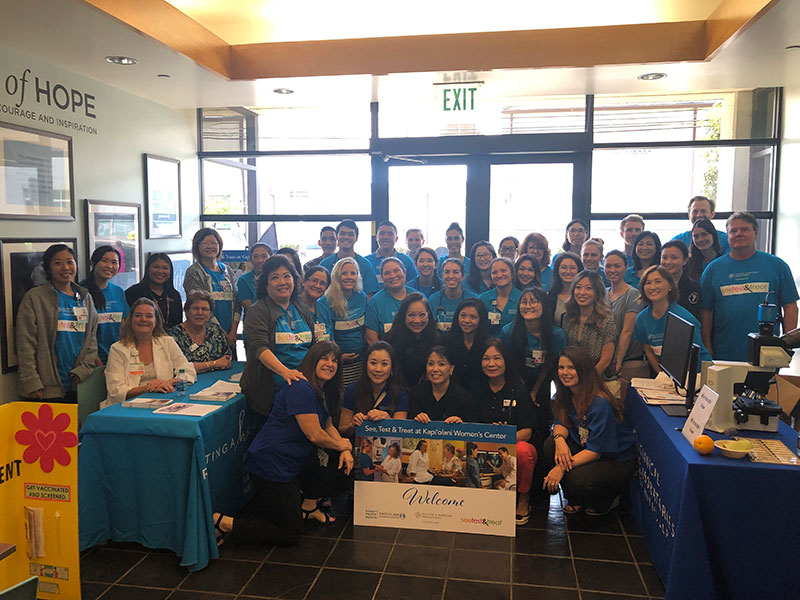 Helping to create a healthier Hawaii, Kapiolani Medical Center for Women & Children recently offered free cervical and breast screening as well as other information and education on women's health for uninsured and underinsured women. Nearly 50 women participated in this first-ever event held at the Kapiolani Women's Center on Beretania Street.
The event was held through a grant from the College of American Pathologists (CAP) Foundation as part of the See, Test & Treat program. The free cancer screening and health education program is designed to remove barriers to early cancer detection in underserved populations and to empower women to take charge of their own health and well-being.
"We know that here in Hawaii, certain populations have a much higher incidence of breast and cervical cancers, including Native Hawaiians, Filipinos, Micronesians and other Pacific Islander populations," said Dr. Jeffrey Killeen, pathologist at Kapiolani Medical Center and medical director of oncology services for Hawaii Pacific Health. "With this program, we're able to bring those women to us so we can connect them with the care that they need and make an impact on cancer outcomes in our communities."
Cervical cancer screenings were provided to women ages 21 to 64 and mammograms were offered for women ages 40 to 64. Same-day test results were provided to ensure timely follow-up, and to help these women establish and continue care as needed. Clinicians were also onsite to discuss any findings or questions regarding follow-up care. This unique aspect of the program helps women better understand their own health care and how to ask their providers questions.
Throughout the day, women also had the opportunity to learn more about health education resources, preventive screening information, HPV vaccine information and high-risk breast screening.
Each year, about 12,000 women in the United States are diagnosed with cervical cancer. Among some underserved groups, the incidence is 25% higher than that of the general population. And yet with regular screening, cervical cancer can be nearly eliminated. When breast cancer is diagnosed in its earliest, localized stages, the five-year survival rate is 98%.
PHOTO CAPTION:
Kapiolani physicians, nurses, technologists and other staff along with community partners and volunteers helped to provide free cervical and breast screenings for nearly 50 women at the Kapiolani Women's Center.
About Kapiolani Medical Center for Women & Children:
Kapiolani Medical Center for Women & Children is Hawaii's only maternity, newborn and pediatric specialty hospital. It is well recognized as Hawaii's leader in the care of women, infants and children. With 253 beds, the not-for-profit hospital delivers more than 6,000 babies a year, and is also a medical teaching and research facility. Specialty services for patients throughout Hawaii and the Pacific region include intensive care for infants and children, 24-hour emergency pediatric and adult care, critical care air transport and high-risk perinatal care. More than 1,700 employees and approximately 600 physicians provide specialty care at Kapiolani. The hospital is home to the Kapiolani Women's Center and the Women's Cancer Center, and offers numerous community programs and services, such as specialty pediatric clinics and the Sex Abuse Treatment Center. Kapiolani is an affiliate of Hawaii Pacific Health, one of the state's largest health care systems and a not-for-profit health care organization with over 70 locations statewide including medical centers, clinics, physicians and other caregivers serving Hawaii and the Pacific region with high quality, compassionate care. In addition to Kapiolani, Hawaii Pacific Health includes Pali Momi Medical Center, Straub Medical Center and Wilcox Medical Center. Learn more at Kapiolani.org.
About the College of American Pathologists and CAP Foundation
The College of American Pathologists (CAP), the leading organization of board-certified pathologists, serves patients, pathologists, and the public by fostering and advocating excellence in the practice of pathology and laboratory medicine worldwide. As the CAP's philanthropic arm, the CAP foundation supports patient-centered and humanitarian initiatives led by pathologists, striving to connect people in underserved communities with the specialized skills of pathologists. Learn more at Foundation.CAP.org, at Facebook.com/CAPFndn or on Twitter at @capfndn. Contact the CAP Foundation at capfnd@cap.org.