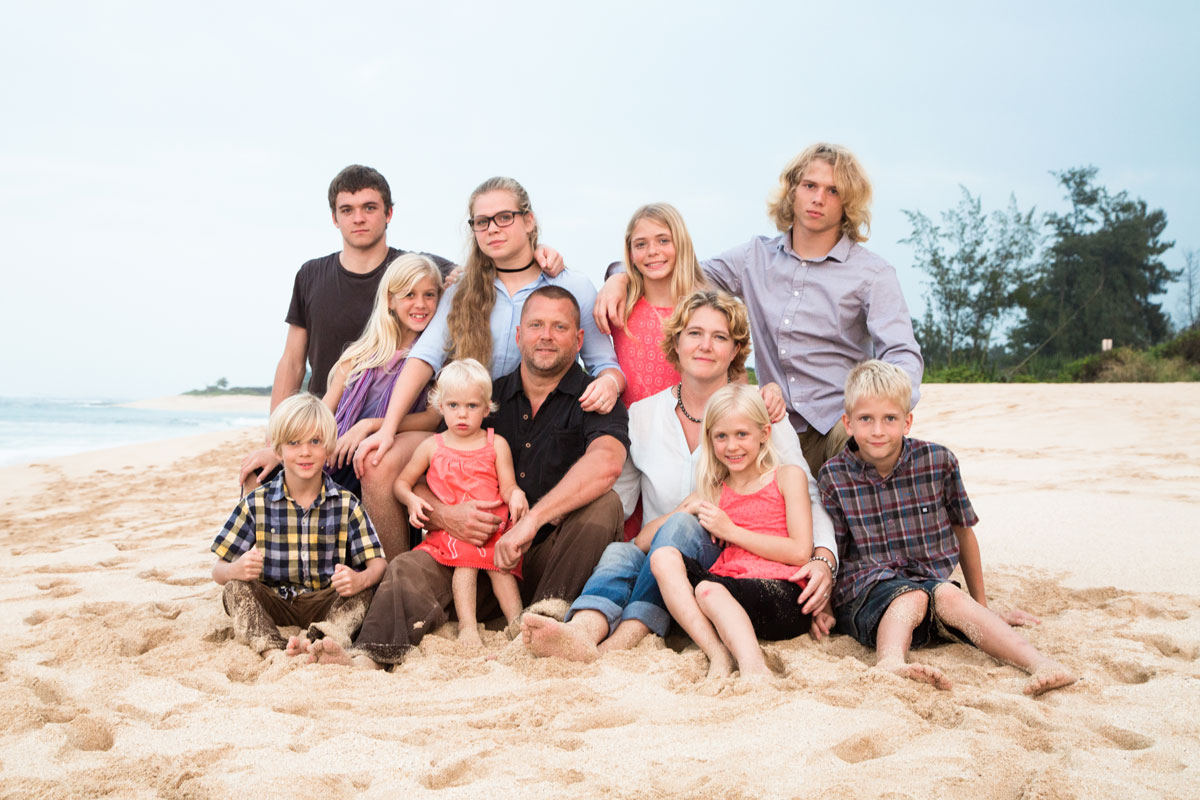 Now in remission, Casey Schmidt, seen here with her husband, Kevin, and their nine children, says her cancer diagnosis gave her a greater strength and appreciation for life.
Casey Schmidt: The Will to Live
After receiving the news she had cancer, Casey turned to her family, faith and the physicians at Pali Momi Medical Center for strength.
As a hands-on mother to nine and devoted wife who helps run a nonprofit youth ministry for military teens, Casey Schmidt leads a busy life, to say the least. 
In May 2015 the usually energetic Casey began experiencing several health issues, including pain in her neck and shoulders that wouldn't subside.
When she got her wisdom teeth removed in June, her wounds wouldn't heal.
As a precaution, Casey had gone to her primary care physician at the Straub Mililani Clinic on two separate occasions, where she had blood tests performed.
"The second time they took my blood, they compared the results. They immediately said, 'You have something seriously wrong with you,'" Casey remembers.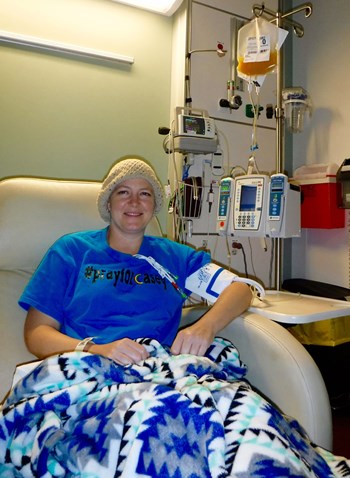 Casey's doctor recommended she follow up with Pali Momi Medical Center Oncologist Dr. C. Galen Choy, but in the short span of time between appointments, her body went through a blast crisis, a life-threatening condition caused by a buildup of immature white blood cells.
"I kept feeling worse and worse and worse. Kevin, my husband, insisted that I go to the emergency room, and it wasn't until later in the day when I felt like completely giving up that I relented," Casey says.
Casey told Kevin to take her to the Emergency Department at Pali Momi.
"I knew that Dr. Choy was there, and I felt it would be easier to be close to the doctor I was supposed to be seeing," Casey explains.
When Casey arrived at the Emergency Department, doctors assessed her condition and quickly worked to control her blast crisis.
"It was all a blur to me," Casey says. "My husband knew the seriousness of the situation, but at that point I didn't. The next day when they moved me up to a hospital room, I had my family and a lot of friends there. They were all staring at me, and I thought, 'This is really nice that they all came here to see me.' Later, my husband told me they were actually there to say good-bye to me. That was the heaviness of the moment – I thought that death was, if not immediate, something that I was going to have to deal with."
Doctors determined that Casey had adult acute myeloid leukemia (AML), a form of cancer in which the bone marrow makes abnormal myeloblasts, red blood cells or platelets.
"It makes it so that your body can't function normally because it doesn't have the appropriate amount of white blood cells," Casey explains.
Kevin quickly called their families to inform them of the diagnosis.
While he was on the phone with his mother, Kevin handed the phone to Casey. The next thing Casey heard sparked the fire within her.
"Casey girl! Are you going to fight this?" Kevin's mother promptly asked.
Casey firmly replied, "Yes I am."
From that point forward, Casey knew what had to be done: To be strong was the only option.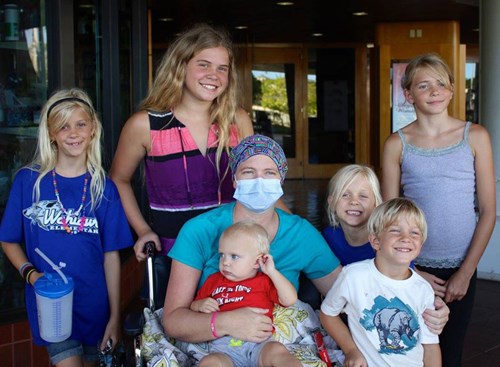 "I wanted to make sure that each of my children knew how I felt about them – I didn't want to leave them with any question on their minds. I told them that I felt that God had prepared me for this moment to fight this cancer. But I told them that if God had prepared me, He had prepared them," Casey says.
"I wanted to impart strength to them to be able to deal with the fact that their mom could possibly die. And I told them that they weren't allowed to use my death as an excuse to not live their life. That it had to be something that empowered them and something that could give them strength," she adds. "I wasn't telling them not to cry or grieve, but I wanted those words to give them strength should something happen."
Due to the aggressive nature of Casey's cancer, her treatment plan included a bone marrow biopsy and induction chemotherapy to kill the leukemia.
"The induction chemotherapy stripped my cells down to zero with the hope that it would jolt my body into producing healthy cells. The whole process of induction chemo and my immune system recovering took five weeks," Casey explains.
Because the treatments weakened Casey's immune system, family time was limited to short visits. Her husband and children – four boys and five girls who at the time ranged in ages from 1 to 17 – all had to wear masks and gowns to protect their mom.
"It was difficult because my immune system was compromised," Casey says. "Everyone would need to put gloves and masks on, and they would sit on one side of the room, and I would be in my bed on the other. They would bring their coloring books and crayons and games. It kind of became our living room, in a sense."
Casey would also need five rounds of chemotherapy to complete her treatment.
So that their mother could focus on getting well, Casey's two eldest daughters would wake up every day at 6 a.m. to prepare breakfast, wake their siblings and get them ready for school – all without a single complaint.
Her husband also kept the stability both at home and at the medical center.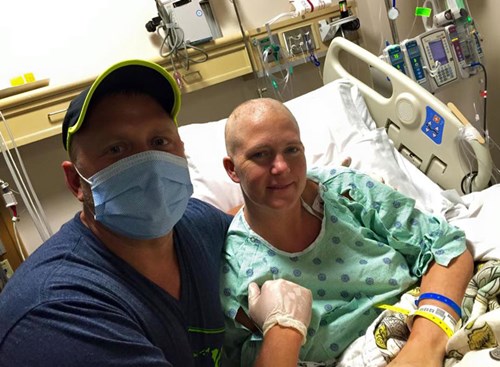 "He would sleep in the hospital room at night, then wake up really early to get the kids ready for school, go to work, have dinner with the kids at home, then return to Pali Momi to be with me," Casey says. "We talk about that a lot. This situation can tear a lot of families apart, but I feel that it really strengthened us, because of the importance to be open with each other and keep things as close to normal as possible."
Casey says her community also was a huge source of support.
"They helped us and provided a lot of stability for our kids as well," she says. "When your community steps in and takes care of so much, I feel like that is a real testimony to people's ability to be available and help others. I feel that is a huge gift."
During this time, Casey found strength in not only her ohana, but in the staff members at Pali Momi who quickly became like family.
"You can have a really good family support system, but your life is actually in the hands of the medical professionals. To have them be people who care is really a privilege to have," Casey says.
Among those Casey would rely on most heavily was Mavis Hur, a registered nurse who at the time worked in the inpatient care unit on the fifth floor at Pali Momi.
"Mavis administered chemotherapy to me, so we would have a lot of interaction throughout the day," Casey remembers. "I feel like she was someone I needed. I couldn't touch my family – I couldn't hold them, I couldn't hug them – but the people who come in who are actually caring for you … I feel like I had a really strong attachment to Mavis not just because she did her job really well, but she was also very kind. I really appreciate the personal minutes that she had toward my care and my family's care."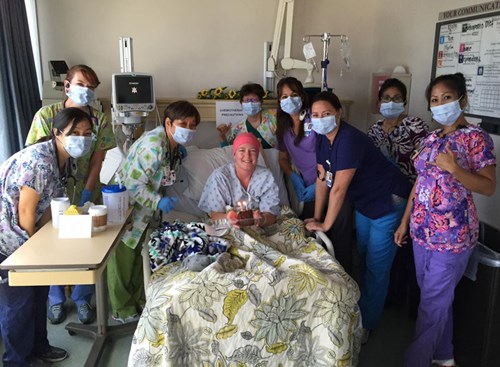 "We as the medical team are blessed with this opportunity to take care of strangers through some of the most vulnerable times of their lives. More than a daily challenge of prioritization and flexibility, nursing is also a career focused around compassion, especially when caring for hematology and oncology patients. I knew from the beginning that though Casey was quite ill, she needed more than just physical care. She needed a friend, someone to be there for her during those rare times when her family couldn't," says Mavis, who now is a nurse in the Infusion Center in the Hawaii Pacific Health Cancer Center at Pali Momi.
"You could see the strength in Casey and her family, and we wanted to be a part of that," Mavis continues. "We would see her family come in every day, and we would get to know the family. It was so inspiring to see their strength through this difficult time, and that inspired me to be another source of strength for Casey as well."
And although chemo was unpleasant, she is grateful for all that Choy has done for her.
"With him, you could tell that he was doing what he loved, and that's a relief as a patient," Casey says. "You know that someone who is doing what they love will give you their best."
Casey's last treatment was in December 2015.
Now in remission, Casey continues to see Choy for follow-up care. Her appointments had been spaced every three months apart, but after her appointment in February 2018, Casey was given the green light to reduce the frequency of her visits to every six months.
"I actually cried when he said it. I got really emotional, which I didn't expect, but it reminds you that you're still in this – you're not home free yet," Casey says.
Life at home has gotten back to normal too, but Casey says that during major life milestones, she remembers how close she came to not being a part of these moments.
"One of my sons graduated from Leilehua in 2018, and I had another one graduate in 2016, and I thought, I could have not been here for that," Casey says. "Everything that has happened since then, there's more depth to it."
Looking back on her experience, Casey would like to emphasize to others the importance of being open, trusting your doctors and nurses, and not being afraid to ask questions.
"I could live in fear everyday if I wanted to. You have to make a conscious effort not to live like that," Casey says. "When being strong is the only option, you finally begin to understand just how strong you are."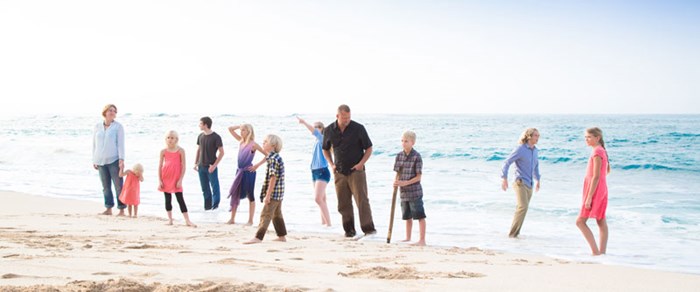 Published on: August 7, 2018