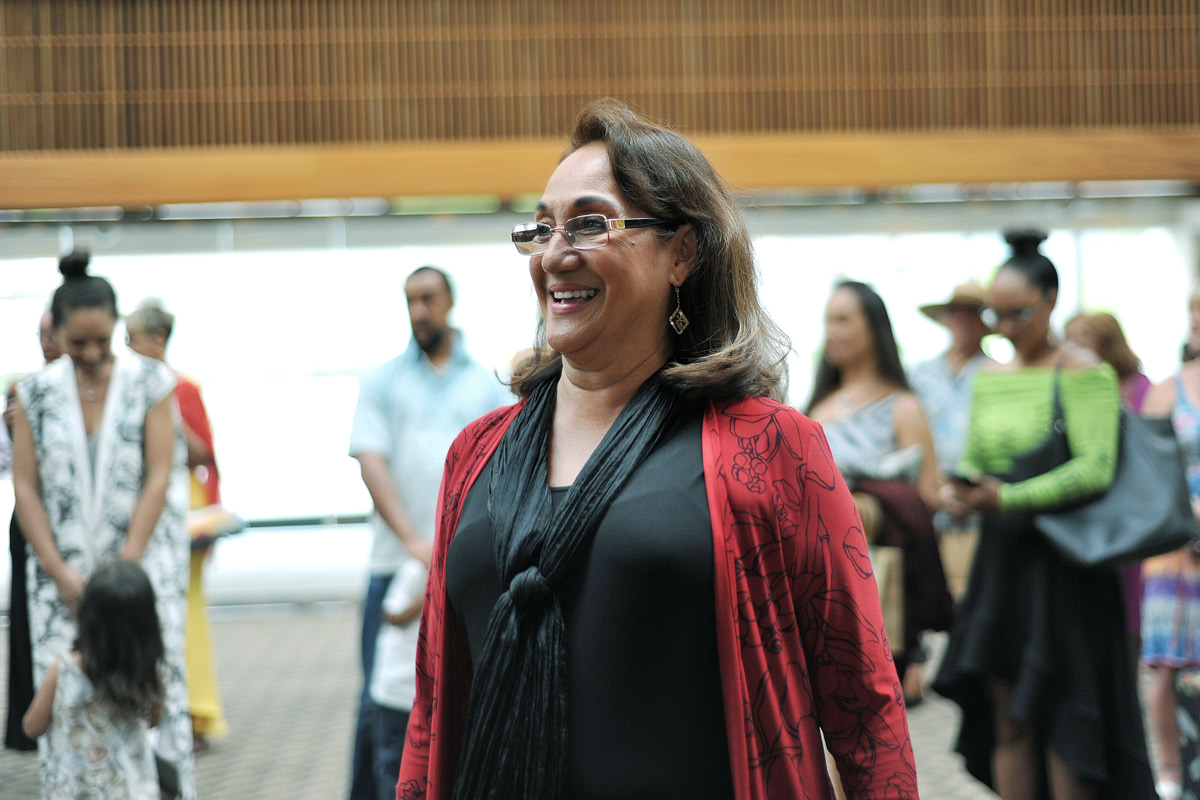 Vicky Holt Takamine
A renowned kumu hula (master teacher) and Hawaiian cultural advocate, Vicky Holt Takamine now is rallying for another cause – raising awareness about breast cancer and encouraging women to be leaders of their health. 
"Be bold. Be aggressive. And don't be afraid," says the energetic 70-year-old. "I encourage all women to take charge of their own health care – not just be part of the team, but to be the leader." 
Being a leader is a role Vicky plays well. A 1965 graduate of Kamehameha Schools, Vicky received her bachelor's and master's degrees in dance ethnology from the University of Hawaii at Manoa. She is the kumu hula of traditional Hawaiian dance studio Pua Alii Ilima as well as the executive director of the PA'I Foundation, a nonprofit organization Vicky established in 2001 to serve the needs of her Hawaiian community and those who make Hawaii their home.
Under her leadership, PA'I has partnered with First Peoples Fund, the National Association of Latino Arts and Culture and Alternate Roots to develop leadership and networking opportunities for artists through the Intercultural Leadership Institute.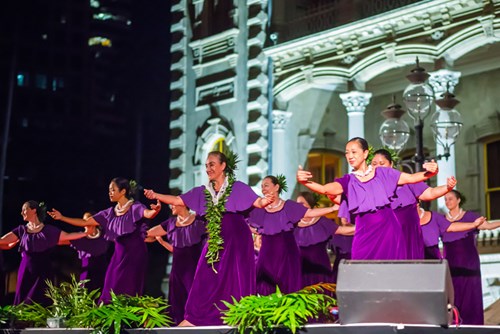 For her longstanding commitment and advocacy for the arts, Vicky was named a 2016 USA Doris Duke Fellow by the United States Artists. 
But, just as Vicky was preparing to fly out to Chicago to accept her award, she received the call of which no woman wants to be on the receiving end. 
"You are never prepared to hear you have breast cancer," Vicky says. "It's really emotional. You never want to hear that." 
Vicky was diagnosed with stage 1 breast cancer in March 2017. 
"I was diagnosed the day before my father's funeral services," Vicky remembers. "My father had just passed away, and at the funeral service, as everyone from the halau was preparing for the service, I gathered all of my students – I had already told my mother and my sons – and I said, 'Thank you all for being here to help with Dad. I have breast cancer. I don't know what my options are right now, but I will let you know.'" 
The next day she met with her cancer team at Pali Momi Medical Center, who gave Vicky the green light to take her trip to Chicago and claim her award. They also developed a plan of treatment, with Vicky taking the lead. 
"I wanted to be proactive. My mother had breast cancer, my grandmother died of breast cancer, my sister died of lymphoma – that's my family history. I had been through a lumpectomy, chemotherapy and radiation with my mother, and it took such a toll on her – on her body, on spirit … I don't have time for that. I have lots of things that I have yet to do, and I really wanted to be done with this as quickly and as efficiently as possible," Vicky explains. 
"After Vicky was diagnosed with breast cancer, we provided her with treatment options. She opted for a double mastectomy. In her case, we also discussed her family history and her risk for genetic mutations," says Dr. Briana Lau-Amii, a surgical oncologist formerly at Pali Momi who performed Vicky's procedure on April 6, 2017, less than one month after the initial diagnosis.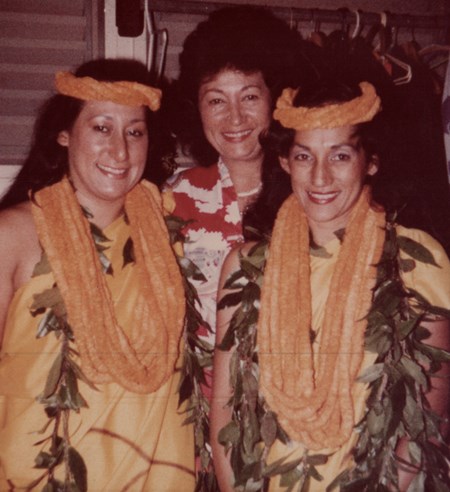 "Our cancer program is very unique in that once a person comes to the Cancer Center and has a diagnosis, she is immediately paired with a patient navigator. That navigator helps guide her with all of the information she needs to know about breast cancer and what to expect. She is then given two surgeons," Lau-Amii explains. "It really is a team-based approach." 
Six weeks after surgery, Vicky was well enough to emcee the MAMo Wearable Arts fashion show with co-host Robert Cazimero on May 17 – with her drains still in place! She encouraged women in the audience to get their mammograms and to be advocates for their own health. 
"I told the audience to 'Go check your chi-chis!' Robert was speechless!" Vicky says with a good-natured laugh. "I was not fully healthy or strong, but I was strong enough to emcee that whole show, and I wanted to be up there. I wanted to make sure that I'm out there to support women who are fighting breast cancer." 
Vicky now is considered stage 0 breast cancer, meaning there is no sign of the disease in her body. Though she will continue follow-up appointments with Lau-Amii every six months for at least the next five years to monitor her condition, Vicky is confident that her swift action helped prevent her diagnosis from becoming worse. 
"I was aggressive in my treatment because cancer is aggressive. But as breast cancer patients, we have a chance, because breast cancer is treatable if you catch it early. Don't leave anything to chance," Vicky says. 
"I was really fortunate that I had a very strong support system of family members who were there to take care of me – to make my food, drain my bulbs, give me a shower," she adds. "I know that not everybody has that, and I think that we need to help the community who don't have a strong support system or resources." 
She also credits her team of physicians, nurses and patient navigators for helping her through this entire process. 
"I was really happy to be fully informed and prepared for what was to come," Vicky says. "Although, you really can never be fully prepared for something like cancer, I felt I had all of the information I needed and people there to support me."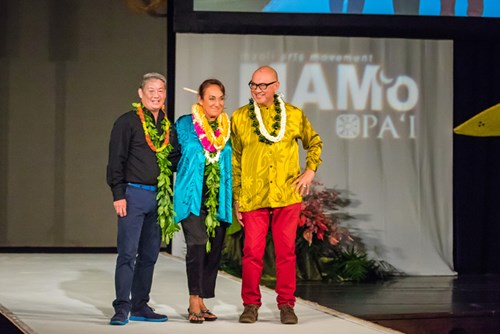 Amid her busy schedule, Vicky also is finding time to fit in one more task – new tatas! 
"I'm in the process of getting 'inflated,' and I just want to be bigger than my opu (stomach) so that when I put my dress on or my blouse on, it will just fall over my opu," Vicky laughs. "I'm not quite there yet, but now is all about reconstruction and moving forward."
"Reconstruction after treatment is an important step because it helps provide women with as much normalcy as possible," says Lau-Amii. "When you first get this diagnosis, everything is very scary – people talk about surgery, chemo, radiation – it can all be very overwhelming. But, I think breast reconstruction gives the patient a little peace of mind and a little hope that they have something to look forward to, that they have breast reconstruction to rebuild what they may have lost to breast cancer." 
Never one to sit by idly, Vicky now is giving back to her community. One way she is doing this is by offering two months of free hula therapy at her Kalihi hula studio to breast cancer survivors wanting to improve mobility and range of motion in their limbs. 
She also served as the honorary chair of the 2017 Susan G. Komen Race for the Cure and is talking with designers on creating fashion for women post-mastectomy, to be featured in the MAMo show next year. 
"Sometimes, we put the community or other people in front of our own health care, and women are the first ones to do that. They sacrifice their own health for others. I just said, I'm going to do this – I have to do this – I have to take care of myself, and when I'm better, I will come back," Vicky says. 
"Now that I've taken care of myself, I can help the rest of my community. I can share my story if that's going to help you."
Published on: October 16, 2017