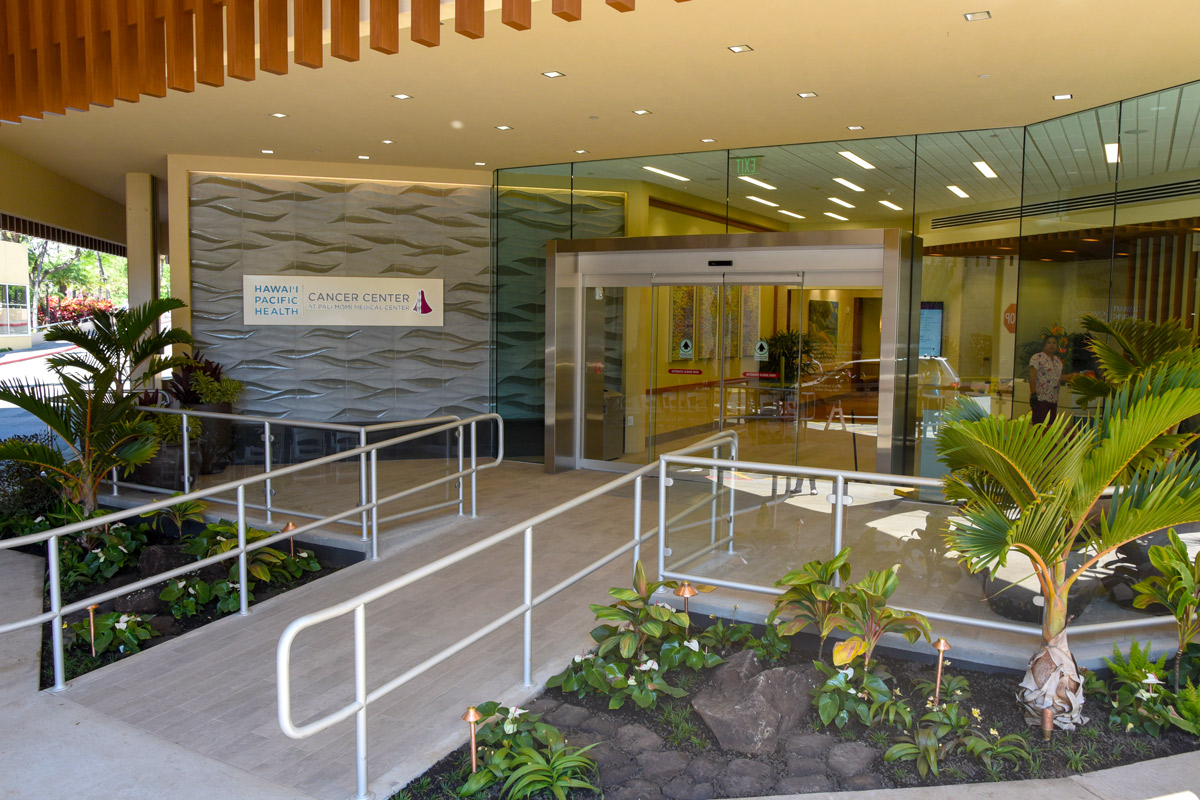 Pali Momi Opens Doors to First Comprehensive Cancer Center in Central & West Oahu
Ten years ago, Hawaii Pacific Health and community leaders had a vision to create a place to provide comprehensive cancer care for the people of Central and West Oahu. 
In 2014, the location was picked, and in August 2016, a groundbreaking ceremony celebrated the beginnings of that vision. 
On Oct. 30, 2017, about 14 months after the initial work had begun, the Hawaii Pacific Health Cancer Center at Pali Momi Medical Center officially opened its doors.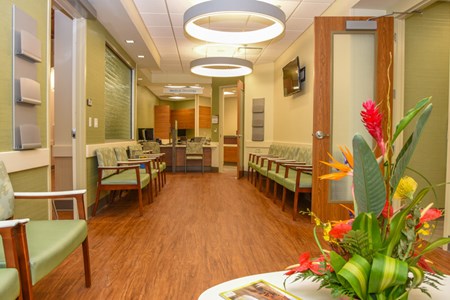 The 24,000-square-foot center is designed to become a hub for comprehensive, coordinated cancer care.
Set to be completed in phases, the center will provide diagnosis, treatment and support services in one centralized location for cancer patients who live in Central and West Oahu. 
"We know unification of these various services will make a tremendous impact on the delivery of cancer care for the communities in this part of our island," says Pali Momi Medical Center Chief Medical Officer Dr. James Kakuda. 
Created with the patient experience in mind, the center evokes a sense of calm in hopes of alleviating some of the tension patients feel when faced with a cancer consultation or treatment. 
Other special touches that make this a truly "healing environment" include the use of soft lighting and colors, as well as hand-selected artwork created by local artists. 
"We know this is a scary and trying time and want to make their visits here as calming and uplifting as possible," Kakuda says. "Even more important than the technology and the gadgetry, are the people who will work here and infuse all who come here with comfort, compassion and hope." 
From its convenient location on the ground level of the Downtown Parking Garage at Pearlridge Center, the center will house services that previously would require a drive into downtown Honolulu to access. Those available now include:
Medical Oncology – In 2018, other oncology specialists will travel from Straub Medical Center to see their patients at the center as well, alleviating the burden of having to travel into town for care.


Radiation Oncology – Therapy provided through the Cancer Center of Hawaii.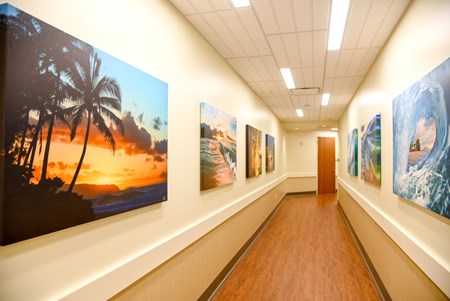 Spring 2018 will see the addition of an infusion suite complete with hydration, blood transfusions and injections, as well as survivorship, navigation, lab services for blood draws, and a pharmacy.
Additional amenities include:
Physician offices.


State-of-the-art conference center with space for integrated care teams to meet and discuss ongoing patient plans.


Common areas.


Ample parking.


Free shuttle service.


Easy access to and from Pali Momi Medical Center.
 
Future phases of the center will be designed based upon specific community needs. 
"Our patients will come here to see their oncologists, access the laboratory, see patient navigators and survivorship clinic, but for the first time in Pali Momi history, they will also receive radiation therapy here through our collaboration with the Cancer Center of Hawaii," Kakuda explains. "Together with services such as robotic, minimally invasive surgery in the main clinic, we can offer true multi-disciplinary care in one place." 
In addition to being the first center of its kind serving Central and West Oahu, the Hawaii Pacific Health Cancer Center at Pali Momi Medical Center is the only cancer treatment program in West Oahu accredited by the American College of Surgeons Commission on Cancer. 
"This center brings state-of-the-art care into the very community that we serve, and that's what patient-centered care is all about," Kakuda says. "We will continue to grow and elevate our services as time goes on, always looking to the future and the needs of our community."
Watch the video recap of the Hawaii Pacific Health Cancer Center at Pali Momi Medical Center's opening and blessing, and to learn more about what this center means for cancer patients and their families.
Published on: November 2, 2017