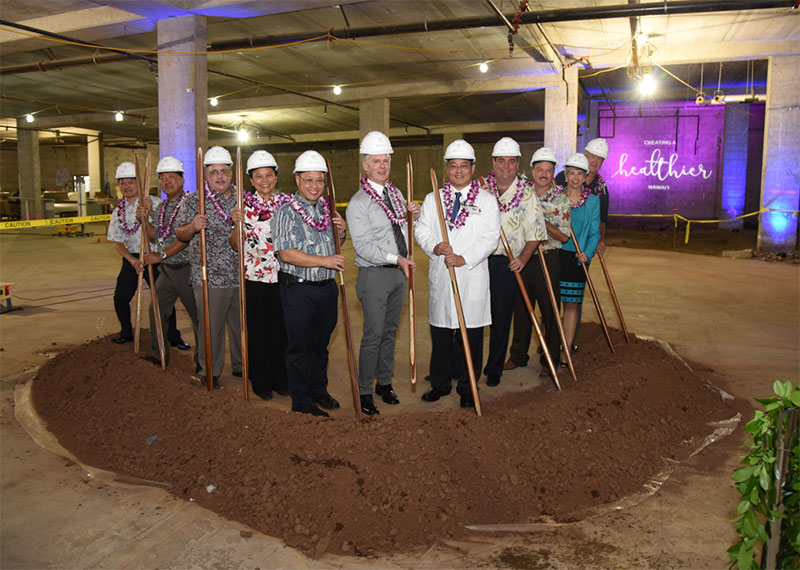 A groundbreaking ceremony was held for the new Hawaii Pacific Health Cancer Center at Pali Momi Medical Center. The center, which is being built in partnership with the Cancer Center of Hawaii, will provide comprehensive cancer care including diagnosis, treatment and support services in one convenient and centralized location for Central and West Oahu residents.
"The need for comprehensive and coordinated cancer care continues to increase in our community," said Pali Momi Medical Center Chief Medical Officer James Kakuda, MD. "It's unfortunate that cancer continues to impact so many lives, but the advancements in technology and treatments are helping more people fight this disease. We're proud that Pali Momi can provide access to this type of care for our patients and appreciate our partnership with the Cancer Center of Hawaii to help make our vision for this cancer center at Pali Momi a reality."
The center will be located on the ground level of the Downtown Parking Garage at Pearlridge Center. The 24,000-square-foot space will be renovated to provide a central space for coordinated cancer care and support services, including physician consultations, radiation oncology therapy, infusion therapy and cancer navigation services. Additional amenities include ample parking as well as free shuttle service and easy access to and from Pali Momi Medical Center.
"We are very pleased to be partnering with Hawaii Pacific Health and Pali Momi Medical Center to provide access to new technology and services that have not previously been available on this side of the island," said Cancer Center of Hawaii Founder John Lederer, MD. "The Cancer Center of Hawaii has been providing radiation therapy treatment for cancer patients for more than 20 years, and we appreciate this opportunity to extend our services to reach more patients and work side by side with our medical oncology and surgical oncology colleagues at Pali Momi."
The center will be designed and completed in multiple phases. Phase I, which is anticipated to be completed in October 2017, will include radiation oncology therapy, physician offices, a conference center, and common areas featuring an inspirational Wall of Hope. Phase II will include infusion services with an estimated opening in the fall of 2018. Future phases will be designed based upon specific community needs.