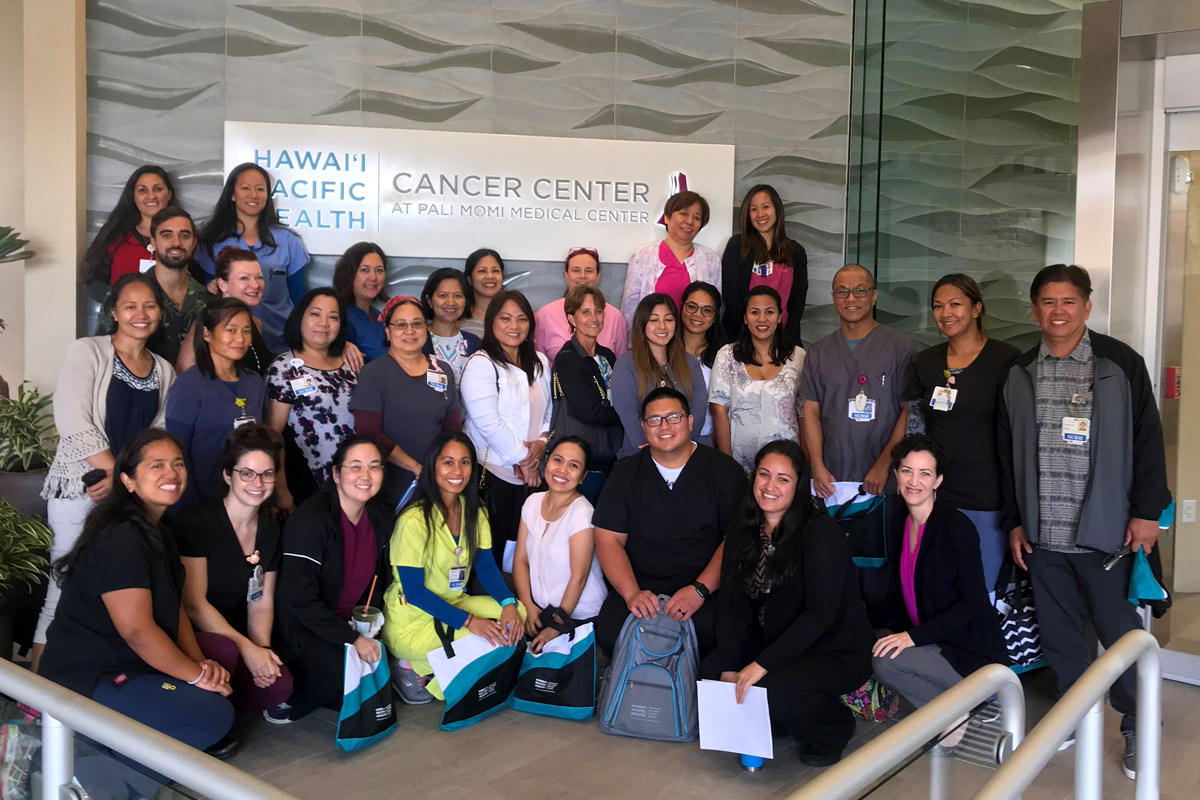 Nurses from Pali Momi and Straub gather for their annual competency at the Hawaii Pacific Health Cancer Center at Pali Momi Medical Center.
May is Oncology Nursing Month!
Hawaii Pacific Health nurses celebrate by completing annual competency training
May is known as a time to pamper moms and welcome the arrival of springtime flowers, but the fifth month of the year also is when we recognize oncology nurses for the critical, selfless role they play in the delivery of cancer care. 
Oncology Nursing Month is a moment to thank the men and women who are there for patients throughout their cancer journey – from the moment of diagnosis, to the final days of treatment, oncology nurses are with patients to celebrate their victories but also to comfort them through the unimaginable. 
At Hawaii Pacific Health, nurses from all four medical centers – Kapiolani, Pali Momi, Straub and Wilcox – use this time to celebrate their profession in the best way possible – by completing their annual chemotherapy and biotherapy competency and training. 
"As our patients know, having a nurse who is knowledgeable and an expert in their abilities in providing cancer care makes all the difference," says Liz Wright, a registered nurse and director of oncology services at Hawaii Pacific Health. 
Wright explains that to rise to patients' expectations, all nurses who administer cancer therapies to patients at the Hawaii Pacific Health Cancer Centers hold a national chemotherapy and biotherapy certificate and provider card from the Oncology Nursing Society. 
"In addition, the majority of our nurses hold their board certification in either adult or pediatric oncology nursing (OCN and CPHON). These achievements have been recognized by both the Oncology Nursing Society and the Commission on Cancer, and are a testament to their commitment to our patients," Wright says. 
"We thank all of our nurses for their dedication to our patients and families," Wright adds. 
To learn more about cancer care at Hawaii Pacific Health, click here.
Published on: May 14, 2018