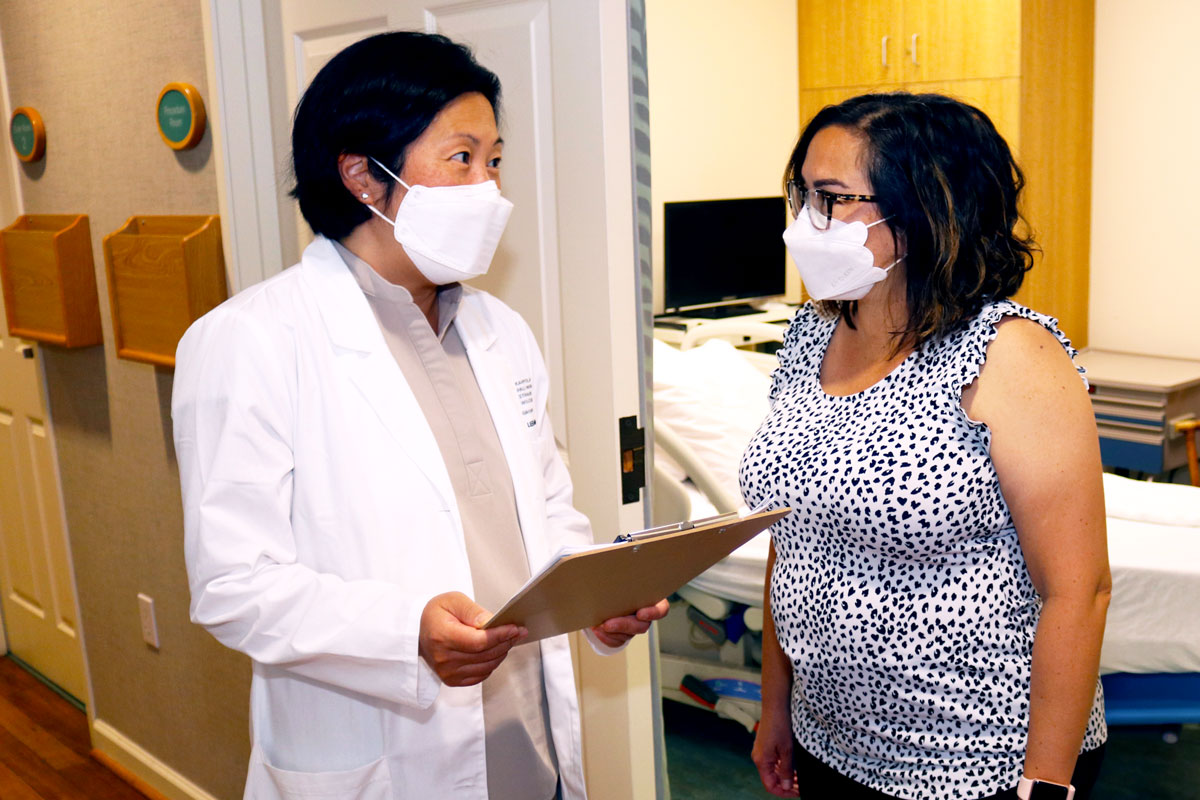 Dr. Paula Lee (left) of Hawaii Pacific Health Medical Group works with oncology nurse practitioner Joanna Agena
Advancing the Care of Women
Dr. Paula Lee recently joined the Hawaii Pacific Health Medical Group as its newest gynecologic oncologist. She works closely alongside fellow gynecologic oncologist Dr. Michael Carney and oncology nurse practitioner Joanna Agena.
In addition to her appointment with HPH, Lee will serve as professor of obstetrics and gynecology at University of Hawaii John A. Burns School of Medicine.
"An integral part of who I am as a physician is my commitment to teaching and professional growth," she explains.
Lee holds board certification in three areas – obstetrics and gynecology, gynecologic oncology and palliative medicine. This enables Lee to work with the patient and patient's family throughout the entire cancer care experience.
"Having a cancer diagnosis is life-changing for patients and their loved ones. Expertise in these areas allows me to provide compassionate quality care throughout this journey," she elaborates.
Lee is also focused on global health. In 2014, she helped build a sustainable gynecologic oncology training program at the Uganda Cancer Institute and Mulago Hospital in Kampala, Uganda. She continues to collaborate with the staff there.
"I am passionate about advancing the care of women with cancer in middle- and low-income countries in a long-term, sustainable way. That, combined with my background in public health, inspired my efforts in Uganda," she adds.
In this article, Lee shares more about her career and background.
What do you do as a gynecologic oncologist?
Gynecologic oncologists are unique doctors in that we perform the operations, provide chemotherapy and monitor the time after treatment for all our cancer patients. I provide this comprehensive cancer care for patients with gynecologic malignancies such as ovarian, uterine (endometrial), cervical and vulvar cancers.
What treatments are your patients typically seeking?
In the United States, the most common gynecologic cancer is endometrial cancer. Fortunately, it is usually caught early because patients experience vaginal bleeding after they have gone through menopause or new irregular bleeding, which often prompts them to seek evaluation. It is important to understand that pap smears do not screen for endometrial cancers.
What inspired you to pursue a medical degree and specialize in gynecologic oncology?
My parents were my first inspiration. My father retired as a solo practitioner (he was an internal medicine physician). My mother, who is trained as a nurse, was his office manager.  In medical school, I was immediately drawn to women's health care and had very strong female mentors who became and still are my role models.
What do you love most about your career?
My patients. I was drawn to this field by the strength and drive of gynecologic cancer patients.
Many women are the matriarchs of their families and are not used to being cared for. Many even delay seeking their own care. I feel an immense privilege to be entrusted by my patients to be their advocate and to provide the best care possible.
Gynecologic oncology is primarily a surgical field, meaning we spend a lot of time in the operating room. One of my professional interests is novel techniques and innovations in surgery that limit potential long-term side effects without compromising cancer outcomes.
I continue my involvement with the International Gynecologic Cancer Society as cochair of the Extension for Community Healthcare Outcomes committee and will help oversee the learning structure in all the international fellowship programs that IGCS supports. My interests in global health will now expand to the Pacific, including the UH Manoa John A. Burns School of Medicine Department of OB-GYN efforts in Guam.
What would you like readers to know about your medical training?
I spent the last 22 years in North Carolina, completing my residency and fellowship at Duke University Medical Center. I stayed on as faculty and developed my academic career at Duke. I spent the past six years in various leadership positions, one in particular that I am very proud of was as the fellowship program director for gynecologic oncology. Seeing the success of my trainees is very rewarding. All these experiences have positioned me well to provide state-of-the-art, comprehensive gynecologic oncology care here in Hawaii.
Is there anything else you'd like to add?
I am committed to my patients and my field of medicine. What has grounded me to stay steadfast in my career is the love of my family – my three children and my husband. We feel so fortunate to be here in Hawaii surrounded by kindness, support and beauty.
---
This article was first featured in the April 27, 2022, issue of MidWeek as a part of the "Dr. in the House" series. See the full publication here.
Published on: December 28, 2022