Teppanyaki Veggie & Tofu Skewers
This heart-healthy take on teppanyaki from the Ornish Lifestyle Medicine program at Straub Medical Center shows that the best summertime meals are often the simplest. 
Made by alternating chunks of colorful veggies and tofu, these meatless skewers are rich in cardio-protective plant protein and health-promoting phytochemicals such as fiber, folate, iron and vitamins A and C. 
The secret is in mixing and matching vegetables. This technique is a great way to create an eye-appealing plate, but the benefits of choosing from a variety of vegetables is more than just what meets the eye. Different vegetables contain different vitamins and minerals, so you're maximizing the health benefits with each bite. 
Serve accompanied with a bed of long-grain brown rice or quinoa drizzled with additional tamari-ginger glaze for extra flavor.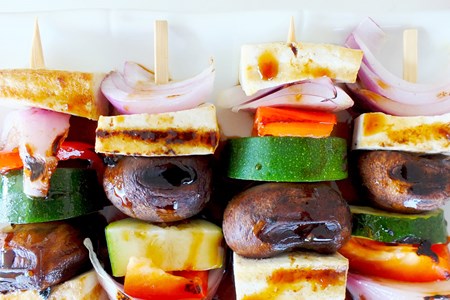 Teppanyaki Veggie & Tofu Skewers
Serves 4
 
Ingredients:
1/2 cup low-sodium mirin
1/3 cup low-sodium tamarin or soy sauce
1 teaspoon maple syrup
1/2 teaspoon ginger, grated, with juice (or 1 teaspoon minced ginger)
1/2 teaspoon garlic, finely minced or pressed
1 1/2 teaspoons lime juice
2 teaspoons cornstarch
16 1-inch pieces red onion
12 ounces extra-firm tofu, drained, patted dry and cut into 24 1-inch cubes
16 white or brown button mushrooms, cleaned, stems removed
16 1 1/2-inch chunks zucchini
16 1 1/2-inch pieces red bell pepper
 
Directions:
1. To make the tamari-ginger glaze, combine mirin, tamari, 1/4 cup water, maple syrup, ginger, garlic and lime juice in a small saucepan. Bring to a boil over low heat and simmer for 5 minutes.
2. Combine cornstarch and 2 teaspoons water in a very small bowl. Whisk cornstarch slurry into tamari mixture and let cook until thick and syrupy, about 1 minute. Remove from heat and set aside to cool, or refrigerate until ready to use.
3. To make skewers, place tofu and vegetables on a plate. Choose eight 10- or 12-inch metal or wooden skewers. (If using wooden skewers, soak them in water for 30 minutes, then drain.)
4. Heat a nonstick grill pan over high heat, or preheat an outdoor grill on high.
5. Thread a piece of red onion, tofu, mushroom, zucchini and bell pepper onto a skewer. Repeat, ending with a piece of tofu. Repeat process with remaining skewers.
6. If using a grill pan, cook skewers for about 15 minutes, turning frequently. Alternatively, if using outdoor grill, very lightly spray the grill surface with cooking oil to prevent sticking. Place skewers on grill, cover and cook, turning once, 5-6 minutes on each side.
7. Remove from heat and place on a sheet pan. Immediately brush both sides of each skewer with tamari-ginger glaze, using 1/4 cup total.
8. Serve, accompanied with additional sauce as desired. 
Nutritional information per serving (2 skewers):
Calories: 220; Carbohydrates: 28g; Protein: 13g; Total Fat: 5g; Cholesterol: 0mg; Dietary Fiber: 4g; Sodium: 480mg
Published on: July 5, 2017