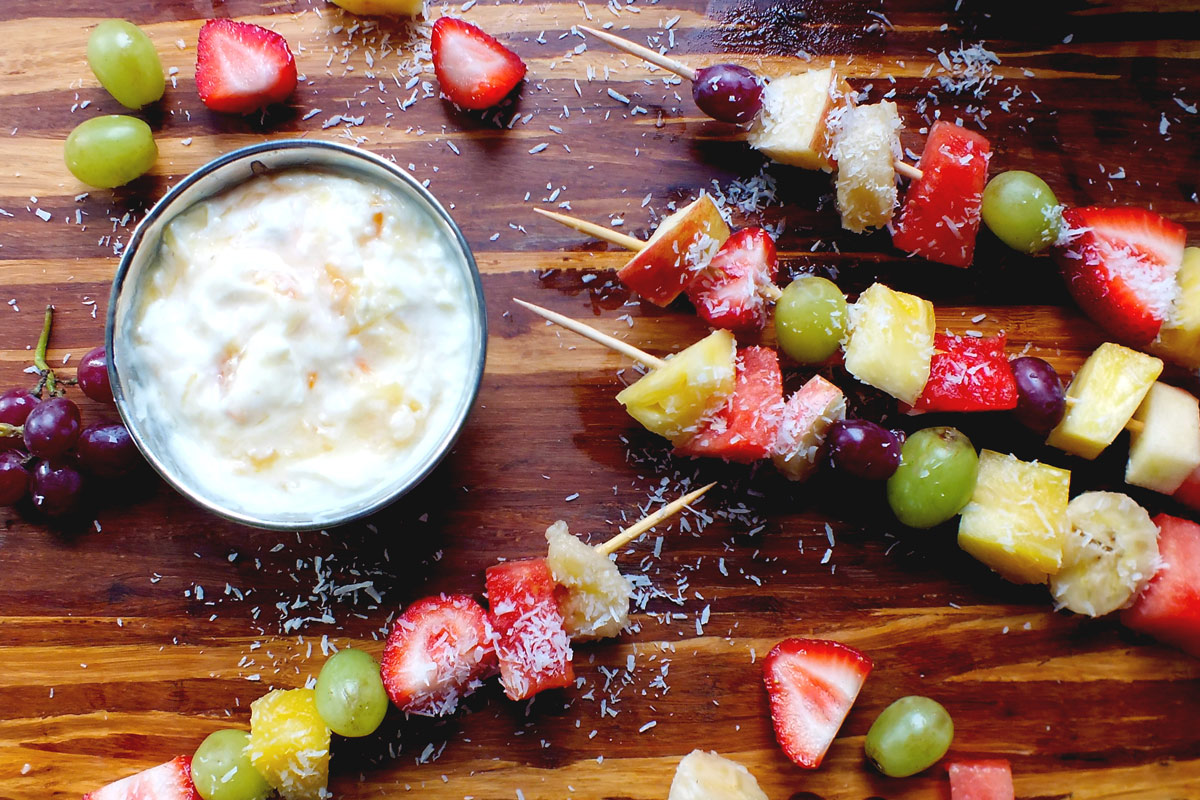 Fresh Fruit Kebabs with Coconut Yogurt Dip
Turn fruit into a fun, festive dessert perfect for a beach barbecue or backyard cookout with this recipe for Fresh Fruit Kebabs with Coconut Yogurt Dip from Nicole Sievers, registered dietitian at Wilcox Medical Center. 
"Fruit is rich in much-needed vitamins, minerals and fiber, is low in fat and added sugars, yet still tastes sweet! It's a cool, refreshing dessert for hot summer days," says Sievers. 
Mix and match different fruits depending on what's in season – for example, use cherries instead of strawberries in late summer, or sub oranges for watermelon during the winter months. 
"Making them can also be fun for the whole family by getting kids involved in making their own kebab combinations," Sievers suggests. 
You also can incorporate your favorite fruits for a different flavor combination – go tropical with pineapple, mango, papaya and banana, or try making a melon medley of cantaloupe, honeydew and watermelon. 
"Choosing fruits that are in season is not only cheaper but also usually means the fruit has travelled less distance, which equals a fresher product that is higher in those vital disease-fighting vitamins and minerals," Sievers says. "Choosing locally grown fruits is even better – they have used less fuel to arrive on our plates, a win for the environment. Try a farmers market for the freshest fruit you can find and to support a local business!"
Fresh Fruit Kebabs with Coconut Yogurt Dip
Serves 20
Ingredients:
1 1/2 cups nonfat vanilla Greek yogurt (also could use honey- or coconut-flavored Greek yogurt)
1 1/2 tablespoons shredded coconut
1 1/2 tablespoons orange marmalade
1 pineapple, cut into chunks
2 medium apples, cored and cut into chunks
4 bananas, cut into thick slices
20 strawberries, cut into halves
1/2 watermelon, cut into cubes
40 grapes
1/4 cup lemon juice
20 wooden skewers
Directions:
1. Mix the yogurt, coconut and marmalade together in a medium bowl, then cover and chill until serving.
2. Toss the cut apple and banana pieces in lemon juice to prevent browning.
3. Thread fruits onto skewers randomly or, for a better presentation, try making a consistent pattern.
4. Serve kebabs with dip on the side, or drizzle 1 tablespoon of the sauce over each kebab.
Nutritional information per serving (1 skewer with 1 tablespoon dip):
Calories: 105; Protein: 2.5g; Carbohydrates: 24g; Total Fat: 0g
Published on: July 17, 2015