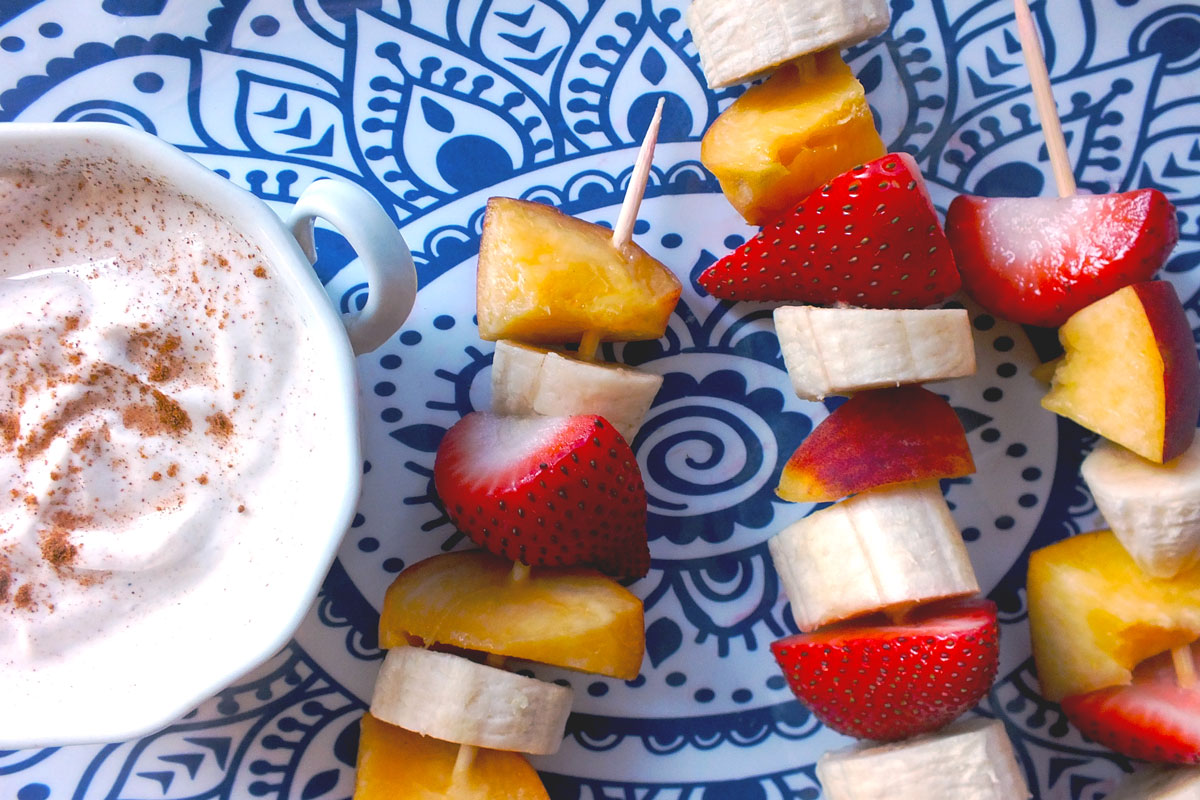 Fresh Fruit Kebabs with Maple Cinnamon Yogurt Dip
Fresh fruit is the ultimate fast food – just wash and enjoy!
Fruits are full of vitamins, minerals and antioxidants that have the potential to reduce the risk for heart disease, different cancers, type 2 diabetes, obesity and other chronic health conditions.
This recipe from the Heart and Stroke Foundation for Fresh Fruit Kebabs calls for strawberries, peaches and bananas, but you can switch up the flavors and pick whatever fruits are in season or that best fit your taste preference – pineapple, mango, apples, oranges, kiwis, grapes, the possibilities are endless!
A dipping sauce made with nonfat Greek yogurt adds satiating protein, which makes this dish a well-rounded snack, satisfying side or healthy dessert.
For an extra cool treat, stick the kebabs in the freezer an hour or two before serving.
Fresh Fruit Kebabs with Maple Cinnamon Yogurt Dip
Recipe from the Heart and Stroke Foundation
Serves 4
Ingredients:
8 strawberries, halved
2 peaches or nectarines, or 3 plums, sliced into 8 wedges each
2 bananas, peeled and cut into 8 pieces each
1 cup plain nonfat Greek yogurt
2 tablespoons pure maple syrup
1/2 teaspoon ground cinnamon
Directions:
1. Pierce fruit onto small skewers, alternating fruit in any combination you wish.
2. In a small bowl, whisk together Greek yogurt, maple syrup and cinnamon until well blended.
3. Serve fruit kebabs with yogurt dip.
Nutritional information per serving (1 skewer and 2 tablespoons dip):
Calories: 78; Carbohydrates: 16g; Protein: 4g; Total Fat: 0 g; Dietary Fiber: 1g; Sodium: 13mg; Potassium: 323mg
Published on: June 24, 2015