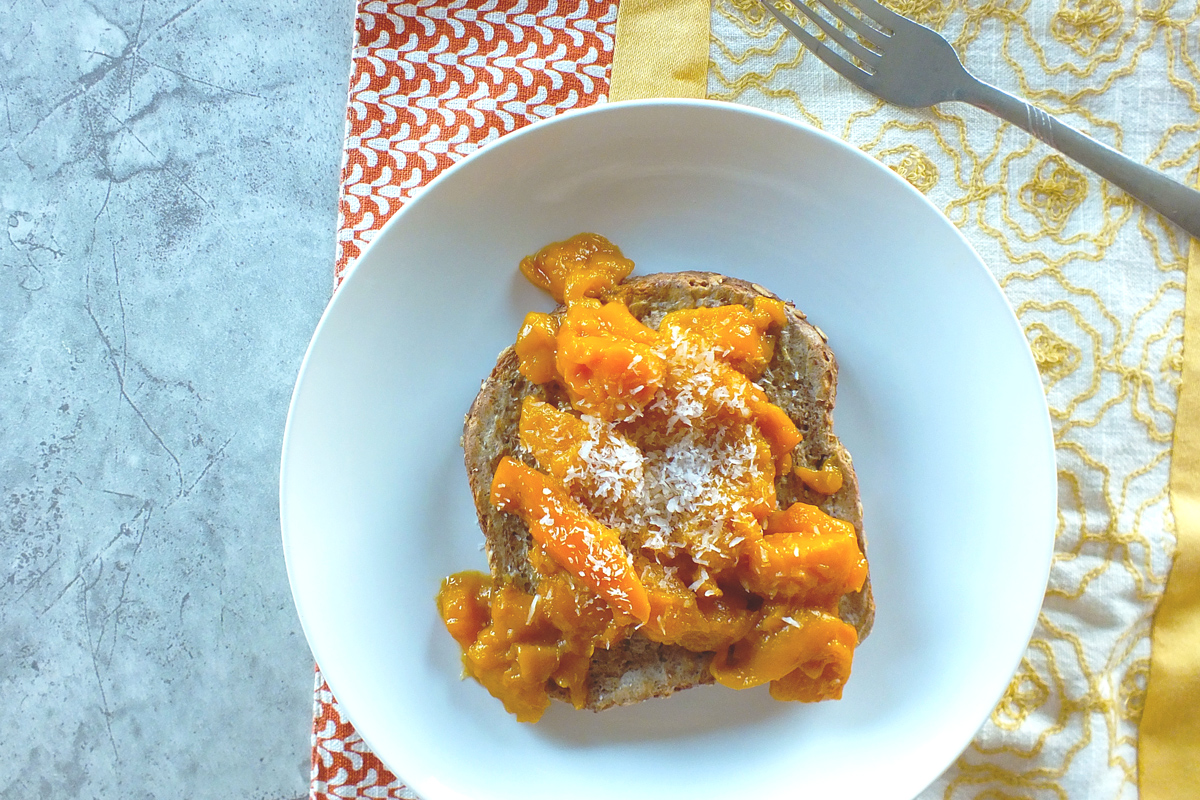 Baked Tropical Toast
Don't let a case of soggy French toast ruin your next Sunday brunch! 
This Baked Tropical Toast cooks to golden-brown perfection in the oven, eliminating the need to add excess oil or butter to the recipe. 
As an added bonus, ditching the typical syrup for a ginger-mango chutney puts a local twist on the traditional French toast recipe that's also tres healthy! 
"Just 1 cup of diced mango contains 100 percent of the recommended daily intake of vitamin C," says Nicole Seivers, a registered dietitian at Wilcox Medical Center. 
"Mangoes are also a good source of vitamin A and various antioxidants, and are a rich source of folic acid, which is essential for a healthy pregnancy," Sievers continues. 
"If you're vegetarian, vegan or lactose intolerant, almond milk can be a useful alternative to cow's milk," Sievers adds. "By using a coconut-almond milk blend, you get the added benefit of healthy fats from the coconut milk, which helps promote a feeling of fullness and can help prevent a snack attack later in the day."
Baked Tropical Toast
Serves 8
 
Ingredients:
2 mangoes, peeled and sliced
1/4 cup water
1 teaspoon fresh ginger, grated
1 teaspoon liquid stevia
8 slices whole-grain bread
4 eggs
3/4 cup coconut almond milk
1 teaspoon pure vanilla extract
1/4 teaspoon nutmeg, grated
1 teaspoon cinnamon
1/4 teaspoon fine sea salt
Shredded coconut (for garnish)
 
Directions:
1. In a medium saucepan, combine mango slices, water, ginger and stevia and bring just to a boil over medium-high heat. Lower heat and simmer for 20 minutes. Remove from heat and keep warm until ready to use.  
2. Position baking racks in the middle and top third of the oven. Preheat the oven to 375 degrees. Line two large baking sheets with parchment paper or coat with cooking spray.  
3. In a large bowl or a shallow baking dish, whisk together eggs, milk, vanilla, nutmeg, cinnamon and salt until evenly blended. Dip bread into egg mixture and let excess drip off into the bowl. Place slices on the prepared baking sheets and bake for 15 minutes.
4. Remove the baking sheets from the oven and flip bread slices over. Return to oven, rotating the baking sheets from top to bottom, and continue baking until toast is golden brown on both sides, about 10 minutes more. Serve with ginger-mango chutney and shredded coconut.
Nutritional information per serving (1 slice of toast with 1/4 cup chutney):
Calories: 141; Carbohydrates: 21g; Protein: 7g; Total Fat: 4g; Saturated Fat: 1g; Cholesterol: 82mg; Dietary Fiber: 3g; Sodium: 172mg
Published on: May 26, 2016