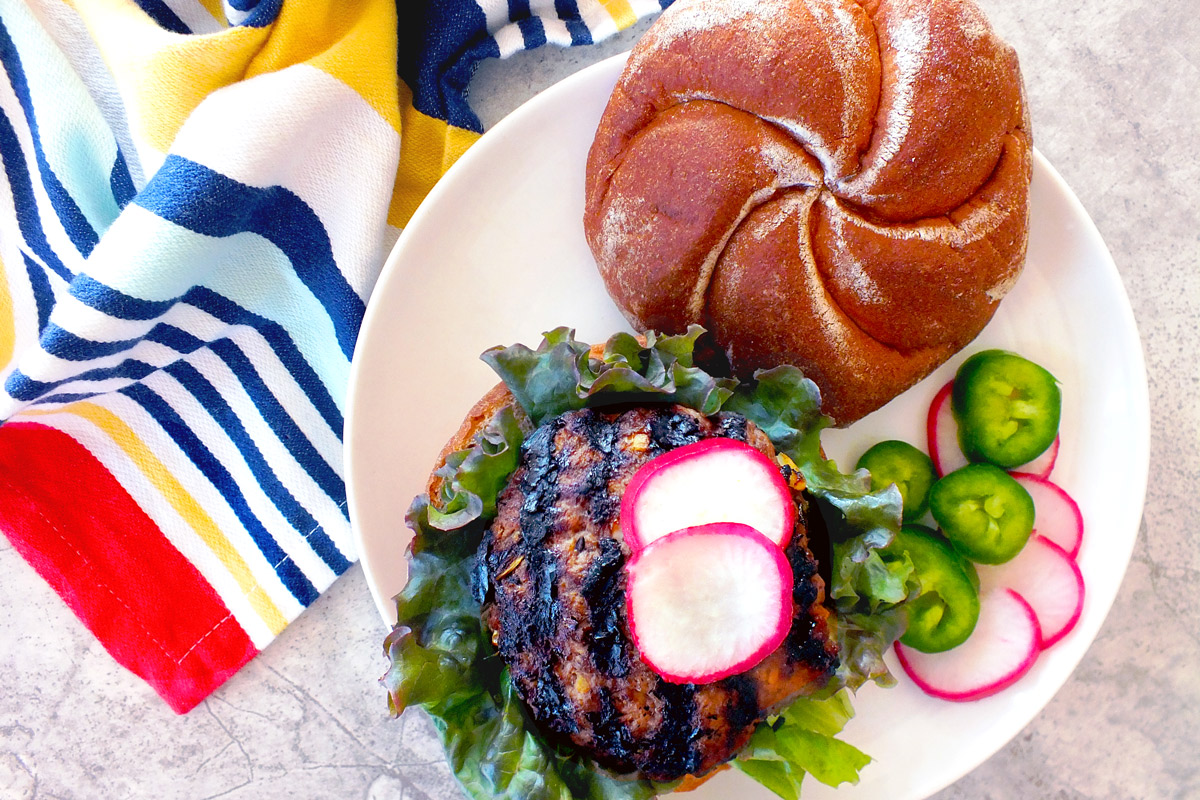 Korean Barbecue Burgers
Based on the traditional Korean barbecue specialty bulgogi, these burgers are a tasty and healthy alternative to your standard cookout fare. 
In moderation, red meat can be part of a healthy diet. The key is selecting the right cut of meat. One good option is 95 percent lean ground sirloin – a lean yet flavorful cut that provides a hefty serving of protein, iron, zinc and B vitamins per 3-ounce serving. 
"What some may not know is beef also contains heart-healthy omega-3 fatty acids and antioxidants like vitamin E and coenzyme Q-10," says Lianne Metcalf, a registered dietitian with the Hawaii Pacific Health 360º Weight Management Center at Pali Momi Medical Center. 
"The high-quality protein in beef can also help build collagen, which can reduce skin aging," Metcalf adds. "To choose a lean cut of beef, choose meats labeled as 'loin' or 'round.' Avoid cuts of meat with lots of visible marbling, and trim fat before cooking. A 3- to 4-ounce serving will provide you all the benefits beef has to offer." 
Garnish these burgers with fresh radish and jalapeno slices for a spicy kick or, for a more authentic take, top with a splash of rice vinegar and kimchi. 
Korean Barbecue Burgers
Recipe adapted from MyRecipes.com
Serves 6
 
Ingredients:
1/2 cup green onions, chopped
1 1/2 tablespoons coconut sugar
1 1/2 tablespoons fresh ginger, minced
3 tablespoons low-sodium soy sauce
1 tablespoon black sesame seeds
1/2 teaspoon freshly ground black pepper
2 garlic cloves, minced
1 1/2 pounds ground sirloin, 90-95 percent lean
Cooking spray
6 (1 1/2-ounce) whole-wheat hamburger buns, split
6 red leaf lettuce leaves
12 radish slices, thinly sliced
12 jalapeno slices, seeded, thinly sliced
 
Directions:
1. Prepare grill or grill pan.
2. Combine first eight ingredients. Divide the mixture into six equal portions, shaping into 1/2-inch-thick patties.
3. Place patties on a grill or grill pan coated with cooking spray; grill on high for 6 minutes on each side or until a thermometer registers 160 degrees. Remove from heat; let patties stand 5 minutes.
4. Place buns, cut sides down, on grill rack; grill 1 minute or until toasted.
5. To assemble the burger, place one lettuce leaf on bottom half of each bun, followed by one burger patty, two radish slices and two jalapeno slices. Top with other bun half.
Nutritional information per serving (1 burger):
Calories: 278; Carbohydrates: 29g; Protein: 25g; Total Fat: 7g; Saturated Fat: 3g; Cholesterol: 58mg; Dietary Fiber: 4g; Sodium: 822mg
Published on: July 17, 2017