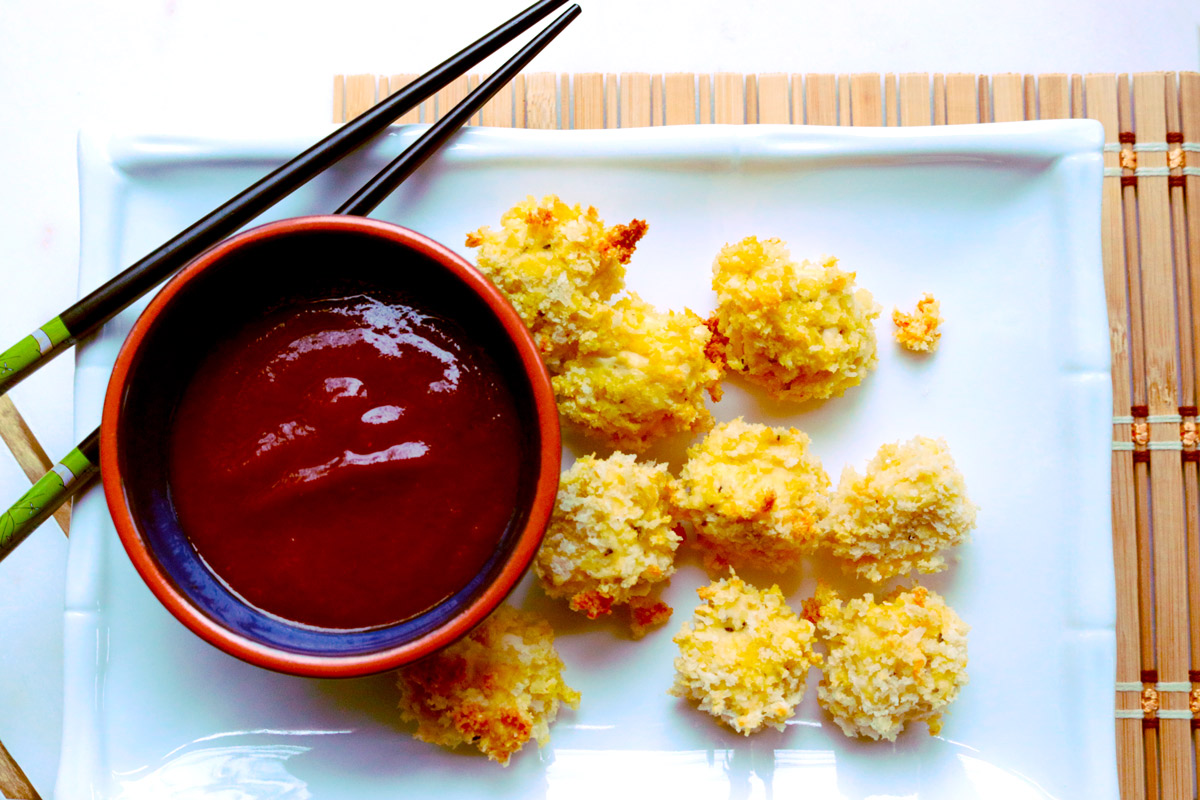 Tofu Katsu
Chicken katsu is a classic comfort food in Hawaii. 
Described as an "upscale version of the chicken nugget," chicken katsu is traditionally a breaded chicken cutlet that is deep-fried until golden-brown and crispy on the outside, but tender and juicy on the inside. 
For a healthier take on this island favorite, try this recipe for Tofu Katsu, courtesy of the Ornish Lifestyle Medicine Program at Straub Medical Center. 
"One of my favorite Ornish recipes is the tofu katsu, a heart-healthy version of the ever-popular chicken katsu," says Erica Hawkins, a registered dietitian with the program. 
"This recipe was created by our program staff so that there would be more local options for Hawaii participants on the Ornish diet to choose from. It has quickly become a favorite among the participants," Hawkins adds. 
The process for making tofu katsu is similar to any other katsu (chicken katsu, tonkatsu, etc.), but far simpler and less messy. 
First, you dredge the pieces of tofu in a seasoned mixture of whole-wheat flour. 
Next, quickly dunk the tofu into egg whites so that they're good and sticky. 
Last, roll them in a bowl of panko breadcrumbs until well coated. 
Line up your tofu squares nicely on a parchment-lined baking tray and bake to crispy perfection. 
"Baking your katsu rather than deep-frying it still gives you a golden-brown coating, but without unnecessary fat and calories," Hawkins says. "In my opinion, the katsu has more of a crunch and more flavor because it is not weighed down by all that heavy oil." 
Served with a homemade katsu sauce, this recipe is a great pupu. 
You can also add on a salad, grilled veggies, quinoa or brown rice to turn it into a light meal.
Tofu Katsu
Recipe courtesy of the Straub Ornish Lifestyle Medicine Program
Serves 4
Ingredients:
For the katsu sauce:
1/4 cup reduced-sugar ketchup
1 tablespoon low-sodium tamari
1 tablespoon chili garlic sauce
3/4 teaspoon chili powder
For the tofu katsu:        
1 (12-ounce) package extra-firm tofu, drained and patted dry
1/3 cup whole-wheat flour, plus more as needed
1 teaspoon garlic powder
1/4 teaspoon fine sea salt
1/4 teaspoon freshly ground black pepper
2 egg whites
1 cup whole-wheat or panko bread crumbs
Directions:
1. Preheat oven to 375 degrees. Line a sheet pan with parchment paper. To make katsu sauce, stir together ketchup, 1/4 cup water, tamari, chili garlic sauce and chili powder. Set aside to let flavors mingle.
2. Line a sheet pan with paper towels. Cut tofu into 1-inch cubes. Place tofu cubes on paper towels and set aside.
3. Place three small bowls in a row. Mix flour with garlic powder, salt and pepper in the first bowl. Lightly froth egg whites with a fork in the second bowl. Place bread crumbs in the third bowl.
4. Gently press each tofu square to remove any excess moisture. Working in small batches with 3 or 4 pieces of tofu at a time, dredge the cubes in wheat flour, covering all sides. Transfer tofu to second bowl and coat all sides in the egg whites. Lifting one piece of tofu at a time from egg whites, transfer to third bowl and coat all sides with bread crumbs. Place breaded tofu on prepared sheet pan. Repeat procedure until all tofu is breaded.
5. Place pan in oven and bake until lightly browned, 15 minutes. Flip tofu with a spatula and cook for another 15 minutes. Remove tofu katsu from oven and serve warm with katsu sauce alongside. 
Nutritional information per serving:
Calories: 247; Carbohydrates: 32.7g; Protein: 15.3g; Total Fat: 6.6g; Saturated Fat: 0.8g; Cholesterol: 0mg; Dietary Fiber: 2.2g; Sodium: 804mg
Published on: March 7, 2018