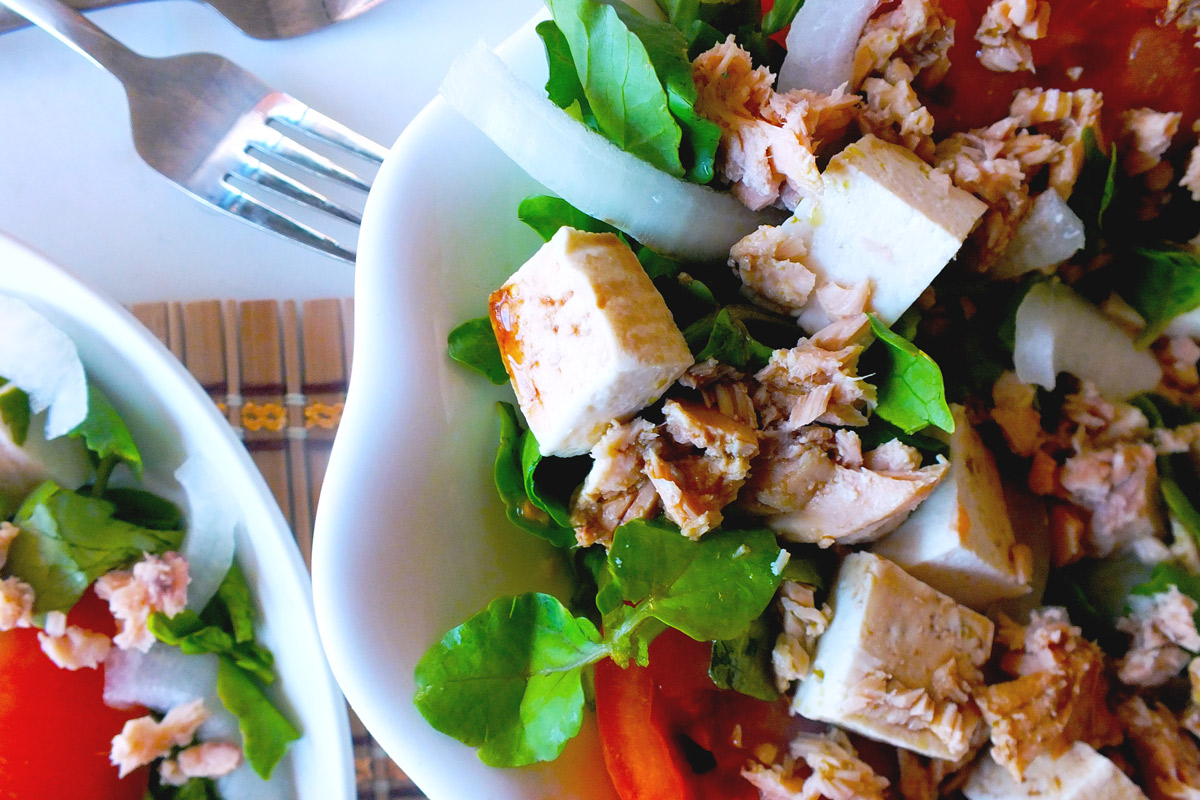 Tofu Salad
One of the easiest ways to show someone you care is to prepare them a home-cooked meal. 
Dishes don't have to be elaborate – sometimes, the simplest meals, prepared with healthy, fresh ingredients and made with love, are the ones we remember most. 
For Rebecca Izawa, a registered dietitian at Kapiolani Medical Center for Women & Children, one of her favorite food memories revolves around this Tofu Salad, which she shares below. 
"I really like this salad because it not only tastes good, but it's healthy for you too," says Izawa, noting that the salad is high in protein and fiber. 
"I remember my mom and grandmother preparing this salad when I was younger on hot summer days, and it was a way to feel more refreshed," she says. 
Now a mother herself, Izawa will occasionally make this salad for her family, saying she believes it is important to keep traditions such as recipes and cooking together alive. 
"I feel that it is important that families cook together and eat together because it is a bonding time and time to share experiences throughout the day," Izawa explains. "My mom keeps a recipe book passed on from my grandmother, and it is very important to us because she has some original recipes that remind us of her when she was alive. We feel happy that we can still enjoy her cooking." 
Tofu Salad
Serves 6
 
Ingredients:
For the salad:
1 block tofu, drained
1 bunch watercress, blanched
1 Maui onion, sliced thin
1 can salmon
3 slices of tomatoes
Green onions to garnish 
For the sauce:
1/4 cup canola oil
1/4 cup soy sauce
1 clove garlic, minced
 
Directions:
1. Combine all salad ingredients in a large bowl. Set aside.
2. In a small saucepan, bring sauce ingredients to a boil. Remove from heat and let cool.
3. Immediately pour sauce over salad before serving.
Nutritional information per serving:
Calories: 170; Protein: 10g
Published on: February 10, 2017