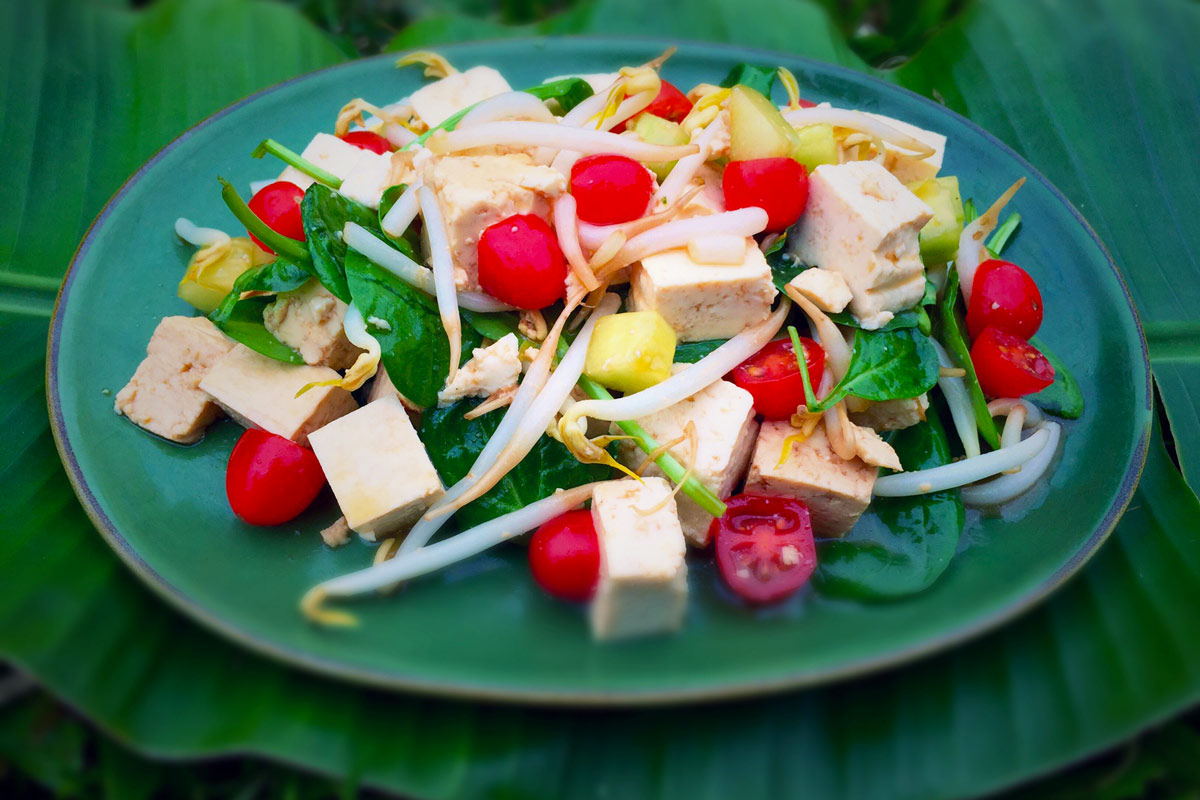 Wilcox's Tofu Salad
Wilcox Medical Center registered dietitian Nicole Sievers shares her take on an island favorite – Tofu Salad.
Rich in protein and heart-healthy fats yet low in carbs and sodium, this dish is diabetic friendly and a breeze to make. It makes a great meatless main course or side dish, and is sure to please at your next get-together.
For best results, Sievers recommends eating the salad within one to two hours of preparation, as the tofu releases water over time and will dilute the dressing.
"However, I've certainly eaten it the next day, and it is still super tasty!" Sievers says.
Tofu Salad
Serves 12
Ingredients:
For the salad
2 packages extra-firm tofu, drained of water and cut into 1/2-inch chunks
2 cups mung bean sprouts
1 large cucumber, seeded and cut into ¼-inch chunks
2 cups diced tomato or cherry tomatoes, cut into smaller chunks
3 cups watercress, arugula, baby spinach or other fresh, dark, leafy green
For the dressing
1/4 cup low-sodium shoyu
3 tablespoons rice vinegar
1 tablespoon sesame oil
1/2 teaspoon sugar (optional)
Dash black pepper
Dash garlic powder
Dash of Sriracha (optional)
Directions:
1. Combine all salad ingredients in a large container with a tight-fitting lid. Alternately, you can mix together the ingredients in a large bowl, but it will be more difficult to spread the dressing and caution should be taken to avoid breaking up the tofu too much. 
2. Mix together all dressing ingredients in separate dish. Adjust to your taste before combining with salad ingredients. Pour over salad ingredients. 
3. Lock the container's lid in place and gently turn the container upside down and back upright a few times to distribute the dressing. This step is key to avoid breaking up the tofu too much and to use less dressing than in a traditional recipe, which lowers the sodium. 
4. Serve cold or at room temp and enjoy!
Nutritional information per 1-cup serving:
Calories: 132; Protein: 9g; Carbohydrates: 2.5g; Total Fat: 6g; Saturated Fat: Less than 1g; Sodium: 209mg (versus 477mg in a traditional recipe)
Published on: January 11, 2015