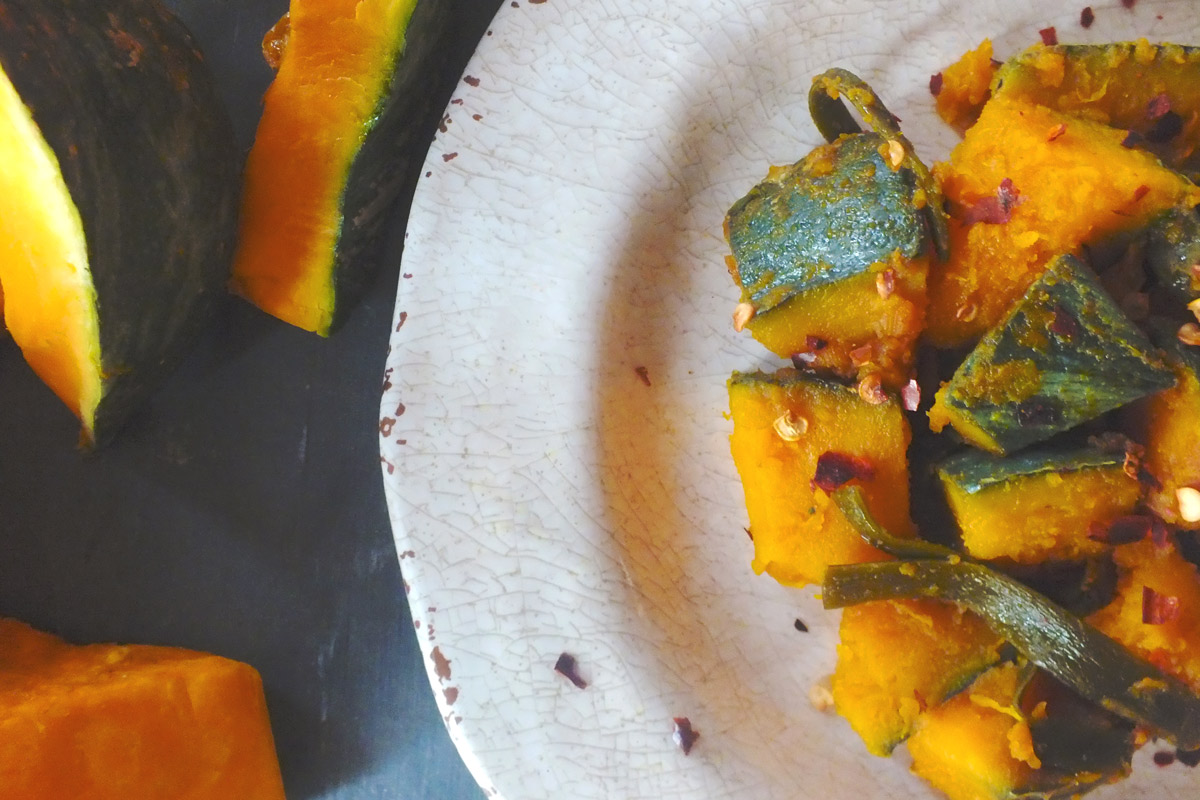 Glazed Kabocha Squash with Kombu
The flavor profile of any food is measured by eight key elements:
Spice.


Sweetness.


Bitterness.


Saltiness.


Acidity.


Texture.


Temperature.


Umami.
 
Finding a single dish that can check off all boxes is a rarity, but this recipe for Glazed Kabocha Squash with Kombu from the Straub Medical Center's Ornish Reversal Program is up to the challenge. 
Kabocha is a nutrient-dense, starchy vegetable that contains beta-carotene, which the body converts to vitamin A, a vitamin that helps with immunity, night vision, and skin and hair health. 
The secret ingredient that makes this simple side a superstar is dashi kombu. 
This dried seaweed offers a wealth of minerals, such as calcium, magnesium, potassium, iron and iodine, and is a natural source of glutamic acid, which is thought to improve brain, muscle and prostate function. 
Dashi kombu also subtly enhances the umami flavor, or "savoriness" of any dish you add it to. 
Best of all, it's easy to prepare from scratch – just bring water and dried kombu to a boil and you have a simple broth prepared in minutes. 
For even more flavor and texture, leave the skin on the kabocha. The fiber-rich, edible skin offers a delicious firm texture, and makes a great complement to the soft, sweet center of this squash. 
Fresh lime juice (sour, bitter) and a sprinkling of red pepper flakes (spicy) make this flavorful dish complete.
Glazed Kabocha Squash with Kombu
Serves 6


Ingredients:
8 cups kabocha squash, seeded and cut into bite-sized pieces
1/4 cup sake
1/4 cup mirin
2 tablespoons low-sodium tamari
2 tablespoons maple syrup
1 tablespoon fresh ginger, chopped
2 (6-by-3-inch) strips dashi kombu (dried seaweed)
1 tablespoon lime juice 
For garnish (optional):
Red pepper flakes
Lime wedges
 
Directions:
1. In a large, heavy-bottomed sauté pan (10-11 inches in diameter), combine sake, mirin, 3 tablespoons water, tamari, maple syrup and ginger. Swirl to mix.
2. Rinse kombu strips with water and place in bottom of pan. Add kabocha squash and swirl to coat with liquid. Bring to a boil over high heat. Reduce heat to medium-low, cover and cook for 12 minutes.
3. Uncover and continue to cook, stirring frequently, until the squash is soft and the liquid is nearly evaporated, about another 5 minutes. (Add more water if pan gets too dry.)
4. Remove from heat. With tongs, transfer kombu to a cutting board and cut crosswise into thin 3-inch-long strips. Fold the kombu back into the kabocha.
5. Drizzle lime juice over the squash and stir thoroughly. Garnish each serving with a small wedge of lime and a pinch of red pepper flakes. Serve warm. 
Nutritional information per 3/4-cup serving:
Calories: 110; Carbohydrates: 22g; Protein: 2g; Total Fat: 0g; Cholesterol: 0mg; Dietary Fiber: 2g; Sugars: 14g; Sodium: 190mg
Published on: October 14, 2016