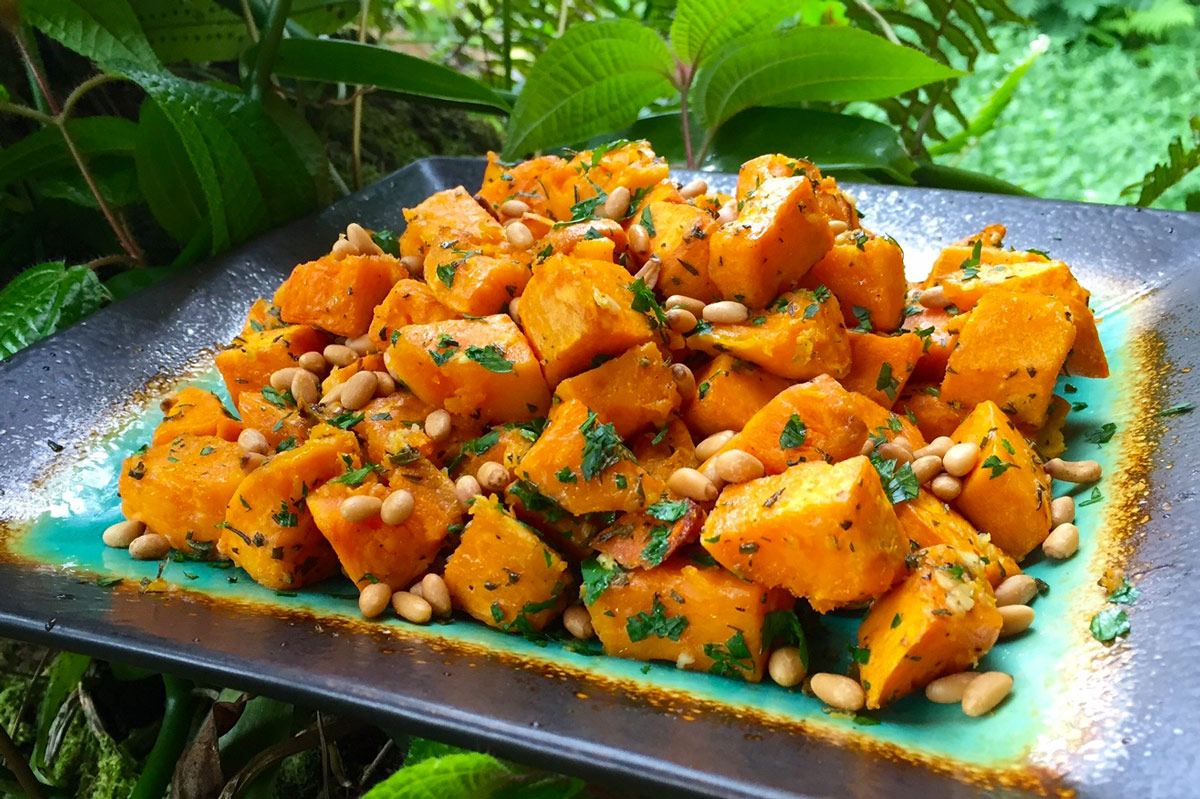 Wilcox's Rosemary Roasted Sweet Potatoes
To make sure there's at least one healthy item on the menu at your next holiday gathering, Nicole Sievers, registered dietitian at Wilcox Medical Center, shares her original recipe for Rosemary Roasted Sweet Potatoes.
Much lower in sugar than the marshmallow-topped dish, roasted fresh sweet potatoes with aromatic herbs and spices is a healthy treat your guests will actually rave about.
Feel free to add more or less seasoning to suit your tastes, or even add other ingredients if you're feeling creative (e.g., walnuts, pecans, raisins, cranberries or other vegetables).
"As a diabetic, I'm always happy when I create a lower-carbohydrate version of a favorite recipe that is still rich and flavorful," says Sievers. "My Rosemary Roasted Sweet Potato recipe has become a family favorite, and while somebody inevitably still makes the classic dish, I have yet to go home with leftovers. Enjoy!"
Rosemary Roasted Sweet Potatoes
Serves 6
 
Ingredients:
2 pounds peeled sweet potatoes, cut into 1-inch chunks (about 2 large potatoes)
3 large cloves garlic, minced or use a garlic press
1 1/2 tablespoons minced fresh rosemary
1 1/2 tablespoons vegetable oil (such as olive, canola or grapeseed oil)
1 teaspoon salt
1/4 teaspoon black or white pepper
1/4 cup toasted pine nuts (see below for instructions)
2 tablespoons chopped fresh parsley (Italian parsley works best)
 
Directions:
1. Preheat oven to 375 degrees. See below for toasted pine nuts recipe.
2. While waiting for oven to heat, combine first six ingredients in a gallon-sized sealable plastic bag and shake to mix ingredients. This can be done in a bowl, but the bag is much easier and quite fun!
3. Once pine nuts are done, empty potato mixture into a 9-by-11-inch baking dish and bake uncovered for 45 minutes.
4. Remove from heat and sprinkle potatoes with pine nuts and parsley. Mix carefully to blend flavors.
5. Serve warm or at room temperature.
To toast pine nuts:
1. Spread raw pine nuts onto a dry baking sheet (no oil needed).
2. In an oven preheated to 375 degrees, toast pine nuts until they're light to medium brown. This can take 1-5 minutes, so watch VERY CAREFULLY to prevent burning (it will ruin the flavor).
3. Remove from oven and set aside until ready for use. Extras can be stored in the freezer.
Nutritional information comparison per serving:
Rosemary Roasted Sweet Potatoes
Calories: 112; Carbohydrates: 13g; Total Fat: 6g
Candied Yams with Marshmallow Topping
Calories: 228; Carbohydrates: 49g; Total Fat: 8g
Published on: December 20, 2014