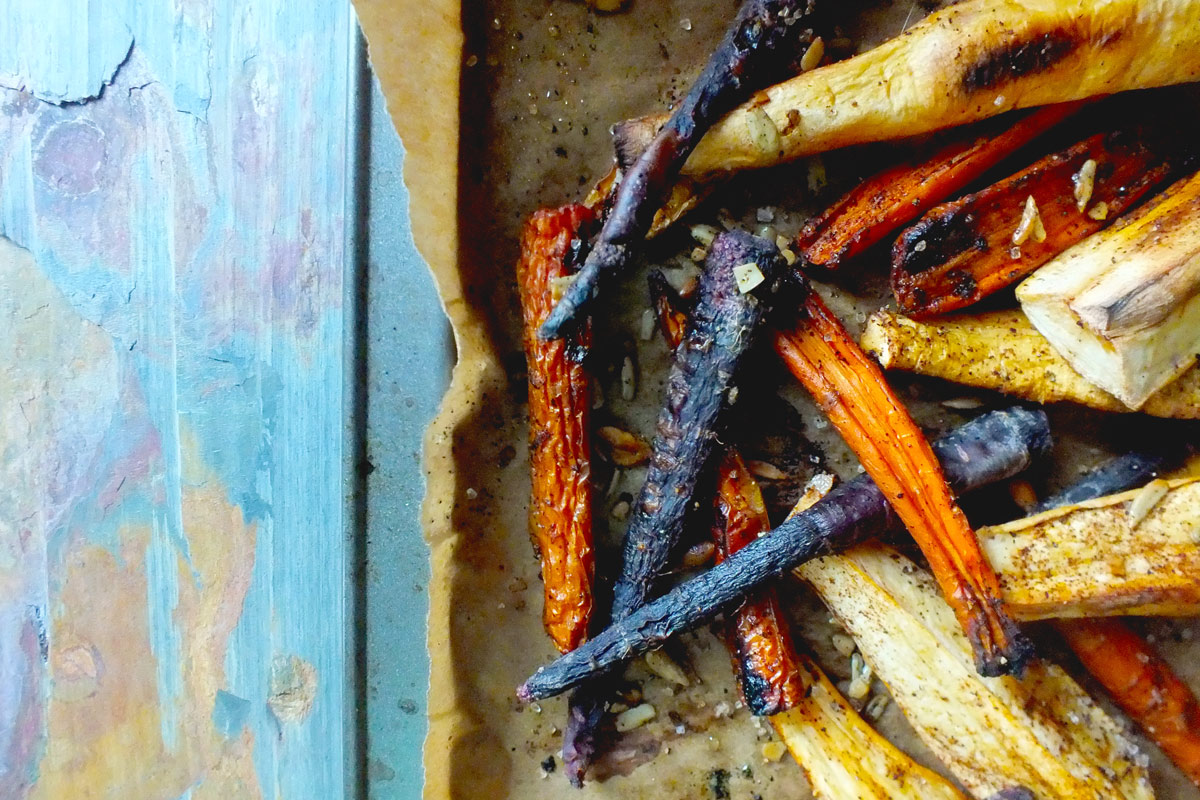 Roasted Spiced Parsnips & Carrots
A parsnip may look like a carrot's uglier cousin, but don't discount this root vegetable because of its awkward appearance. 
Parsnips contain a variety of nutrients, including folate and potassium, which are important for heart health. 
Folate helps lower the risk of heart disease, and potassium reduces blood pressure and risk of stroke. 
Parsnips also are rich in dietary fiber and vitamins C, E and K, and contain high levels of manganese, which is good for bone health and proper thyroid function. 
The best – and easiest – way to prepare parsnips is by roasting them.
Roasted parsnips taste sweet and have a tender texture similar to a baked potato.
These Roasted Spiced Parsnips & Carrots will look like colorful witches fingers and are perfect for Halloween. 
Use a mix of purple and orange carrots for extra festive flare. 
Roasted Spiced Parsnips & Carrots
Recipe from MyRecipes
Serves 8
 
Ingredients:
2 pounds of carrots, cut into 4-inch-long pieces, thick pieces halved lengthwise
2 pounds of parsnips, cut into 4-inch-long pieces, thick pieces halved lengthwise
2 tablespoons plus 1 teaspoon canola oil
1 teaspoon cumin
Salt and pepper, to taste
1/2 teaspoon smoked paprika
1 tablespoon sugar
1/2 cup raw pumpkin seeds
 
Directions:
1. Place racks in upper and lower thirds of oven and preheat to 425 degrees. Line two baking sheets with parchment paper.
2. In a large bowl, toss vegetables with 2 tablespoons oil and 1 teaspoon each cumin, salt and pepper until evenly coated.
3. Transfer to baking sheets. Roast vegetables, rotating pans and tossing once halfway through cooking, until vegetables are tender and golden brown in spots, about 40-45 minutes.
4. In a small bowl, combine smoked paprika, sugar and 1/4 teaspoon each salt and pepper.
5. Warm 1 teaspoon oil in a medium skillet over medium heat. Add pumpkin seeds and toss to coat.
6. Cook, stirring constantly, until evenly toasted, 3-4 minutes. Add spice mixture to skillet and toss until coated and spices are toasted, about 30 seconds. Transfer pumpkin seeds to a flat plate to cool.
7. Transfer vegetables to a platter and sprinkle with pumpkin seeds. Serve warm or at room temperature.
Nutritional information per serving:
Calories: 239; Carbohydrates: 34g; Protein: 5g; Total Fat: 10g; Saturated Fat: 1g; Cholesterol: 0mg; Dietary Fiber: 9g; Sodium: 66mg
Published on: October 8, 2015