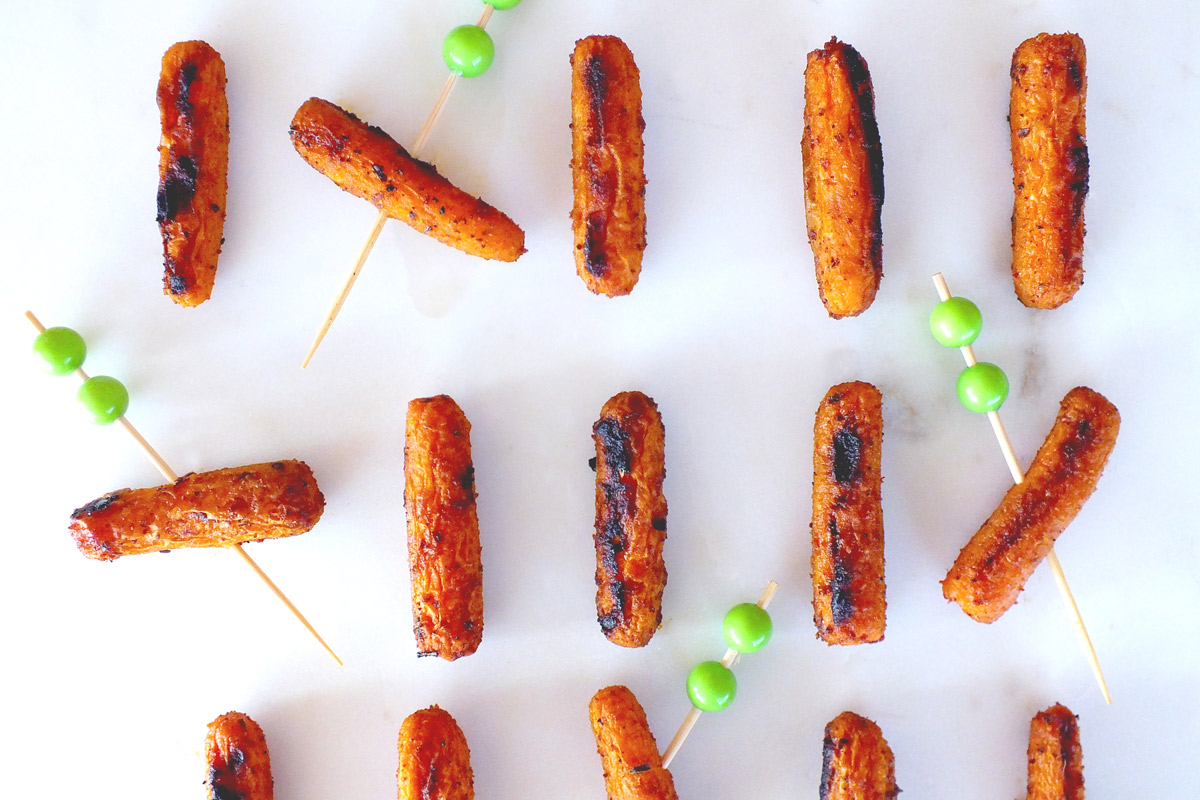 Mini Cocktail Carrot Dogs
Spark up a conversation about health at your next cocktail party with these Mini Cocktail Carrot Dogs. 
These teeny mock-weenies mimic the smoky taste and snappy texture of traditional dogs, but with a fraction of the calories and fat. Plus, since they're made with carrots and heart-healthy avocado oil, you and your guests get the added benefits of vitamins A, C and K, potassium, iron and fiber, just to name a few. 
"A recent study showed that avocado oil boosts the absorption of carotenoids in your food, so pairing the oil with beta-carotene-rich carrots is a very smart idea," says Rebecca Izawa, a registered dietitian at Kapiolani Medical Center for Women & Children.
"These carrot cocktail dogs would be a hit at a children's party or as an after-school snack," Izawa recommends. "Let kids use fun skewers to dunk these dogs into a healthy sauce, such as guacamole or homemade hummus, for a well-balanced treat." 
This recipe serves four, so be sure to double or triple up on the recipe as needed. 
Mini Cocktail Carrot Dogs
Recipe adapted from MyRecipes.com
Serves 4
 
Ingredients:
32 baby carrots, rinsed
1 tablespoon avocado oil
1 tablespoon reduced-sodium tamari or soy sauce
2 teaspoons liquid smoke (optional)
2 1/2 teaspoons harissa seasoning
1 teaspoon garlic powder
 
Directions:
1. Preheat oven to 450 degrees. Line a 13-by-9-inch baking dish with aluminum foil. Place baby carrots in a single layer in prepared baking dish.
2. Place oil, tamari, liquid smoke (if desired), harissa seasoning and garlic powder in a small bowl. Stir with a whisk. Pour oil mixture over carrots; rub to coat on all sides.
3. Bake for 30 minutes, tossing every 10 minutes. Let cool for 5 minutes before serving.
Nutritional information per serving (8 carrot cocktail dogs):
Calories: 68; Carbohydrates: 8g; Protein: 1g; Total Fat: 4g; Saturated Fat: 0g; Cholesterol: 0mg; Dietary Fiber: 2g; Sodium: 200mg
Published on: July 19, 2017