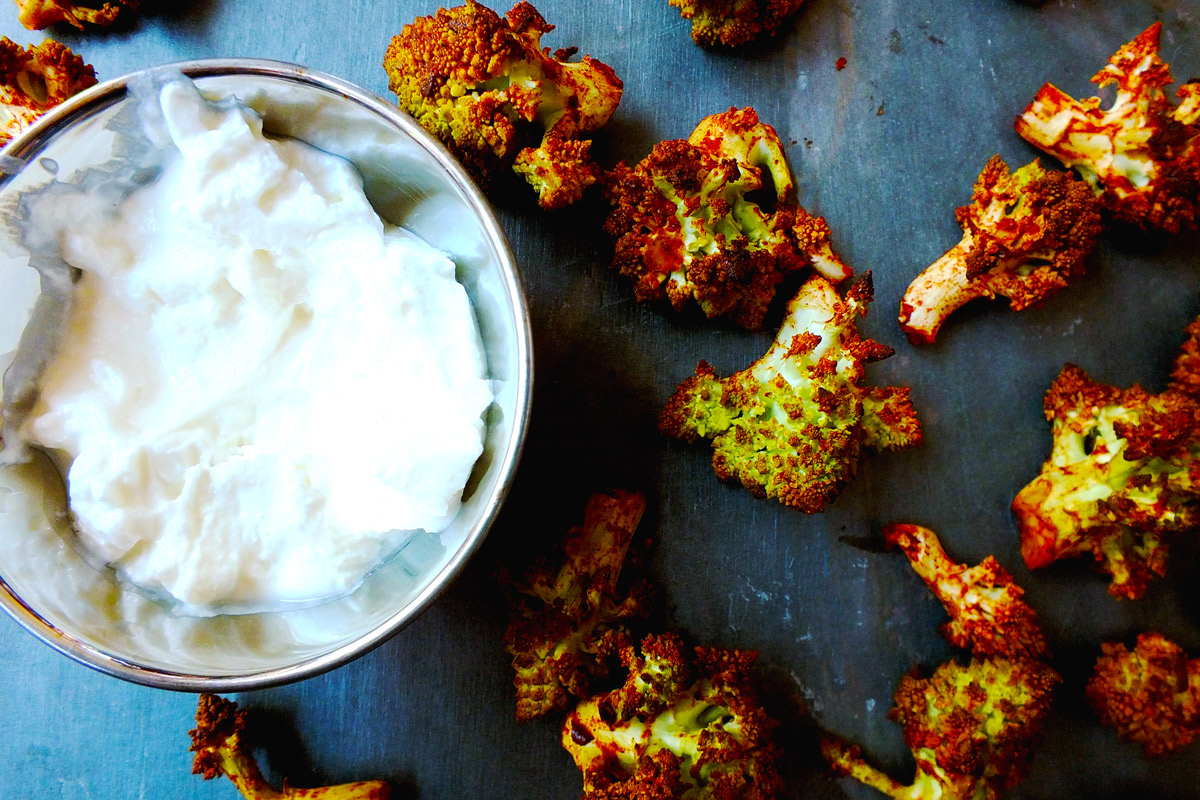 Spicy Buffalo Romanesco Bites
Need a healthier alternative to your usual game-night snack? Sub in these Spicy Buffalo Romanesco Bites for the win! 
These satisfying veggie bites replicate the taste of your favorite tailgating treat, but with a fraction of the calories, fat and carbs of traditional Buffalo wings. 
The MVP of this dish is Romanesco, a member of the brassica family that also includes cauliflower, broccoli, Brussels sprouts and cabbage. 
Like its more familiar cousins, Romanesco is a nutrient-dense food abundant in vitamins and minerals. 
"Some health benefits of Romanesco are that it contains fiber for digestive health, antioxidants for disease prevention, and folate and B vitamins for energy," says Michelle Stanley, a registered dietitian at Pali Momi Medical Center. 
Don't let its exotic appearance fool you – Romanesco is highly versatile and can be substituted in place of cauliflower or broccoli. 
"Romanesco will take on the flavor of any seasoning you cook it with, and you can feel like you are indulging with far fewer calories, fat and carbs," says Stanley.
"Because of its mild flavor, it can be substituted as pizza crust, mashed potatoes, rice and more to get similar textures," Stanley adds. 
Serve these spicy bites with a side of plain Greek yogurt or creamy hummus for a well-rounded snack. For an extra flavor kick, squirt freshly squeezed lime juice over the "wings" before serving. 
Spicy Buffalo Romanesco Bites
Recipe adapted from Whole Foods Market
Serves 6
 
Ingredients:
1 head Romanesco, broken into small florets (can also substitute cauliflower)
1/4 cup apple cider vinegar
2 tablespoons smoked paprika
1 tablespoon garlic powder
1/2 teaspoon crushed red pepper flakes
1/4 teaspoon cayenne pepper, or to taste
1/8 teaspoon fine sea salt
2 tablespoons hot sauce
 
Directions:
1. Preheat the oven to 450 degrees.
2. Spread Romanesco evenly on a parchment-paper-lined baking sheet and roast, turning occasionally, until browned and tender, 10-15 minutes.
3. Meanwhile, whisk vinegar, paprika, garlic powder, red pepper flakes, cayenne, salt, hot sauce and 3 tablespoons water together in a large bowl. Taste the sauce; if you'd like it hotter, add a bit more cayenne.
4. Toss the Romanesco in the sauce until well coated and return to baking sheet. Roast for another 5 minutes.
5. Transfer to a platter and serve.
Nutritional information per serving:
Calories: 40 calories; Carbohydrates: 7g; Protein: 3g; Total Fat: 1g; Dietary Fiber: 3g; Sodium: 130mg
Published on: April 1, 2017