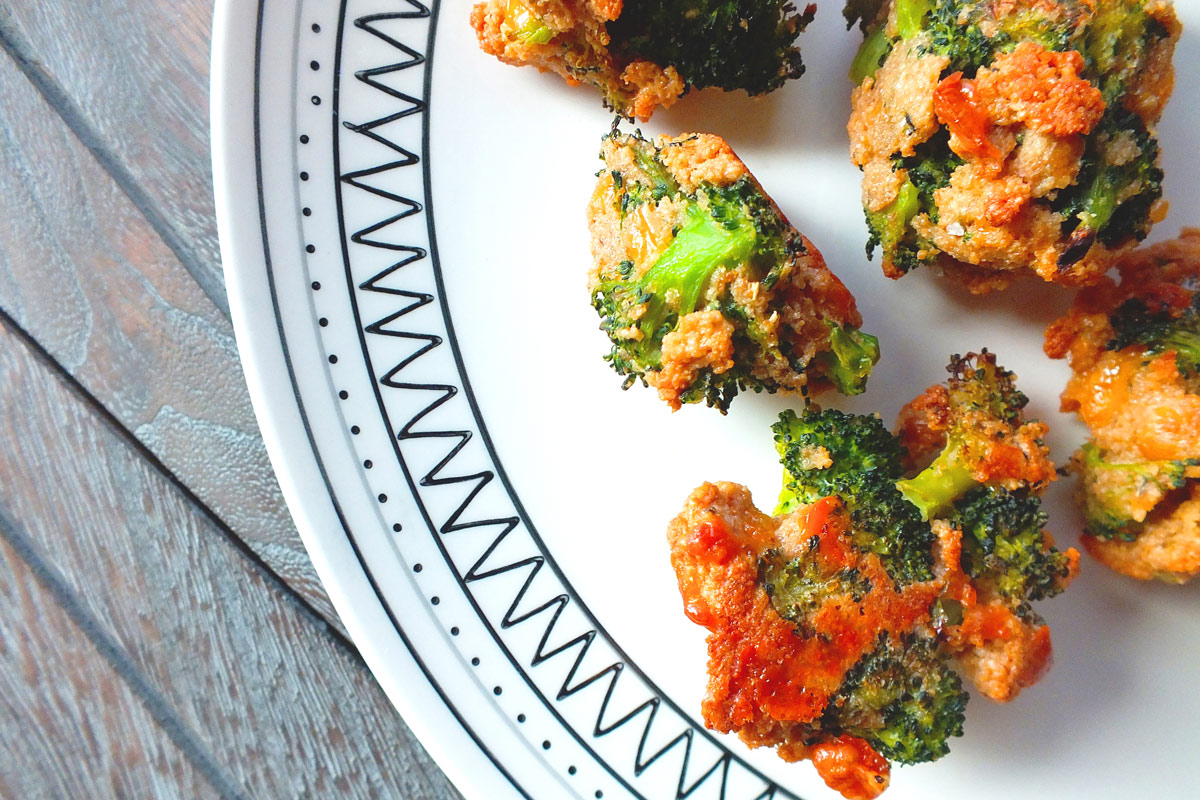 Cheesy Broc Tots
The struggle is real when it comes to getting kids to eat their vegetables. 
Rather than disguise vegetables – which does more to trick children into eating their greens, rather than teach them to love plants – why not dress them up in a fun and ultra-flattering way? 
Enter Cheesy Broc Tots, a surefire recipe that'll have even the pickiest of eaters requesting that you pass the broccoli, ASAP. 
These broccoli nuggets look like tater tots, a food many children are familiar with and enjoy. 
However, thanks to the addition of the cruciferous vegetable, these Cheesy Broc Tots reap broccoli's numerous health benefits, including fiber, folate, calcium and vitamins K and C, just to name a few. 
You can substitute other "scary" veggies, like Brussels sprouts or cauliflower, for the broccoli in order to get kids (and even some adults) to eat the recommended 5 servings of vegetables. 
Or get super created and do a mix of all three!
For a more "adult" version, add dried red chili flakes and dried parsley for that extra "oomph" factor! 
Cheesy Broc Tots
Recipe from Eatright.org
Serves 4
 
Ingredients:
2 cups packed fresh broccoli, finely chopped
3 eggs, whisked
3/4 cup reduced-fat shredded cheddar cheese
1 cup panko breadcrumbs
1/2 teaspoon dried oregano
1/4 teaspoon garlic powder
1/4 teaspoon salt
 
Directions:
1. Preheat oven to 350 degrees.
2. Place broccoli, plus 1 cup of water, in a microwave-safe bowl. Microwave for 2 1/2 minutes; broccoli should be tender, but not mushy. (Depending on the strength of the microwave, cooking time may need to be increased by 30 seconds to 1 minute.)
3. Once broccoli is cooked, remove and drain well. Broccoli should be finely chopped; if you need to chop the broccoli more, do so here.
4. Place chopped broccoli in a large bowl and add in the whisked eggs, cheese, breadcrumbs, oregano, garlic powder and salt. Use a wooden spoon or your hands to combine well. Mixture should stick together without much effort.
5. Shape mixture into nuggets and place on a lightly greased baking sheet. If you are having a hard time forming the nuggets, add in more breadcrumbs a tablespoon at a time.
6. Place formed nuggets on a baking sheet. Bake for 15 minutes. Flip once and bake for an additional 10 minutes.
7. Serve as is or with your favorite dip. 
Note: If substituting frozen broccoli for fresh, be sure to thaw and drain excess water. Nuggets should be crunchy, not soggy.
Nutritional information per serving (6 nuggets):
Calories: 203; Carbohydrates: 17g; Protein: 14g; Total Fat: 9g; Saturated Fat: 4g; Cholesterol: 151mg; Dietary Fiber: 2g; Sugars: 2g; Sodium: 508mg; Potassium: 230mg
Published on: October 21, 2015