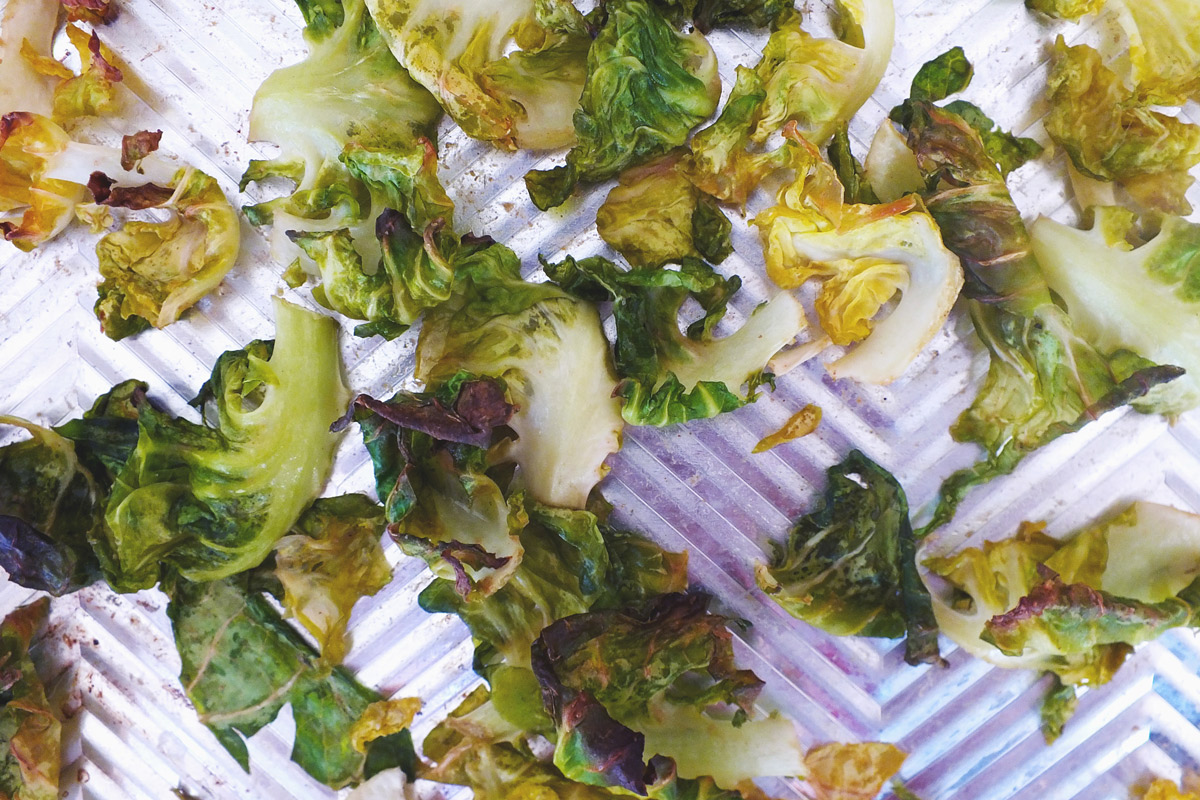 Crispy Brussels Sprout Chips
Get ready to turn over a new leaf for everyone's least favorite vegetable with this recipe for Crispy Brussels Sprout Chips. 
Made by baking the outer-most leaves of the sprouts, these "chips" are ridiculously easy to make and filled with good-for-you vitamins, antioxidants and other nutrients, in particular fiber and vitamins K and C. 
Plus, they're pretty darn tasty. 
A savory, salty, crispy treat that's full of major health benefits – say what? 
One taste and these baby cabbages will be your new go-to for a quick snack or side. 
Crispy Brussels Sprout Chips
Serves 3
Ingredients:
2 cups Brussels sprout leaves (outer leaves from 2 pounds of sprouts)
1 tablespoon ghee, melted
1 1/2 teaspoons Dijon mustard
1/4 teaspoon sea salt
Pinch of white pepper
Lemon zest (optional)
Directions:
1. Position a rack in the top third of the oven and preheat oven to 325 degrees. Line a baking sheet with aluminum foil.
2. Mix the ghee, Dijon mustard, salt and pepper together in a large bowl.
3. Trim the stems of the Brussels sprouts to release outermost leaves. This should yield about 5 leaves from each sprout. Save the cores to roast another time.
4. Place leaves in the bowl with the sauce and toss with your fingers until all the leaves are evenly coated. Spread leaves onto the baking sheet in a single layer.
5. Roast the leaves until wilted and lightly browned, about 35-40 minutes. Transfer any crispy leaves to a serving plate and continue roasting, removing crispy leaves at 5-minute intervals, until all leaves are crispy, about 10 minutes more.
6. Top with a light sprinkle of lemon zest and enjoy immediately.
Nutritional information per serving:
Calories: 54; Carbohydrates: 2.8g; Protein: 1.1g; Total Fat: 5g; Saturated Fat: 3g; Cholesterol: 12mg; Dietary Fiber: 1.2g; Sodium: 192mg
Published on: January 4, 2018