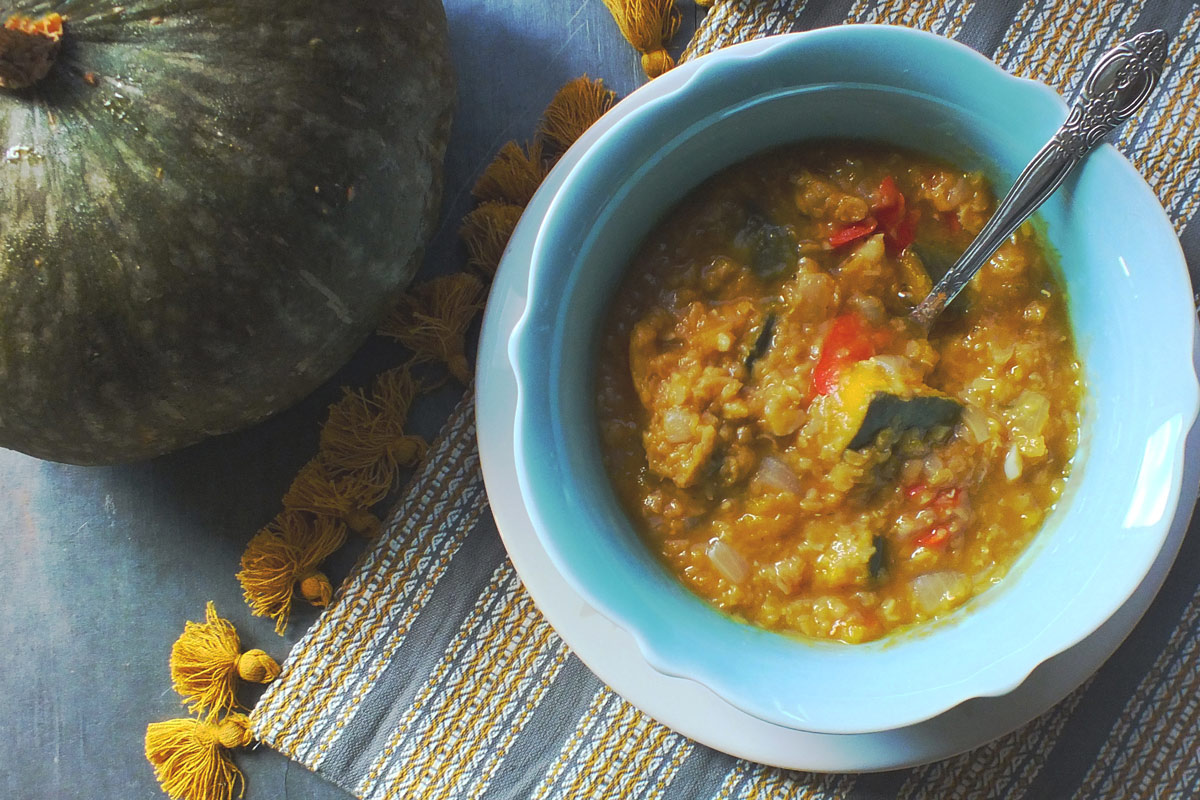 November 19, 2015
Kabocha Chili
For a seasonal spin on chili that's sure to please a holiday crowd, try this Kabocha Chili from the Dr. Dean Ornish Program for Reversing Heart Disease.
Currently offered at Straub Medical Center, the Ornish Reversal Program is designed to help people prevent, stop or reverse heart disease and other chronic conditions through exercise, nutrition, stress management and group support sessions.
Those who are interested or think they might be a candidate should talk to their primary care physician or visit hawaiipacifichealth.org/ornish for more information.
A popular recipe from the program, this Kabocha Chili replaces the kidney and pinto beans found in traditional chili recipes with red lentils, a member of the pulse family that, like its cousins the chickpea and mung beans, is packed with folic acid (folate), potassium and fiber.
"When combined, these nutrients support a healthy heart and blood pressure," says Sally Belles, a registered dietitian with Straub. 
"The fiber in the lentils provides the added bonus of aiding in digestion, satiety, blood sugar levels and appetite control," Belles adds, noting that the American Heart Association reports increasing dietary fiber can significantly reduce LDL (bad) cholesterol levels. 
"Lentils also are a good source of protein for those trying to cut back on eating meat during the week," Belles says. 
A medley of Indian spices provides a cultural twist on classic chili, with the added benefit of supplying antioxidants that may help reduce the risk of certain health conditions. 
"Curry powder contains cumin, and ground cumin contains high levels of antioxidants called polyphenolic compounds, which are important in the fight against cell membrane oxidation," says Belles. "Protection against oxidative stress is important in reducing cancer risk. Ginger is showing promise in reducing or treating inflammation as well." 
Turn this rich chili into a nourishing bowl of soup by adding more vegetable broth, or use less liquid and spoon the mixture over roasted cauliflower florets or into whole-wheat tortillas. 
Kabocha Chili
Recipe from the Dr. Dean Ornish Program for Reversing Heart Disease
Serves 6


Ingredients:
1 cupred lentils
2 cups kabocha squash, peeled, seeded and diced into 1/2-inch cubes
1 cuponions, diced into 1/2-inch pieces
1 cup red bell pepper, seeded and diced into 1/2-inch pieces
1-2 tablespoons jalapeno or serrano chili, finely minced (optional)
11/2 teaspoonsfresh garlic, minced or pureed
2 teaspoonsfresh ginger, peeled and chopped
4 cups low-sodium vegetable broth
1-2 teaspoons curry powder, to taste
1 teaspooncumin seeds
Salt and pepper, to taste
Directions:
1. Combine lentils, kabocha squash, onion, red bell pepper, chili pepper, garlic, ginger, curry, cumin and vegetable stock in a large pot.
2. Bring to a boil, reduce heat, cover and simmer for 45 minutes or until lentils are thoroughly cooked. Adjust with salt and pepper to taste.
Nutritional Information per serving:
Calories: 157; Carbohydrates: 27.3g; Protein: 10.7g; Total Fat: 0.6g; Cholesterol: 0mg; Dietary Fiber: 11.2g; Sodium: 51mg