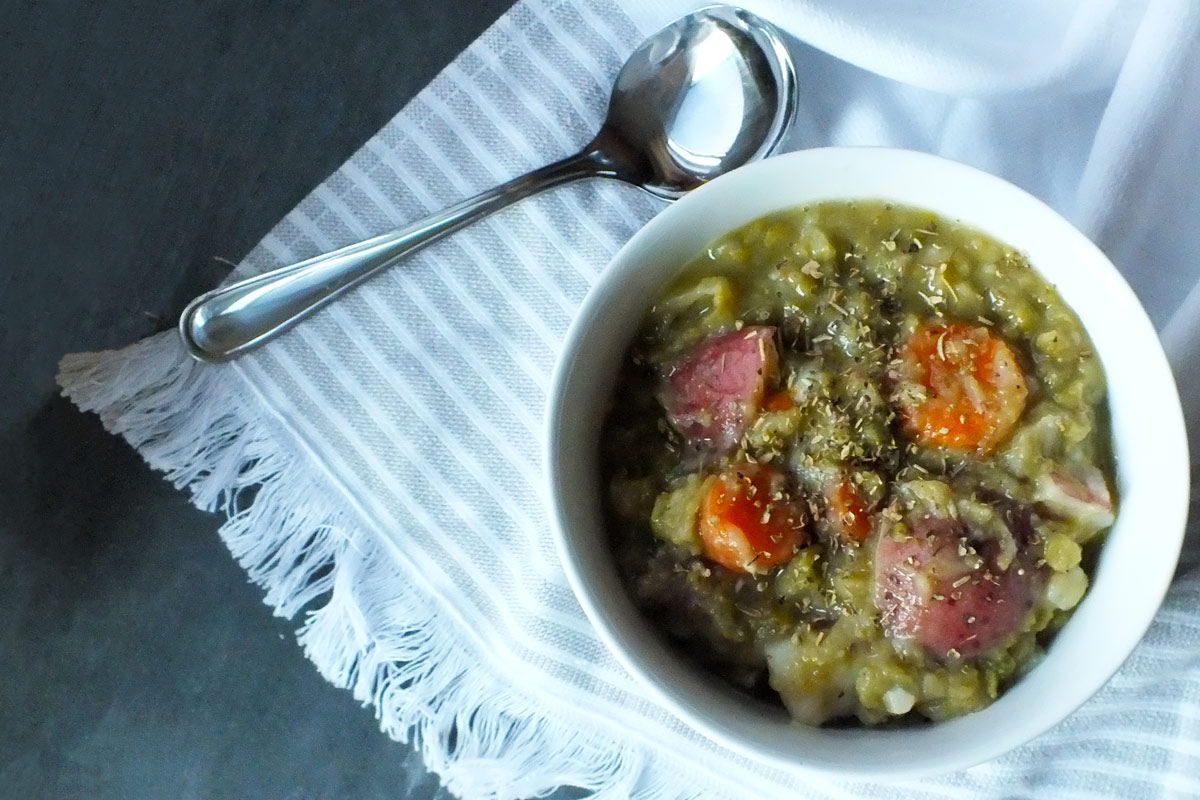 Traditional Split Pea Soup
Pulses are on the pulse of the food trend movement for 2016. In fact, the 68th UN General Assembly has declared 2016 the International Year of Pulses in order to raise awareness of the nutritional and sustainable benefits of this crop.
Pulses include lentils, beans, chickpeas and peas, which are all a vital source of plant-based proteins and amino acids for people around the world. 
"Pulses are a great part of a healthy diet," says Michelle Tom, registered dietitian with Straub Medical Center's Dr. Ornish's Program for Reversing Heart Disease™. 
"Lentils, peas and beans are filled with dietary fiber, which can help address obesity and manage or prevent chronic conditions like diabetes, heart disease and cancer," Tom adds. 
This recipe for Traditional Split Pea Soup from the Ornish Reversal Program is an excellent introduction to the world of pulses. 
Sherry vinegar, which has a deep complexity with a hint of natural sweetness, really makes the flavors of the split peas and vegetables pop. 
If you're used to the smokiness of ham in pea soup, try adding a small amount of natural liquid smoke for a pleasant tinge of smokiness without the fat. 
If using dried herbs, crumble them between your fingertips to release their aromas before adding. 
Traditional Split Pea Soup
Serves 6
Ingredients:
2 cups split peas, green or yellow, rinsed
8 cups water
2 cups red-skinned potatoes, coarsely chopped
2 cups onion, peeled and coarsely chopped
1 1/2 cups carrots, peeled and coarsely chopped
1 1/2 cups celery, coarsely chopped
2 tablespoons garlic, pressed or minced
1 tablespoon fresh oregano (or 1 teaspoon dried)
1 tablespoon fresh rosemary (or 1 teaspoon dried)
1 tablespoon fresh thyme (or 1 teaspoon dried)
1 1/2 teaspoons Better than Bouillon No-Beef Base
1 tablespoon sherry vinegar
1/2 teaspoon natural liquid smoke (optional)
1/2 teaspoon fine sea salt
1/2 teaspoon freshly ground pepper
Directions:
1. In a large, heavy-bottomed pot over high heat, combine all ingredients and bring to a boil.
2. Reduce heat to medium and simmer, stirring occasionally, until peas are very soft and vegetables are tender, 35-45 minutes. Taste for seasoning, adding additional vinegar, salt and/or pepper as needed.
Nutritional information per 1 1/4-cup serving:
Calories: 338; Carbohydrates: 61g; Protein: 19g; Total Fat: 2g; Cholesterol: 0mg; Dietary Fiber: 21g; Sodium: 552mg
Published on: April 26, 2016