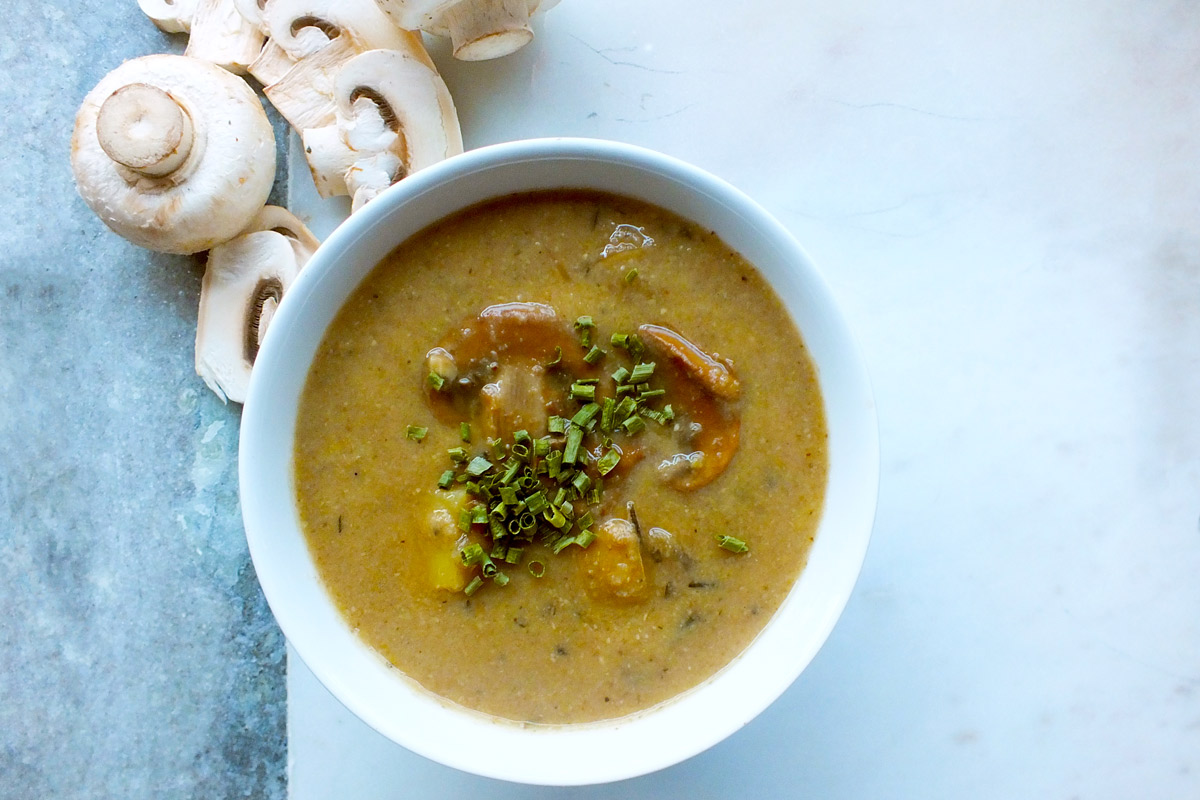 Creamy Mushroom Soup
There's nothing like a big bowl of warm soup on a chilly evening to lift your spirits. 
This Creamy Mushroom Soup, courtesy of the Ornish Lifestyle Program at Straub Medical Center, does just that, thanks in part to the mood-boosting vitamin D. 
Vitamin D has been shown to have multiple health benefits, such as boosting overall mood and helping to prevent depression. Mushrooms contain immune-boosting and anti-inflammatory properties, like iron, vitamin C and selenium. Plus, they're low in calories and cholesterol-free. 
This elegant, sophisticated soup is a perfect starter to any celebratory meal. It also makes a wonderful main meal with a big green salad and a chunk of crusty whole-grain bread.
Note that it's important to use Yukon Gold potatoes in this recipe, as russet (baking) potatoes can make this soup grainy. 
However, feel free to experiment with your choice of mushrooms! While white button mushrooms work well, other mushrooms, such as cremini, shiitakes or Portobellos, each lend a slightly different flavor and texture to the dish. 
Creamy Mushroom Soup
Serves 8
 
Ingredients:
2 cups yellow onions, peeled and chopped
1 1/2 tablespoons garlic, pressed or minced
1 pound mushrooms, sliced (about 7 cups)
1/2 cup dry marsala or dry sherry
2 tablespoons Bragg Liquid Aminos
4 teaspoons fresh thyme, chopped and divided
2 teaspoons fresh rosemary, chopped
1/4 teaspoon black pepper
4 cups mushroom broth
2 cups Yukon Gold potatoes, chopped into 1/2-inch cubes
1 cup unsweetened soy milk
2 tablespoons chives, chopped (optional garnish)
 
Directions:
1. In a medium, heavy-bottomed pot over high heat, combine onions, garlic, mushrooms, marsala or sherry, liquid aminos, 3 teaspoons thyme, rosemary and pepper. Bring to a boil; reduce heat to medium and cook, stirring occasionally, until onions are translucent and liquid is evaporated, 10-15 minutes.
2. Add mushroom broth and potatoes and bring to a simmer over high heat. Reduce heat to medium and simmer until potatoes are soft, about 10 minutes
3. Add soy milk and remaining 1 teaspoon thyme. Let simmer for 1-2 minutes. Remove from heat.
4. Pour half the soup (about 3 1/2 cups) into a blender. Start on low speed and increase speed slowly, being careful, as the mixture is hot. Blend until the soup is smooth.
5. Add blended portion to the remaining soup, stir to combine and reheat if necessary. Taste for seasoning and serve warm with 1 teaspoon chives per serving, if using.
Nutritional information per 1-cup serving:
Calories: 87; Carbohydrates: 13g; Protein: 3g; Total Fat: 1g; Cholesterol: 0mg; Dietary Fiber: 1g; Sodium: 377mg
Published on: January 11, 2017