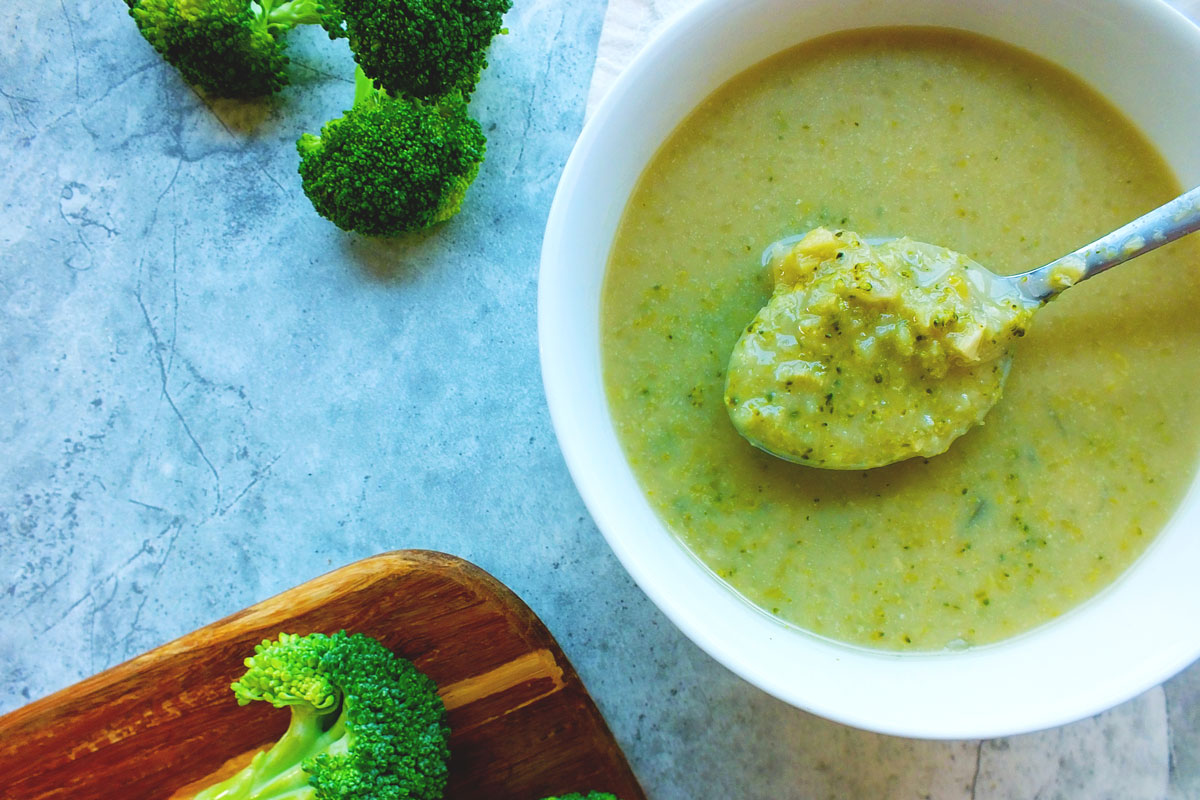 Cream of Broccoli Soup
Broccoli – you either love it, or you hate it. 
No matter which end of the spectrum you happen to be on, this Cream of Broccoli Soup is a delicious dish for all to enjoy. 
Broccoli is a versatile veggie packed with calcium, potassium and vitamins A and C, all of which help build strong bones, improve heart and muscle function, support eye health and strengthen the immune system.
"To make this dish even healthier, be sure to substitute ingredients like chicken stock and half & half with homemade, low-sodium or fat-free options," says Rebecca Izawa, a registered dietitian at Kapiolani Medical Center for Women & Children. 
"Making homemade chicken stock will allow you to control how much salt is added to the broth, which can make it a much healthier alternative to other store-bought options," Izawa notes. 
Pair a bowl of this soup with a salad or a whole-wheat sandwich for a meal packed with nutrients to keep the whole family healthy and strong! 
Cream of Broccoli Soup
Recipe from the American Diabetes Association
Serves 8
Ingredients:
1 1/2 pounds broccoli, chopped
6 cups low-sodium chicken stock
3 tablespoons olive oil
1 cup onions, small dice
1/4 cup whole-wheat flour
1 cup fat-free half & half
1 teaspoon salt
1 teaspoon white pepper
Directions:
1. Wash the broccoli thoroughly. Using a vegetable peeler, remove the tough outer layer from the broccoli stalks. Chop broccoli and set aside 1 cup of florets for garnish.
2. Bring chicken stock to a simmer and add chopped broccoli. Cook for a few minutes or until broccoli is tender, making sure the color does not become dull.
3. Puree cooked broccoli and 1 cup chicken stock in a food processor. Set aside.
4. Add olive oil and onions to a pot and gently cook. Sprinkle flour and stir to mix. On low heat, continue cooking, making sure flour is absorbed and slightly turns color.
5. Slowly whisk hot chicken stock into flour mixture and bring to a simmer. Add broccoli puree and half & half; bring to a simmer, stirring to combine ingredients.
6. Season with salt and pepper, and garnish with florets. Serve hot.
Nutritional information per serving:
Calories: 110; Carbohydrates: 11g; Protein: 4g; Total Fat: 6g; Cholesterol: 5mg; Dietary Fiber: 2g; Sodium: 350mg
Published on: April 25, 2016