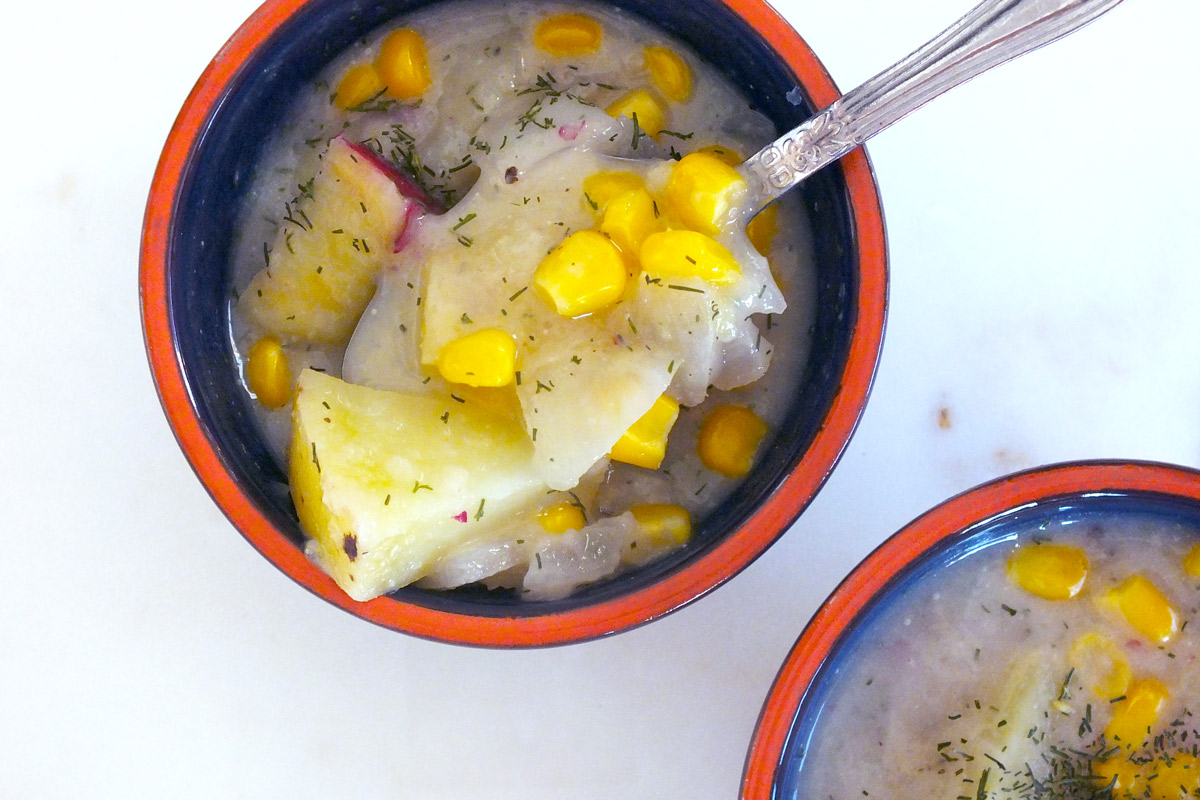 Coconut Corn Chowder
Prepare to be bowled over by this healthier version of a comfort food staple. 
Classic corn chowder usually gets its creamy consistency from – you guessed it – heavy cream. 
In this rendition from the Ornish Reversal Program, a pureed blend of sweet potatoes and Yukon gold potatoes replicates that richness but without the added calories and fat. Plus, by leaving the skin on the potatoes, you get the added benefits of fiber, B vitamins and other phytochemicals. 
Adding fresh herbs helps enhance the flavors of the dish while keeping sodium levels down. 
If you aren't a fan of dill, feel free to swap out for another herb of your choice, such as parsley or cilantro. 
Coconut Corn Chowder
Serves 5

Ingredients:
2 cups (10 ounces) Okinawan sweet potatoes, diced into 1/2-inch pieces
2 cups (10 ounces) Yukon gold potatoes, diced into 1/2-inch pieces
1 cup yellow onion, diced
1 teaspoon onion powder
1/2 teaspoon sea salt, plus more to taste
1/4 teaspoon pepper
2 1/3 cups water
1 1/4 cups unsweetened plain soy milk
3 cups fresh or frozen yellow corn, thawed
1 tablespoon fresh dill, chopped
1 lime, juiced
Coconut extract, to taste (optional)
 
Directions:
1. Place diced potatoes, onions, onion powder, salt, pepper and water in a large heavy-bottomed pot. Bring to a boil over high heat; reduce heat and simmer until potatoes are tender, about 15 minutes. Remove from heat.
2. Using a slotted spoon, remove 2 cups of the cooked potatoes and onions and place in a blender. Add the soy milk and blend until smooth. Add puree back into the pot with remaining ingredients.
3. Stir in the corn, followed by the dill and coconut extract, if using. Cook over low heat for 10-15 minutes. Serve with additional garnish of dill and drizzle of lime juice. 
Nutritional information per 1-cup serving:
Calories: 220; Carbohydrates: 49g; Protein: 7g; Total Fat: 2g; Cholesterol: 0mg; Dietary Fiber: 6g; Sodium: 312mg
Published on: September 27, 2017