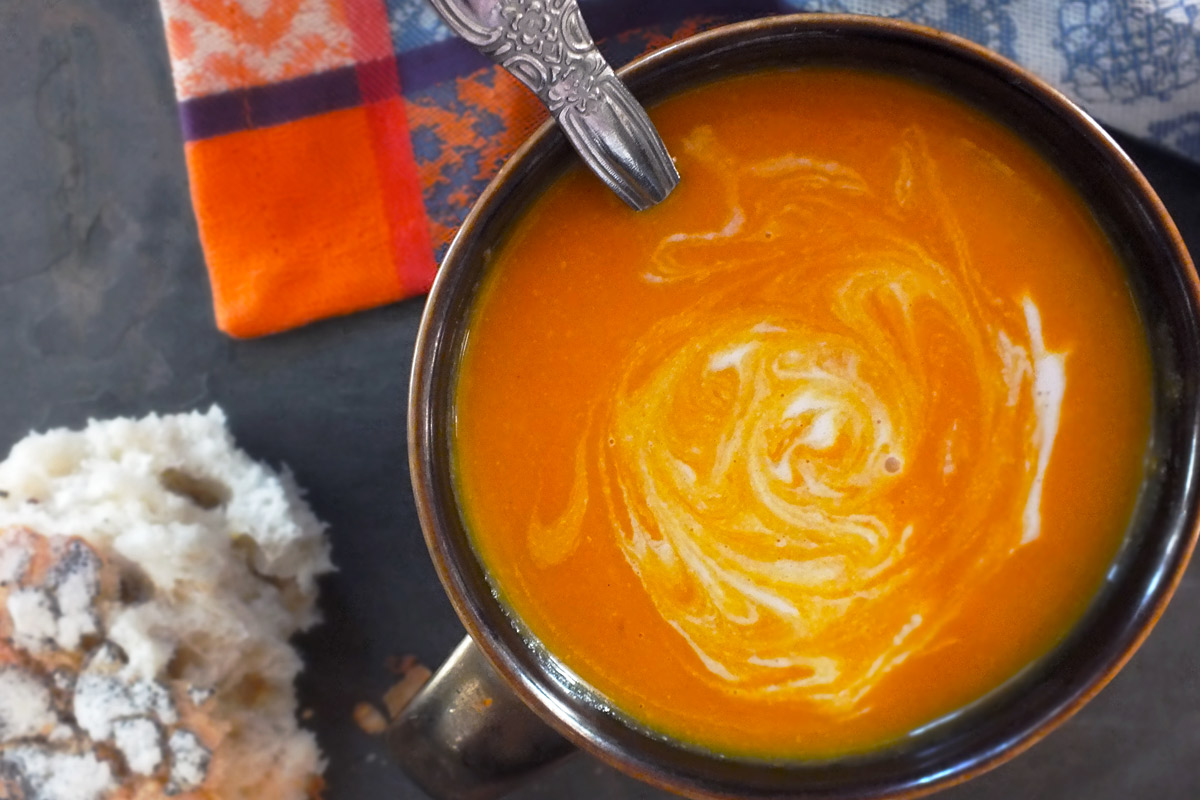 Coconut, Carrot & Chickpea Soup
Creamy and slightly sweet, carrot soup is an easy way to sneak more vegetables into your diet. 
"Carrots are a well-known source of vitamin A and beta carotene, which are excellent for eyesight, but carrots also are a great source of vitamins C and K, potassium and fiber," says Rebecca Izawa, a registered dietitian with Kapiolani Medical Center for Women & Children. 
"The nutrients found in carrots provide numerous health benefits that range from glowing skin to protection against heart disease," Izawa says. "Plus, they taste great, and the crunch-factor makes them a fun treat for people of every age." 
Coconut milk and chickpeas give this simple puréed carrot soup both body and unexpected richness, while earthy spices like curry, cumin and ginger bring balance to the dish. 
Pair this soup with a chunk of crusty bread or warm piece of naan to make sure you sop up every last drop! 
Coconut, Carrot & Chickpea Soup
Recipe courtesy of Whole Foods
Serves 4
 
Ingredients:
2 tablespoons coconut oil
1 medium yellow onion, chopped
2 cloves garlic, minced
1/2 teaspoon curry powder
1/2 teaspoon ground cumin
1/4 teaspoon ground ginger
1 1/2 pound carrots, coarsely chopped
1 (15-ounce) can no-salt-added chickpeas (also called garbanzo beans), rinsed and drained
1 (32-ounce) package low-sodium vegetable broth
1/2 cup canned light coconut milk
3/4 teaspoon fine sea salt
 
Directions:
1. In a large saucepot, heat coconut oil over medium heat until melted. Add onion and garlic and cook about 5 minutes or until tender, stirring occasionally.
2. Stir in curry powder, cumin and ginger, and cook 1 minute. Stir in carrots, chickpeas, broth and 1 cup water and bring to a boil over medium-high heat.
3. Reduce heat to medium-low, cover and simmer 20-25 minutes, or until carrots and chickpeas are very tender. Stir in coconut milk.
4. Use an immersion blender to purée soup. Stir in salt. (Alternatively, let the soup cool slightly and carefully purée in batches in a traditional blender.)
5. Spoon into four bowls and serve with a swirl of coconut milk. 
Nutritional information per serving:
Calories: 260; Carbohydrates: 36g; Protein: 6g; Total Fat: 11g; Saturated Fat: 7g; Dietary Fiber: 9g; Sodium: 710mg
Published on: January 16, 2017