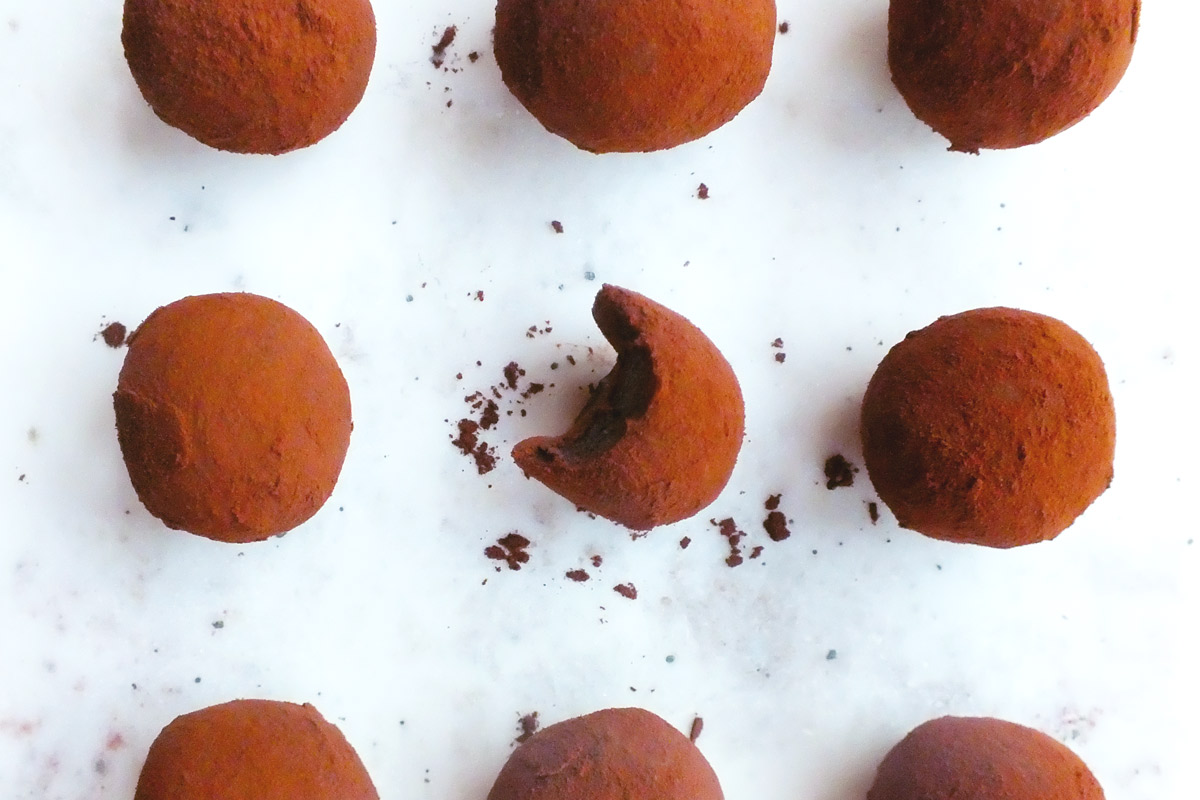 Cocoa Mint Truffles
Chocolate lovers, rejoice! These moist, fudgy truffles not only taste good, they're good for you, too! 
This recipe from the the Ornish Lifestyle Medicine Program at Straub Medical Center uses only a handful of ingredients to create a decadent dessert that's rich in health-boosting benefits. 
Dark cocoa is an excellent source of flavonoids – antioxidant compounds that help ward off inflammation and lower blood pressure. 
Not only that, dark cocoa has been associated with improvements in overall mood and mental alertness.
Be sure to look for unsweetened cocoa, as some varieties add sugar to the list, as eating too much added sugar and refined carbohydrates can elevate blood sugar levels, raise triglyceride levels, lead to weight gain, and cause other harmful effects on your health. 
Medjool dates act as a natural sweetener in this recipe. A nutrient-dense source of energy, dates provide essential minerals such as calcium iron, potassium, magnesium and zinc, as well as vitamins that include thiamin, riboflavin, niacin, folate and vitamins A and K. 
These truffles can be made up to three days in advance and stored in the refrigerator until needed. 
For best results, use soft, moist dates for this recipe. If you can only find firm, dry ones, soak them in hot water and cover for 15 minutes. Drain and pat dry before proceeding with the recipe.
Cocoa Mint Truffles
Serves 16
 
Ingredients:
1 cup medjool dates, pitted, firmly packed
1/2 cup unsweetened cocoa powder
1 1/2 teaspoons vanilla extract
2-3 drops mint extract
1/4 teaspoon fine sea salt
1/4 cup unsweetened cocoa powder, for rolling
 
Directions:
1. Place dates in a food processor fitted with a metal blade. Pulse dates several times to make a paste.
2. Add cocoa powder, 2 tablespoons warm water, vanilla and mint extracts, and salt. Pulse until mixture is smooth and forms a ball. (If mixture needs a little more moisture to come together, add 1-2 more teaspoons of water).
3. Remove chocolate mixture from processor and transfer to a bowl.
4. Put 1/4 cup cocoa powder in a shallow bowl. Using 1 tablespoon of truffle mixture for each ball, shape balls between the palms of your hands. Place truffles on a plate. (If mixture seems sticky, refrigerate until well chilled before rolling.)
5. Roll each ball in cocoa powder after shaping and return to plate. Cover and refrigerate until serving.
Nutritional information per serving (1 truffle):
Calories: 27; Carbohydrates: 7g; Protein: 1g; Total Fat: 0g; Cholesterol: 0mg; Dietary Fiber: 2g; Sodium: 38mg
Published on: December 14, 2016