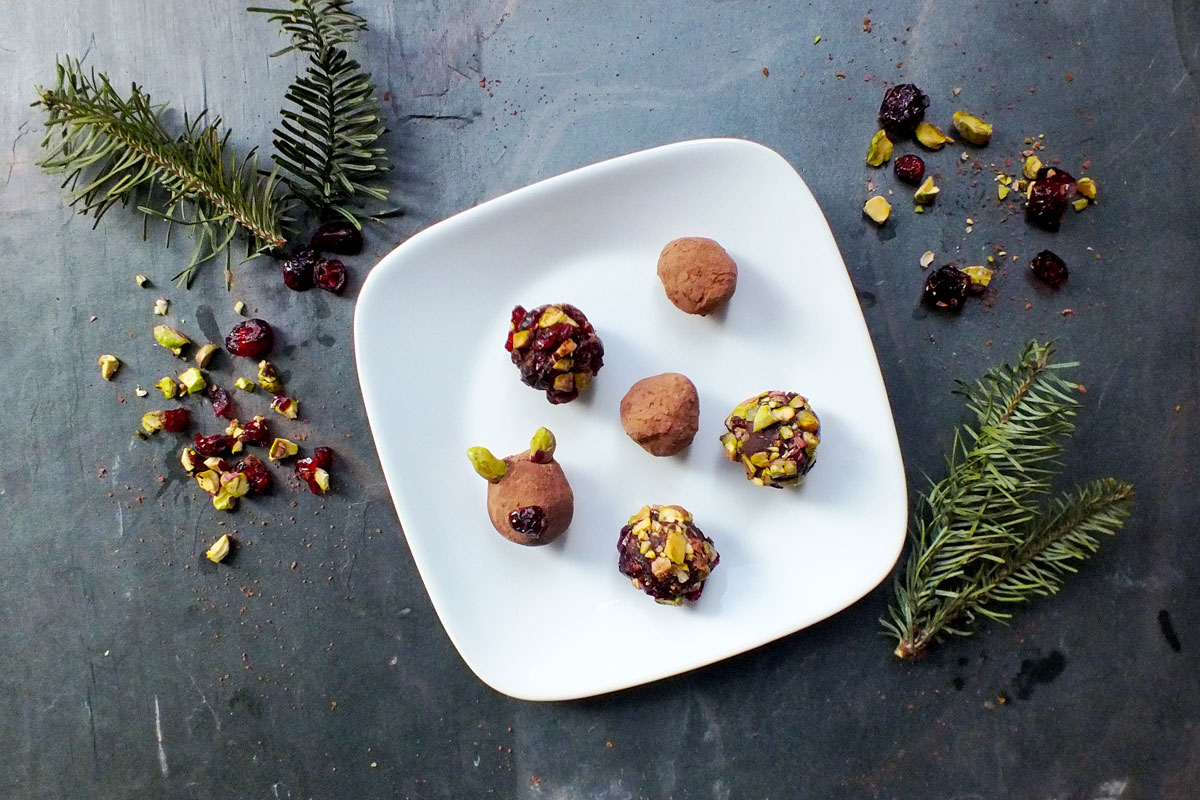 Dark Chocolate Reindeer Truffles
Do you ever wonder what gives Santa's reindeer their ability to fly? 
We can't be certain, but if we had to guess, we'd wager it was dark chocolate. 
Sweet, rich and oh-so-delicious, dark chocolate is loaded with good-for-you chemicals like flavonoids, antioxidants and flavanols, all of which study after study have shown have the ability to lower blood pressure, improve blood circulation and even help repair cell damage caused by environmental contaminants. 
"In addition to being heart-healthy, chocolate is a proven mood-booster and stress-reducer," says Rebecca Izawa, a registered dietitian at Kapiolani Medical Center for Women & Children. 
"Just make sure that you reach for dark chocolate that is at least 70 percent cacao," says Izawa. "The higher the cacao level, the more flavanols it contains." 
Give your family a bit of holiday magic with these fun and festive Dark Chocolate Reindeer Truffles. 
Not only are they made with high-quality chocolate, toppings such as pistachios, dried cranberries and toasted coconut put them on Izawa's "nice list" for healthy holiday treats. 
"We can tend to overindulge during the holiday season, but this is a festive, colorful dessert that packs a whole lot of flavor and nutrients into a small package," Izawa says. 
Dark Chocolate Reindeer Truffles
Recipe adapted from Clean Slate: A Cookbook and Guide
Serves 28
Ingredients:
8 ounces dark chocolate (at least 70 percent cacao), chopped
1/4 cup coconut oil
3 tablespoons water
1 teaspoon pure vanilla extract
1 teaspoon cinnamon
Pinch of sea salt
1/4 cup unsweetened cocoa powder, for rolling
Directions:
1. Using a double boiler, melt chocolate with oil and water.
2. Stir in the vanilla, cinnamon and sea salt.
3. Transfer chocolate mixture to an 8-inch square baking dish and refrigerate until set but still pliable, about two hours.
4. With a 1-inch ice cream scoop, make 28 balls, transferring each on to a parchment-lined baking sheet.
5. Coat hands with cocoa powder and roll balls to make smooth.
6. Return balls to baking sheet and refrigerate for 10 minutes.
7. Decorate with assorted toppings, such as cocoa powder, finely chopped nuts (pistachios, almonds, hazelnuts), dried cranberries, pretzels and toasted, unsweetened shredded coconut.
Nutritional information per serving (may vary depending on toppings):
Calories: 63; Carbohydrates: 5.4g; Protein: 0.8g; Total Fat: 4.5g; Cholesterol: 2mg; Sodium: 14mg
Published on: December 23, 2015