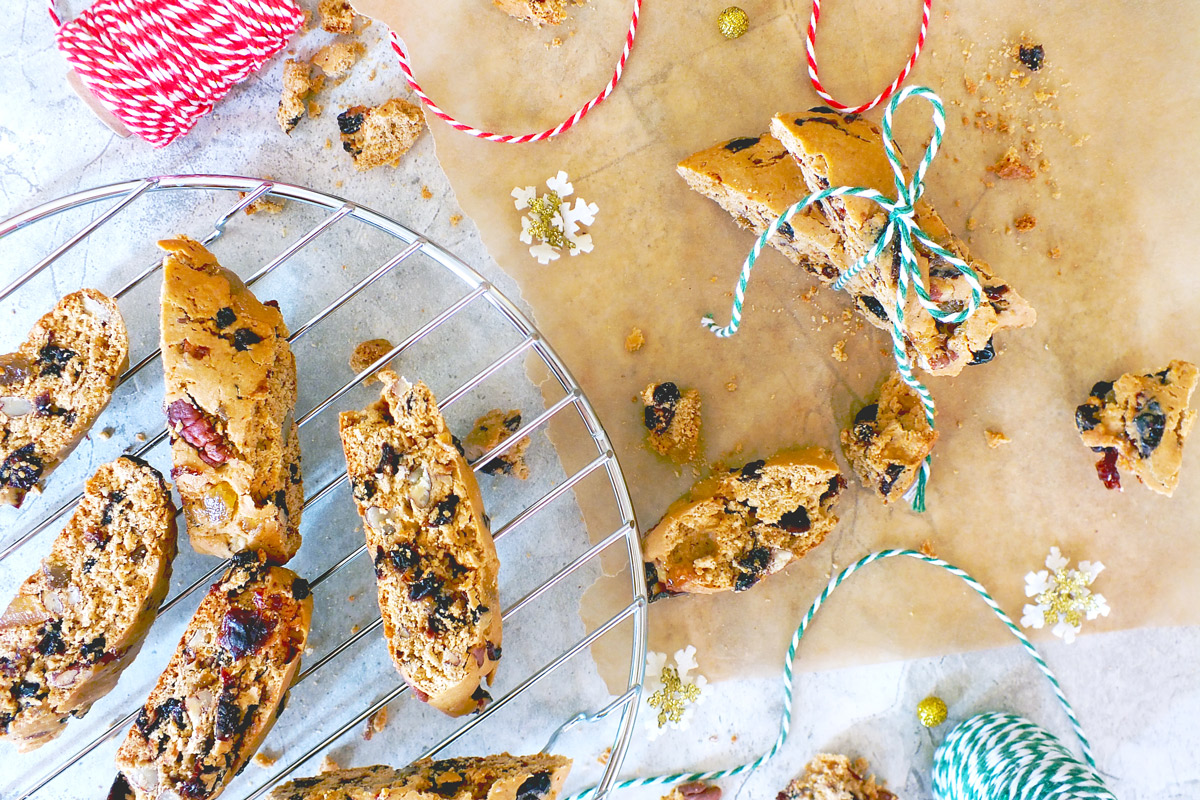 Fruitcake Biscotti
Need a last-minute stocking-stuffer? These festive cookies are a real treat to give. 
Loaded with all your favorite seasonal flavors – fresh citrus, dried fruits, zingy ginger and crunchy pecans – these biscotti are a lighter, tastier take on the traditional holiday fruitcake. 
Enjoy them with a cup of coffee in the morning or hot cocoa in the afternoon (dipping is optional). 
Fruitcake Biscotti
Serves 24
Ingredients:
1/4 cup light olive oil
1/4 cup coconut sugar
3/4 teaspoon almond extract
1/2 teaspoon lemon extract
1 tablespoon lemon zest, finely grated
2 eggs
1 1/2 cups whole-wheat flour
1/4 cup all-purpose flour
1/4 teaspoon salt
1 teaspoon baking powder
1/4 cup crystalized ginger, chopped
1/4 cup dried cherries, chopped
1/4 cup dried cranberries, chopped
1/4 cup dried currants
1/2 cup pecans, broken up
Directions:
1. Mix together oil and sugar; add almond extract, lemon extract and lemon zest. Add eggs and beat mixture together until light and creamy.
2. In a separate bowl, combine flours, salt and baking powder. Gradually add to the liquids, stirring until well mixed.
3. Using your hands, work in dried fruits and nuts to the dough, making sure all the ingredients are distributed evenly.
4. Form dough into two logs, approximately 12-by-2 inches, and place on a baking sheet lined with parchment paper. Bake for 35 minutes, or until lightly browned. Remove from oven and allow to cool for 10 minutes.
5. Reduce heat to 275 degrees.
6. Cut logs diagonally into 3/4-inch thick slices; return to baking sheet and lay on their sides. Return to the oven and bake for another 8-10 minutes, or until dry.
Nutritional information per serving (1 biscotti):
Calories: 53; Carbohydrates: 6.3g; Protein: 1g; Total Fat: 3g; Cholesterol: 14mg; Dietary Fiber: 0.5g; Sodium: 29mg
Published on: December 2, 2017