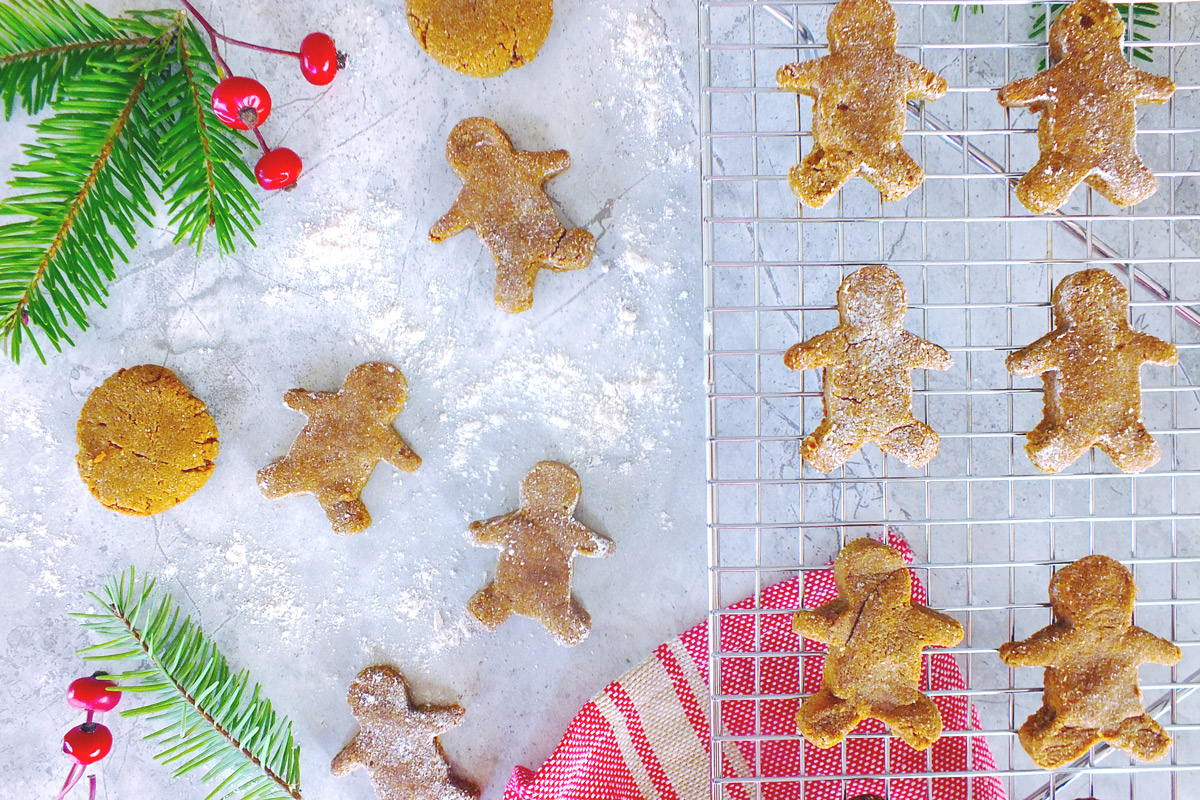 Flourless Gingerbread Cookies
Gingerbread is a perennial holiday favorite, and these flourless gingerbread cookies will be no exception. 
Made with a blend of almond and coconut flours, these cookies are slightly softer than traditional gingerbread but still retain the classic flavors of this seasonal standby. 
If you prefer a cookie with more crunch, simply bake for a few minutes longer (just be sure to watch that they don't burn!). 
Decorate with healthy embellishments like dried fruit, crushed nuts or melted dark chocolate. 
Flourless Gingerbread Cookies
Recipe adapted from Running with Spoons
Serves 14 (makes about 28 cookies)
Ingredients:
1 large egg
3 tablespoons blackstrap molasses
3 tablespoons coconut oil, melted
1/4 cup coconut sugar
1 teaspoon vanilla extract
1 teaspoon ground ginger
1 teaspoon ground cinnamon
1 1/4 cups almond flour
1/4 cup coconut flour, plus more for dusting
1 teaspoon baking powder
Directions:
1. Preheat oven to 350 degrees; line a large baking sheet with parchment paper or a nonstick baking mat. Set aside.
2. In a large mixing bowl, beat the egg until the yolk breaks apart. Whisk in the molasses, coconut oil, coconut sugar, vanilla, ginger and cinnamon, mixing until smooth. Add the almond flour, coconut flour and baking powder. Mix until well combined.
3. On a floured surface, spread out dough to ½-inch thickness. Cut into shapes using a cookie cutter and place cut-outs onto the prepared baking sheet.
4. Bake for 7-8 minutes for a slightly softer cookie, or 9-11 minutes for a crunchier cookie. Remove from the oven and allow to cool on the sheet for approximately 5 minutes. Transfer cookies to a cooling rack to cool completely.
5. Store in an airtight container at room temperature for up to 5 days.
Nutritional information per serving (2 cookies):
Calories: 81; Carbohydrates: 9.1g; Protein: 1.3g; Total Fat: 4.7g; Cholesterol: 13mg; Dietary Fiber: 1.2g; Sodium: 8mg
Published on: December 4, 2017