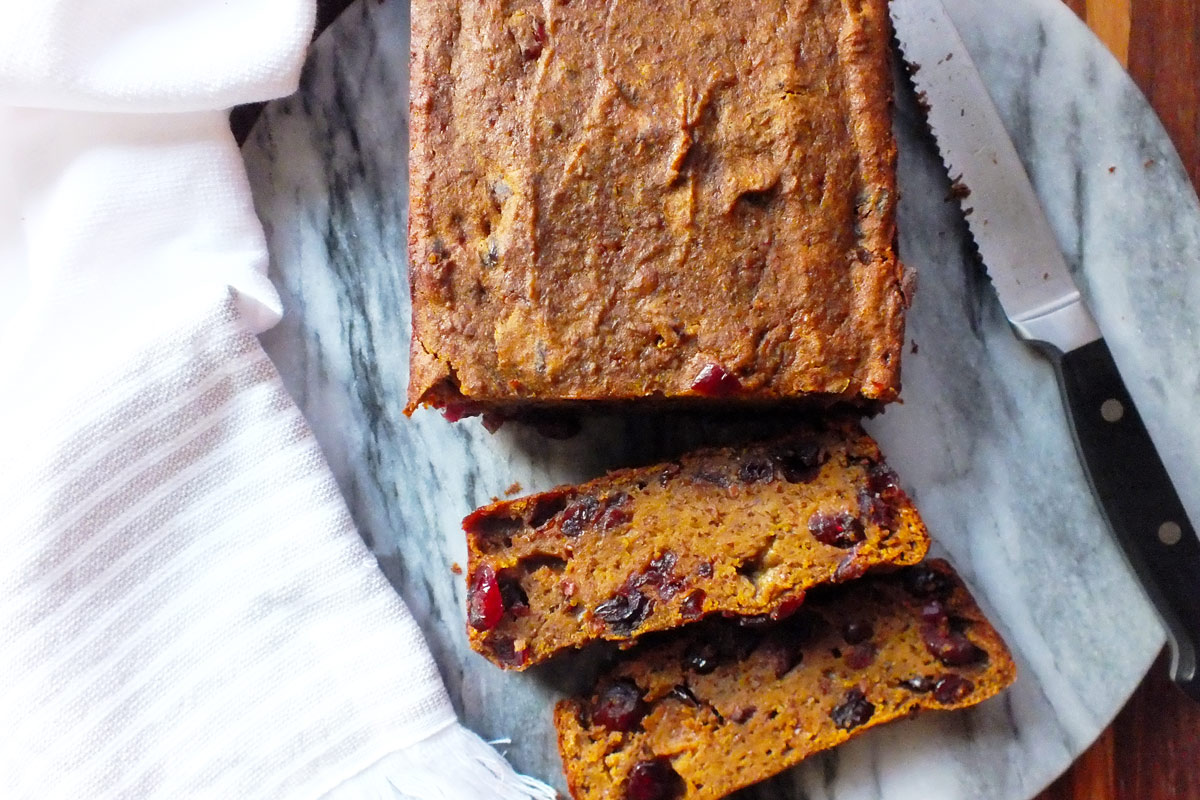 Cranberry Flax Pumpkin Bread
For a super-charged snack that will give you the energy and immunity boost you'll need to power through the holidays, bake up a batch of this Cranberry Flax Pumpkin Bread. 
Pumpkin is a superfood rich in vitamin A, riboflavin, iron, copper and dietary fiber. A single one-cup serving of cooked pumpkin supplies anywhere from 78-100 percent of the recommended daily allowance (RDA) for vitamin A. 
Most of us know the role vitamin A plays in the health of our eyes, but did you know vitamin A also helps us maintain a strong immune system to ward off bacteria and viruses?
The canola oil used in this recipe contains heart-healthy monounsaturated fat, which increases the absorption of vitamin A. 
Riboflavin belongs to the family of B vitamins and is a potent antioxidant. Key metabolic functions of this "busy B" vitamin include facilitating the breakdown of carbohydrates, protein and fats into energy, as well as keeping our nervous system functioning at optimal capacity. 
Copper helps the body metabolize key nutrients into energy. 
Dried cranberries add a festive, bright-red color to the mix, not to mention a healthy helping of dietary fiber. 
Ground flaxseed provides dietary fiber as well, along with heart-healthy polyunsaturated fats like omega-3 fatty acids. 
Just be sure to grind the seeds to release the oil to reap its full benefits.
Cranberry Flax Pumpkin Bread
Serves 12
Ingredients:
Canola oil spray
1/2 cup whole-wheat pastry flour
1/2 cup unbleached all-purpose flour
1/2 cup ground flaxseed
2/3 cup packed light brown sugar
1 teaspoon baking soda
1/2 teaspoon salt
2 large eggs
1 cup canned pumpkin
1/4 cup canola oil
1/2 cup unsweetened applesauce
1/4 cup 100 percent apple juice
1/2 teaspoon ground cinnamon
1/2 teaspoon ground ginger
1/4 teaspoon ground nutmeg
1 cup dried cranberries
Directions:
1. Preheat oven to 350 degrees. Lightly coat an 8-by-4-inch loaf pan with canola oil spray and set aside.
2. In large bowl, combine whole-wheat pastry flour, all-purpose flour, flaxseed, sugar, baking soda and salt. Set aside.
3. In medium bowl, lightly beat eggs. Whisk in pumpkin, canola oil, applesauce, apple juice, cinnamon, ginger and nutmeg. Stir in dried cranberries.
4. Add wet ingredients to dry ingredients, mixing until all dry ingredients are incorporated into batter. Do not beat or overmix. Pour batter into prepared pan.
5. Bake for 50-60 minutes, until wooden toothpick inserted into center comes out clean.
6. Cool in pan on wire rack for 10 minutes. Remove bread from pan and continue cooling on rack.
Nutritional information per serving:
Calories: 206; Carbohydrates: 33g; Protein: 4g; Total Fat: 8g; Dietary Fiber: 3g; Sodium: 221mg
Published on: December 12, 2015