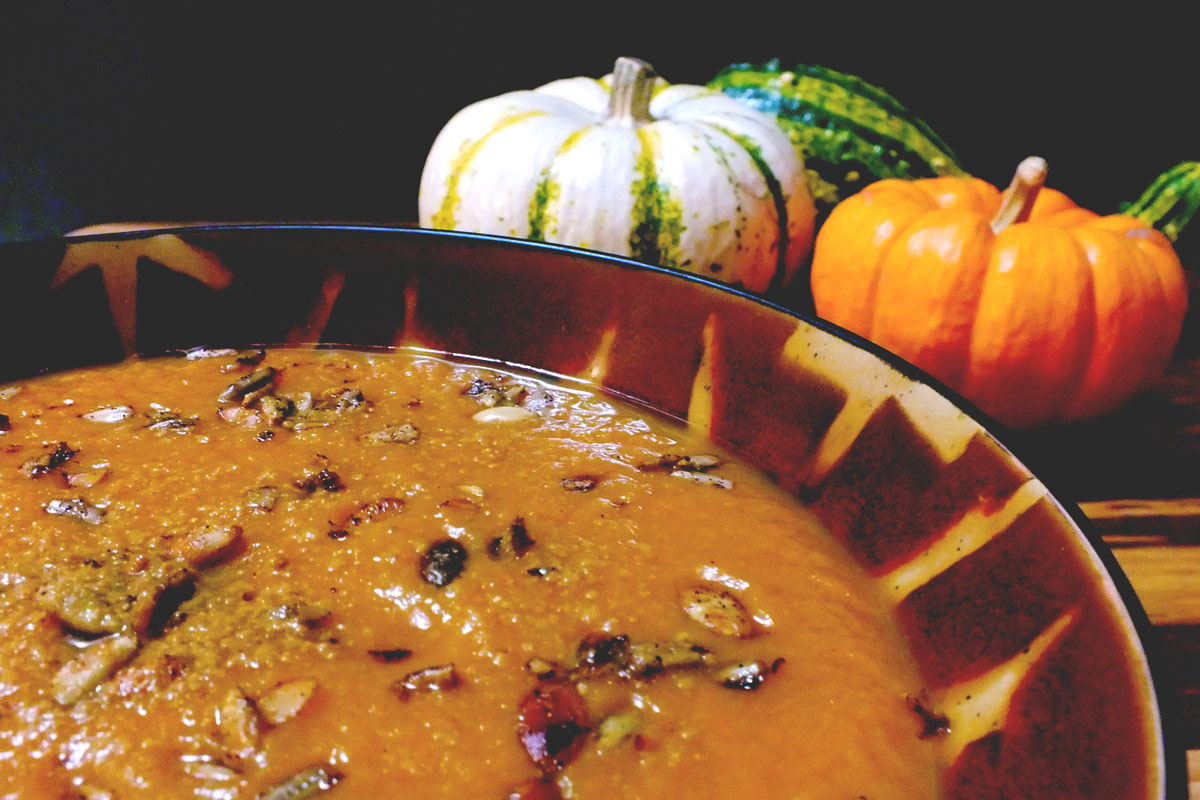 Cinderella Pumpkin Soup
Pumpkin is by far fall's favorite flavor. 
From pumpkin pie to pumpkin spice everything, the orange gourd is synonymous with sweet treats or rich desserts. 
But take away the added sugar and you'll discover pumpkin is a versatile ingredient with a laundry list of health benefits. 
"Pumpkins are a good source of fiber, vitamins A and C, potassium, and they even have some iron," says Teresa Quintero, a clinical registered dietitian at Wilcox Memorial Hospital. 
Freshly pureed pumpkin also makes a great base for many recipes – pancakes, waffles, smoothies, parfaits, even baby food! 
"I recommend you take advantage of the season and use fresh! Use the canned for the off season," Quintero says. 
Quintero's pumpkin of choice is the Cinderella variety, a French heirloom that has a sweet flavor and creamy texture, and is recorded as having been the variety of pumpkin served at the second Thanksgiving!
"These pumpkins make the best desserts," Quintero says. "I used mine to make a soup." 
After de-seeding your pumpkin, remember to save the seeds! 
"Pumpkin seeds are a good source of protein, fiber, vitamins and minerals," Quintero says. "They are considered high in tryptophan, nature's 'sleeping pill,' and are rich in vitamin E as well." 
Roast seeds with cinnamon and Himalayan salt for a tasty snack or garish. 
Cinderella Pumpkin Soup
Serves 6
Ingredients:
Cinderella Pumpkin Puree (or 2 15-ounce cans canned pumpkin)
1 leek, chopped
1/2 yellow or red onion, chopped
2 tablespoons olive oil
1 carrot, chopped
1/4 cup orange juice
5 cups low-sodium chicken or vegetable broth
1/2 teaspoon cinnamon
1/2 teaspoon curry powder
1/2 teaspoon cumin powder
1/4 teaspoon salt (optional)
Directions:
1. Sauté the leek and onion in the olive oil for 3 minutes at medium heat.
2. Add the carrot along with the spices and cook briefly until well mixed
3. Pour in the broth and the orange juice. Bring to a boil, then reduce heat to simmer for 30-40 minutes.
4. Remove from heat and allow to cool slightly. Pour soup into a food processor or blender, along with the pumpkin puree. Blend until smooth.
5. Return soup to the pot to re-heat. Add more orange juice or milk to achieve desired consistency.
6. Garnish with fresh ginger, low-fat croutons or toasted pumpkin seeds.
Cinderella Pumpkin Puree 
Ingredients:
1 large Cinderella pumpkin
Directions:
1. Wash pumpkin and cut in half down the middle, from top to bottom. Remove seeds and set aside.
2. Poke holes in pumpkin and place face down on baking sheet.
3. Roast at 350 degrees for 1 1/2 hours, until you can poke through the skin easily with a fork. Note cooking times may vary depending on size of pumpkin (larger pumpkins can take up to 2 hours).
4. Remove from oven and allow pumpkin to completely cool.
5. Once cool, scoop out the pumpkin flesh. If it is watery, drain it over a fine sieve. Make sure the final product is dry!
6. Blend in a food processor or blender until smooth.
Nutritional information per serving:
Calories: 89.8; Carbohydrates: 9.1g; Protein: 2.6g; Total Fat: 4.8g; Cholesterol: 0mg; Dietary Fiber: 1.6g; Sodium: 213.6mg
Published on: October 29, 2015