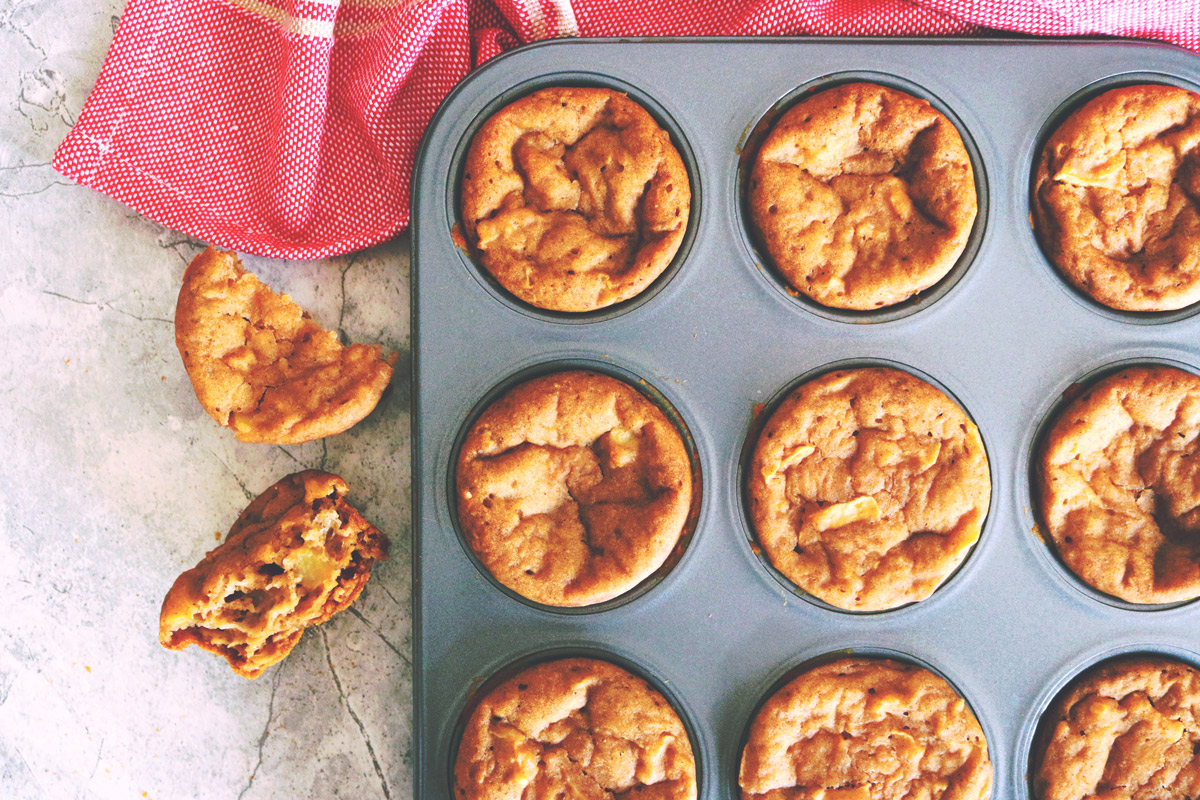 Apple Spice Muffins
Full of apples, spice and everything nice, these wholesome Apple Spice Muffins from the Ornish Lifestyle Medicine Program are a healthier alternative to your morning pastry. 
Apples contain a multitude of health-promoting nutrients, including antioxidant compounds called polyphenols that may lower blood pressure and reduce stroke risk.
Studies also suggest that a diet high in apples may protect against metabolic syndrome, a condition linked to increased risk of heart disease and diabetes.
Chunks of fresh apple pieces and unsweetened applesauce keep these muffins moist, eliminating the need for heavy oils or butters.
Another secret ingredient in this recipe is apple cider vinegar.
This sour elixir actually enhances the flavor profiles of non-dairy milk alternatives, such as soy milk.


It's an excellent leavener, as the acids in the vinegar help activate the baking powder and baking soda, leading to a better rise of your baked goods.
Enjoy these muffins slightly warm as a quick breakfast or light snack.
Apple Spice Muffins
Recipe courtesy of Straub Ornish Lifestyle Medicine
Serves 12-24

Ingredients:
1 1/3 cups whole-wheat pastry flour
1 teaspoon baking powder
1 teaspoon baking soda
1 teaspoon cinnamon
1 cup soy milk, unflavored
1 cup apples, peeled and diced into 1/8-inch pieces
1 cup applesauce
1 teaspoon apple cider vinegar
1/4 cup maple syrup or agave
2 teaspoons stevia powder
2 teaspoons vanilla extract

Directions:
1. Preheat oven to 350 F.
2. Sift flour, baking powder, baking soda, cinnamon and salt in a medium bowl and set aside.
3. In a second bowl, mix together the soy milk, apples, applesauce, vinegar, maple syrup or agave, stevia and vanilla.
4. Gently fold dry ingredients into wet ingredients.
5. For 12 muffins, spoon 1/4 cup of batter into a 12-portion nonstick cupcake pan. For 24 muffins, spoon 1/8 cup of batter into a 24-portion nonstick cupcake pan.
6. Bake the muffins for 20-24 minutes (12 muffins) or for 12-14 minutes (24 muffins). Remove from the oven and allow to cool for 5 minutes.
Nutritional information per serving (1 muffin):
Calories: 100; Carbohydrates: 21.7g; Protein: 2.2g; Total Fat: 0.6g; Saturated Fat: 0.1g; Cholesterol: 0mg; Dietary Fiber: 1.3g; Sodium: 116mg
Published on: February 6, 2018