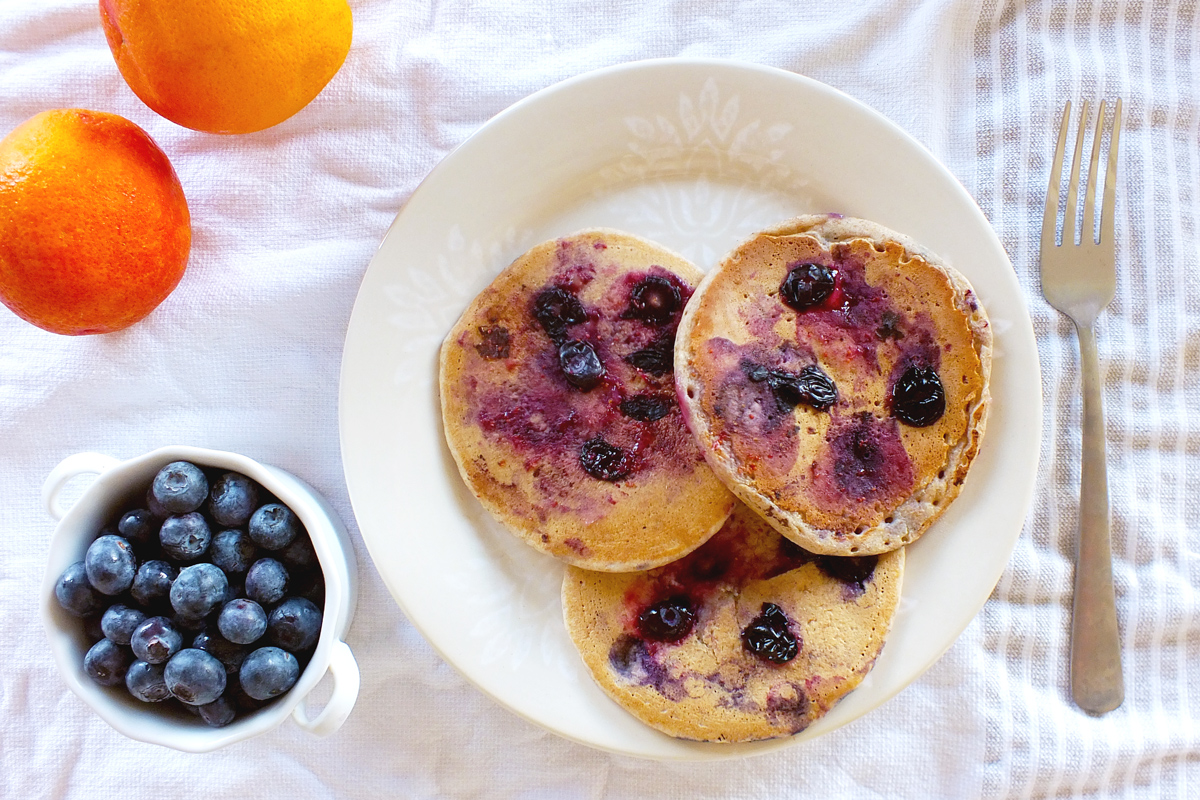 Blueberry & Spice Pancakes
Looking to cook up something sweet and spicy for Sunday brunch? Look no further! 
Full of naturally sweet blueberries and spices such as cinnamon, nutmeg and Valencia orange, these Blueberry & Spice Pancakes add interest and depth of flavor to the usual buffet spread. 
Blueberries and cinnamon contain powerful antioxidants and phytochemicals that may play a role in the prevention and fight against certain types of cancer. 
Blueberries contain phytochemicals known as anthocyanins and ellagic acid, and cinnamon is widely used in traditional Chinese medicine. 
These pancakes are best served warm topped with a variety of fresh berries, a touch of natural maple syrup or honey, and a sprig of mint. 
Plain Greek yogurt can be used in place of whipped cream, which contains high amounts of saturated fat.
The amount of milk used in the recipe can be adjusted based on the desirable consistency and thickness of the batter. 
Blueberry & Spice Pancakes
Serves 8
 
Ingredients:
1/2 to 3/4 cup almond milk or skim milk
2 tablespoons melted coconut oil
1 egg, separate the yolk from the white
1/2 teaspoon vanilla extract
1 cup almond flour (may substitute whole-wheat flour)
2 teaspoons baking powder
2 tablespoons coconut sugar, organic cane sugar or organic honey
1/2 teaspoon salt
1/2 teaspoon ground cinnamon
1/8 teaspoon ground nutmeg
1/2 teaspoon Valencia orange spice
1 cup blueberries
Canola oil, for cooking
 
Directions:
1. Using a whisk, lightly beat together the milk, coconut oil, egg yolk and vanilla extract in a large mixing bowl.
2. In a separate mixing bowl, combine the flour, baking powder, sugar, salt, cinnamon, nutmeg and orange spice. Mix the dry ingredients well and add them all at once to the liquid mixture, stirring enough to dampen the dry mixture.
3. Beat egg white until fluffy. Gently fold egg white into the wet mixture. Fold in the blueberries so as not to squash them.
4. Heat a griddle or frying pan over moderate heat and add a small amount of canola oil to lightly coat the griddle or pan.
5. Spoon batter onto the hot griddle or pan. For larger pancakes, measure 1/2 cup of batter. For dollar-size or smaller pancakes, use about 2 tablespoons.
6. Cook until bubbles form on top of the pancakes and the undersides are golden brown. Flip pancakes with a spatula and brown the other side.
7. Remove from heat and transfer to a plate. Keep warm in the oven, set at 200 degrees Fahrenheit, until there are enough pancakes to serve.
Nutritional information per serving (2 pancakes):
Calories: 118; Carbohydrates: 8.6g; Protein: 2g; Total Fat: 9.4g; Saturated Fat: 6.4g; Cholesterol: 20mg; Dietary Fiber: 1.3g; Sodium: 159mg
Published on: May 17, 2016