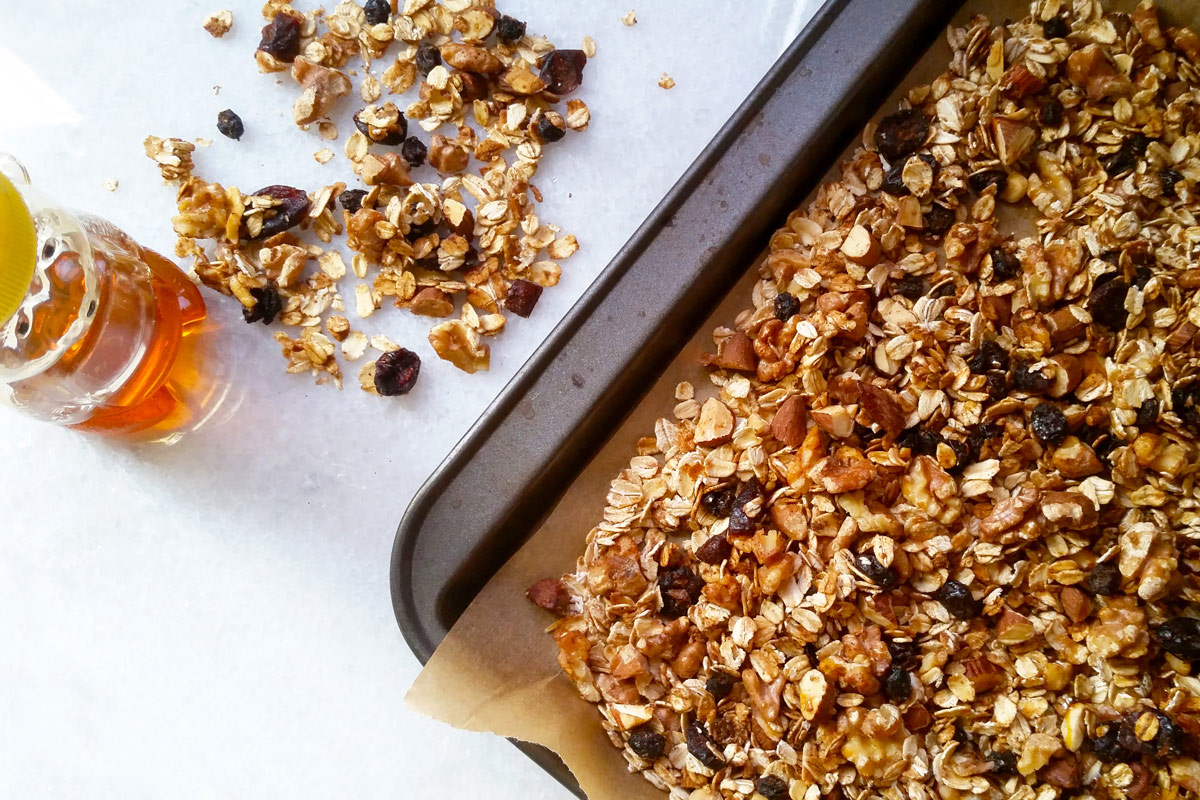 Deliciously Simple Muesli
Whole grains, toasted nuts, fruit and spices come together for a nutritious and delicious pick-me-up that's good any time of day in this Deliciously Simple Muesli. 
Muesli is easy to make, and when combined with nonfat, plain Greek yogurt, nonfat milk, almond or coconut milk, it provides protein, vitamins, minerals and dietary fiber. 
Toasted walnuts and ground flaxseeds add a heart-healthy boost of omega-3 fatty acids. 
These good-for-you fats also help with satiety, which is why it's a good idea to pack a pre-portioned baggie of muesli for a midday snack that will help tide you over until dinner. 
Protein, healthy fat and fiber contained in this muesli help you feel more satisfied, feel fuller longer and provide energy that lasts.
Also, foods containing 5 grams or more of dietary fiber per serving are considered to be an excellent source of fiber – now that's a winning combination!
Deliciously Simple Muesli
Serves 8

Ingredients:
2 cups old-fashioned or quick-cooking rolled oats
1/3 cup almonds, coarsely chopped
1/2 cup walnuts, coarsely chopped
1/3 cup dried currants (may substitute 1/2 cup raisins or dried cranberries)
1/4 teaspoon ground cinnamon
Pinch of ground nutmeg
2 tablespoons honey
1/2 teaspoon vanilla extract
1/4 cup flaxseeds, freshly ground (grind using a spice grinder or mortar and pestle)

Directions:
1. Preheat oven to 350 F. Coat a baking sheet with cooking spray.
2. Evenly spread the oats on the baking sheet. Bake for 10 minutes.
3. Stir in almonds, walnuts, currants and spices; bake until fragrant and nuts are toasted, about 10-12 minutes. Turn off the oven.
4. Microwave honey for 10 seconds in a glass measuring cup. Stir in the vanilla; drizzle over the muesli and stir to coat.
5. Return the muesli to the turned-off, warm oven and let cool completely, about 2 hours.
6. Stir in ground flaxseeds, if using. 
Nutritional information per 1/2-cup serving:
Calories: 212; Carbohydrates: 30g; Protein: 5g; Total Fat: 8g; Cholesterol: 0mg; Dietary Fiber: 5g; Sodium 5mg
Published on: August 8, 2015