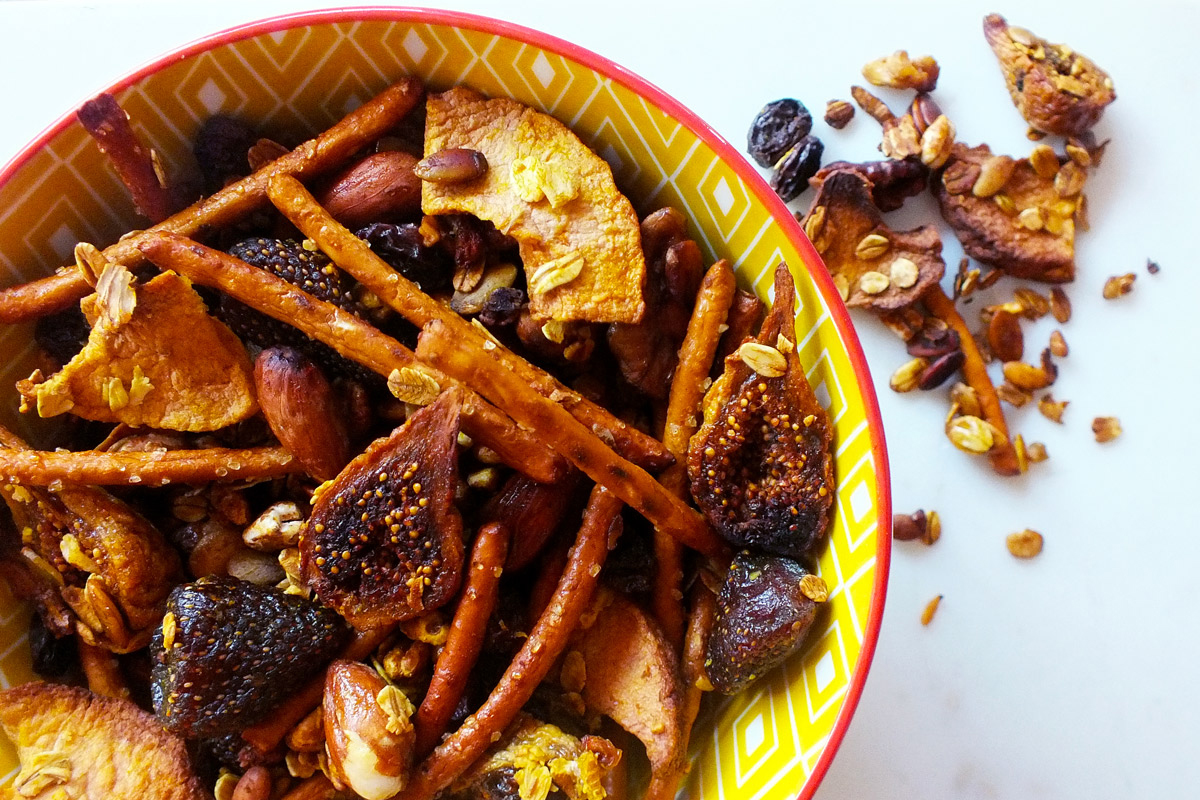 Sweet & Salty Crunch Mix
Snack happy with this satisfying mix of tastes and textures sure to satisfy any craving.
A healthy combo of nuts, seeds and whole grains provide not only crunch, but a satiating double dose of protein and carbs that'll help you feel fueled and full until your next meal.
This mixture also packs a big punch of healthy unsaturated fats, including heart-healthy essential omega-3s to lower cholesterol.
Dried fruit and honey add a hint of natural sweetness, while salty pretzels and earthy turmeric lend balance to this tasty treat. 
Though all of these ingredients are good for you, remember that moderation is key to a healthy eating plan. Measure out portions ahead of time to avoid overindulging. 
Sweet & Salty Crunch Mix
Serves 15
Ingredients:
Canola oil spray
2 cups cereal, preferably whole grain (old-fashioned rolled oats, puffed whole-wheat or brown rice cereal, low-fat granola, etc.)
2 cups pretzel sticks
1/2 cup walnuts or almonds
1/2 cup pumpkin seeds
1/2 teaspoon turmeric
2 cups mixed dried fruit, unsweetened (raisins, berries, apples, figs, etc.)
1/4-1/3 cup honey
 
Directions:
1. Preheat oven to 350 F if baking 15 to 20 minutes, or 300 F for slower baking for 45 to 60 minutes. Slow baking takes more time but deepens the flavor.
2. Lightly coat the bottom of two baking sheets and set aside. In a large bowl, mix together the cereal, pretzels, nuts and seeds until well combined. Stir in the turmeric until evenly distributed. Stir in the dried fruit.
3. In a heat-resistant measuring cup, gently warm the honey to thin its consistency in a microwave, or stovetop using a small saucepan containing hot water. Slowly add just enough of the honey into the cereal mixture, stirring constantly, until the mixture begins to adhere and form clusters.
4. Spread the mixture on the baking sheets in a thin layer. Spray with canola oil spray. Bake until cereal is lightly browned, stirring once if baking at 350 F, or 3-4 times if slow baking at 300 F.
5. Remove from oven and cool on a rack. Serve immediately, or store in a sealed container or in resealable plastic bags. 
Nutritional information per 1/2-cup serving:
Calories: 148; Carbohydrates: 30g; Protein: 3g; Total Fat: 3g; Saturated Fat: <1g; Dietary Fiber: 2g; Sodium: 20mg
Published on: March 3, 2017